What Happened After I Was Told I Couldn't Do Something Because of My Illness
---
I have lived with fibromyalgia since I was in high school – way more years ago than I care to admit, but it's in excess of 20.
When I was growing up I never understood how kids my age could run, skip, jump, play sports, roll down hills…and they seemed to enjoy it! A mystery to me until my diagnosis, because all of those activities just caused me pain when I attempted them.
Now that I've accepted the fact that I have to be more gentle with my body than most other people, I generally curtail my physical feats to accommodate its demands.
I don't try to vacuum the house and grocery shop on the same day.
If I know I have a busy week at work, I block off Sunday to sleep in and be a couch potato all day, conserving my strength and energy.
After this many years you learn what you can handle and how much you can do, taking inventory of your internal reservoir every morning before your feet hit the floor.
On my first date with my now-husband, over 10 years ago, I told him I have fibromyalgia. I didn't go into detail, but I did tell him it affects my life on a daily basis, and if we started dating it would affect his too.
I was about to turn 30 and had nothing to lose by not sharing my full truth with potential romantic partners.
By our second date he had researched fibro and asked me intelligent questions about my personal symptoms and prognosis, as well as treatment options and how I handle it day-to-day. After a short discussion he told me he was on board, and if we started dating he would support me in any way he could. I was impressed, and we've been together ever since. He has never broken that promise.
One of our favorite annual activities has always been the Texas Renaissance Faire. It takes place every fall about an hour's drive from our home in Houston.
The Faire has lots of fun things to do – food, drink, various types of shows from comedy to birds of prey, vendors of all sorts…we're never bored, and there are plenty of places to stop and sit for a break along the way.
A couple of years ago we were strolling hand in hand along the thoroughfare and something caught my eye.
I said, "I'm going to do that!"
He said, "You can't! Your fibro would hurt you if you even tried – you'd be flat on your back for a week."
Oh, heck no – don't ever tell me what I can't do.
So…I took off my cowboy boots and scaled the rock wall in my crew socks
(borrowed from the hubby) and a $375 designer tunic dress from Betsey Johnson.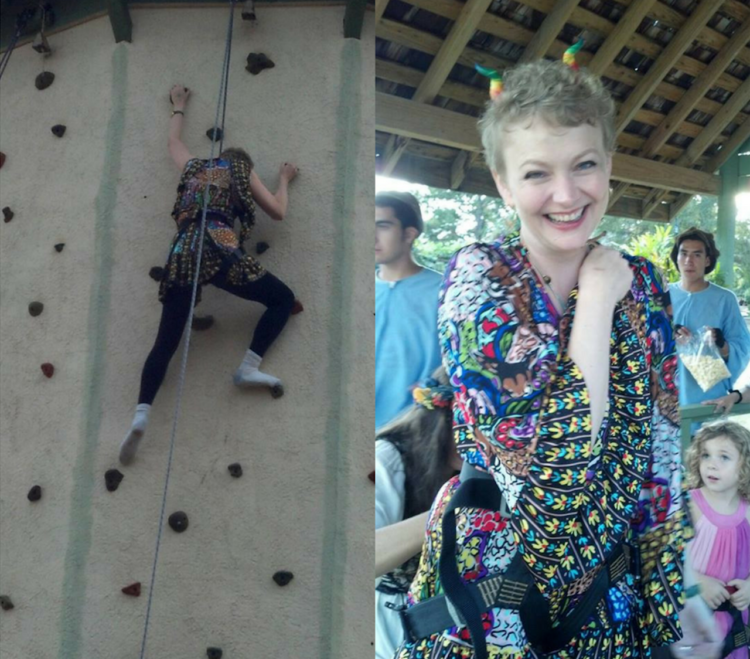 Did I pay for it the next day (and several days after)? Oh, yeah, I did.
Was it worth it?
Absolutely.
The exhilaration of pushing my body to its limits, of doing something I had never considered possible and of watching my beloved husband on the ground scratching his head as I triumphantly waved to him from the very top of the wall – that was priceless, and something I'll never forget.
So…no matter your disability or challenge in life, never let anyone tell you that you can't do something.
We want to hear your story. Become a Mighty contributor here.