What Being Single Means to Me as Someone With Anxiety
---
Most of us have been asked pesky life questions by someone in our lives.
When are you getting married?
When are you going to have kids?
Who will take care of you when you're old?
I wish I had a brief, effective way of shutting down these inappropriate questions and expressing what a triumph my being single for three years really is. As I continue to contribute to cash gifts and presents for engagements, weddings and baby showers, my successful, single, child-free life goes unrecognized. So I will celebrate it here.
There was a time in my life when I literally could not be alone.
Every night as the sun crept down, anxious thoughts flooded my brain, I was on the verge of a panic attack and I would flee my apartment. After some of my belongings were stolen from my home, the violation sparked the beginning of my panic disorder.
During that intense period of anxiety, I sought out relationships and heavy drinking as convenient ways to avoid my irrational nighttime fear of panic attacks. I chose a boyfriend based on who he was as a person, but I also clung to which ever boyfriend I was with (even when the relationship was no longer good) because being in a relationship helped me avoid my mental health problems.
My relationships were doomed to fail from the beginning because I wasn't in a healthy place. The debilitating anxiety, depression and shame after binge drinking greatly complicated my life too. When I wasn't in a relationship, I'd rely on the presence of roommates to assuage my nighttime anxiety. Very few people knew about my panic disorder, and I let mental health stigma silence me.
I continued this awful cycle of anxiety avoidance, denial and occasional binge drinking for about a decade while drifting through various ineffective therapists and medications. When my roommates decided to move out, I made the bold decision to live alone and finally face my fears — and my worst fears came true. The panic disorder raged again. I fled my apartment to stay with friends, family or my boyfriend, and I continued to abuse alcohol regularly to escape my debilitating thoughts.
Eventually, I found a competent psychologist who was a good fit for me and the appropriate medication that worked for my brain without disruptive side effects. Conveniently enough, I also got into my last relationship soon after I began working with my new doctor. I was completely honest with my boyfriend from day one about my panic disorder. He welcomed me into his life with great kindness, and I literally stayed with him every night for weeks. We even attended a therapy session together, so he could learn about what I was facing. He knew I was doing the hard work to get better, so it seemed like maybe our relationship could work out for a while.
During a few therapy sessions, my doctor led me through a series of brief exercises called exposure therapy that mimicked the symptoms of a panic attack, including breathing through a straw while pinching my nostrils for a sensation of breathlessness, spinning around in a chair to cause dizziness, and running in place to simulate a racing heart. Because of my doctor's skills, the exposure therapy and my willingness to confront difficult truths, my brain began to learn that panic attacks can't hurt me, and I can sit with the uncomfortable feelings until they pass. I began to get my life back and stay in my apartment more often.
Over time, my partner and I began to want different things, and he made ultimatums about my drinking and cigarette smoking that I was uncomfortable with. I wasn't ready to give up my addictions yet, and I couldn't do it on his timeline. So, I drank heavily more often to rebel, and arguing became our most frequently shared activity. He was unwilling to end it for his own complicated reasons, and I was motivated to stay with him because I was afraid. What if I ended our relationship and my panic disorder peaked again?
I still had a lot of work to do on my mental health that I needed to do alone, but I didn't understand that then. It did not end well between us, but I did end it. And that was what needed to happen – for him and for me. His path took him into a new relationship soon after, and my path took me into a relationship with myself for three years. I wouldn't have it any other way.
While most people have been getting married and having babies, I've fallen in love with my freedom.
I've enjoyed beach trips and adventures with friends and family and seeing live music from alternative rock icons, including Mudhoney, Juliana Hatfield and PJ Harvey. I've played original music in West Virginia rock bands, and I wrote and recorded songs that are meaningful to me.
My self-worth has soared being solo, and no one needs to pity me for being single and child-free in my mid 30s. I've learned how to navigate sobriety. I've lived through the aftermath of my bandmate's suicide without resorting to binge drinking to cope. I've started writing new music, and I hope to form another band again. Without relying on a relationship, I've learned how to manage my mental health more responsibly through heartache and bliss — this is my triumph. When I meet my next great love, we won't be doomed from the start. I'm finally in a healthier place.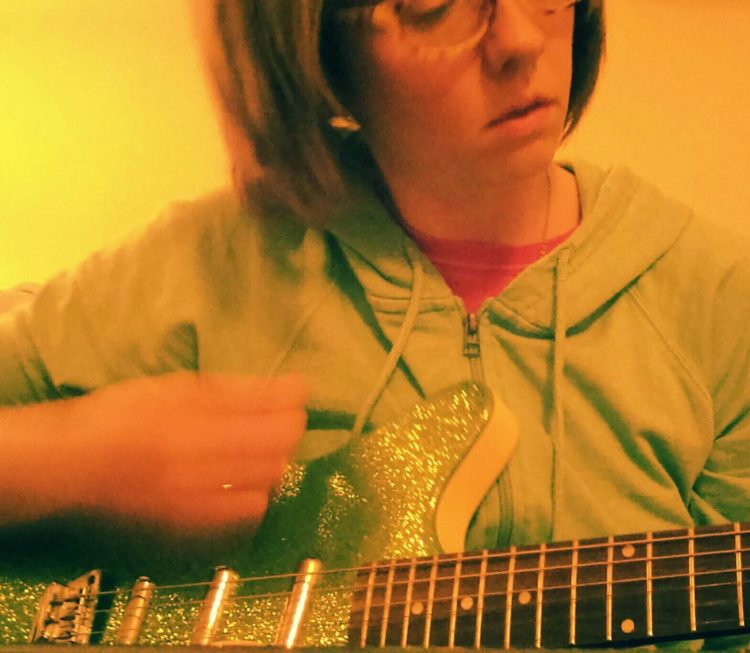 Danielle Conaway is a writer and musician from West Virginia living with generalized anxiety disorder and depression.
If you or someone you know needs help, visit our suicide prevention resources page.
If you need support right now, call the National Suicide Prevention Lifeline at 1-800-273-8255 or text "START" to 741-741.
We want to hear your story. Become a Mighty contributor here.
Thinkstock photo via sSplajn.