Drugs, Hugs and Losing My Jugs: A Breast Cancer Journal - June 15, 2015 - Day 4
---
This is the twenty-fourth entry in a 31-day Breast Cancer Awareness Month exclusive series featuring the real journal entries of breast cancer survivor, Jessica Sliwerski. Read the previous entry here.
Day 0 is the day before chemo.
Day 1 is the day of chemo.
Day 2 is the day after chemo.
Day 3 is the day after the day after chemo.
Day 4 is the day you get fucked.
Chemo round 1 did not go so smoothly. After the dust settled, my oncologist figured out the problems. Despite cutting my steroid dose in half, the dose was still too high.
I had so much manic energy, I couldn't sleep. I became overly exhausted. Add to this that I was taking a very strong anti-nausea med that I didn't actually need to be taking.
Plus I was dehydrated.
Plus my blood counts were super low.
Plus I took two sedatives.
And edible marijuana.
It was the perfect storm.
Kyle had to call 911 and I was rushed to the emergency room. It was the scariest day of my life. Kyle will not talk about it.
I went into chemo round 2 thinking I had it all figured out. My oncologist further decreased my steroid dose and voila! I could sleep. I did nothing but rest from the time I came home from chemo through Day 4. I totally and completely yielded to my body. And I still ended up in the emergency room.
What the fuck?
I had chills and a fever. After chemo, any fever above 100.4 degrees Fahrenheit necessitates an immediate visit to the emergency room. Once there you are to say, "I had chemo. I have a fever." When Kyle and I showed up (this time not via an ambulance), I said, "I'm back!"
Chemo fevers are treated with the utmost seriousness because of the fear of infection. They gave me one of those masks people wear on the subway and whisked me away to the VIP "sterile" neutropenia room. Everyone I passed along the way looked at me like, "Oh, shit. I don't want what she has."
I didn't like that feeling, as it reminded me again that I am in purgatory — not sick, yet sick.
Once I was stowed away in my special chemo freak room, they checked my vitals and asked me important questions like, "Have you been to this hospital before?"
"Yes, three weeks ago. Don't you remember me?!" The nurse did not remember me, but the attending doctor came in and recognized me right away. She was disappointed that my reason for being there was only a fever and not because I'd overdosed on edible marijuana.
"Clean as a whistle," I said.
They put me in a bed and drew blood. I watched as they destroyed one tiny vain after another and knew my chemo nurse was going to be pissed. They ran several tests, vainly searching for an infection. Then they told me they would need to take an x-ray of my chest.
"No, no, no," I cried. "It's pneumonia?" I asked, panicking because all I remembered was when my dad had cancer and an infection meant pneumonia. And pneumonia led to a coma and then surgically removing his left lung.
"We don't know. It's just protocol," the nurse explained. "We have to rule out everything."
In the x-ray room, I stood shaking from my chills and the fear any and all radiation now causes me. I can't help but worry about catching more cancer from radiation.
I told the technician, "I just had a double mastectomy." And I cried when I said this. Of course I cried.
"That's OK. I got you," he said. "Take a deep breath and hold it." He took two pictures, wrapped me up in a warm blanket and wheeled me back to my room. I liked him.
Back in my room they wrapped me in more warm blankets. They gave me IV fluids and meds for my bone and head pain and a cup of apple juice. They gave Kyle the world's most uncomfortable chair and after he fell asleep on the floor, offered him a stretcher.
As we awaited the results of the blood tests I closed my eyes and thought about my day. I told myself, "Today was a good day." I said this over and over.
I'd spent the day cleaning and reorganizing my freezer, playing with Penelope and reading all about Caitlyn Jenner in "Vanity Fair" magazine. I would not allow the chills or the bone pain or the distress I was currently feeling to steal my good day.
Next to me I could hear Kyle watching videos of Penelope on his phone. I heard her joyful squeals and her sweet baby sounds. I heard my own voice in the videos. I heard Kyle laugh to himself. The sound of his laughter made me happy.
I added that to the list of things that were good about today.
My tests came back negative. No pneumonia. No this. No that. Nothing in my pee. And I wasn't neutropenic. There were a couple other tests that would take longer, but I was good to go once I finished the second bag of fluids. I added no infection to my list of reasons today was a good day.
Yes, I had a fever. Yes, I was back at the ER, but I didn't have an infection.
I won.
They discharged me around 1 a.m. in the morning. There weren't any cabs, but we only live about six blocks away.
The night was warm and I felt like a million bucks thanks to the hydration and meds, so Kyle and I slowly walked home holding hands.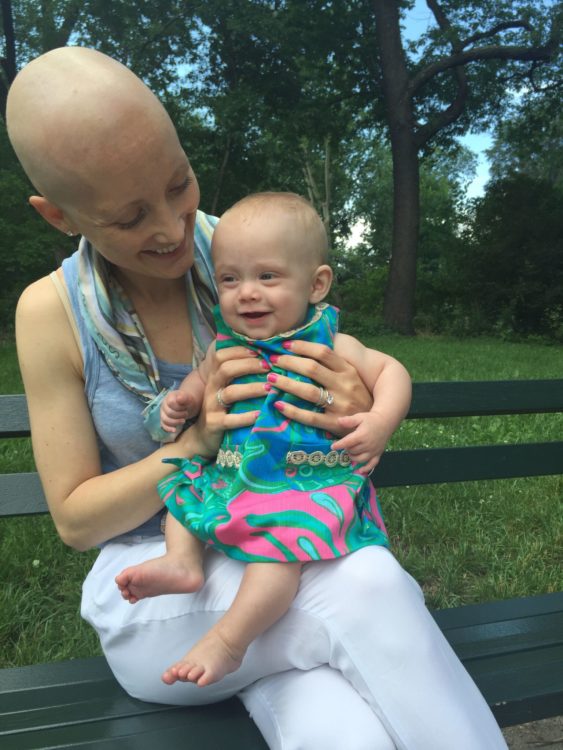 We want to hear your story. Become a Mighty contributor here.
All photos courtesy of Jessica Sliwerski