Drugs, Hugs and Losing My Jugs: A Breast Cancer Journal - June 21, 2015 - Sad Shave
---
This is the twenty-sixth entry in a 31-day Breast Cancer Awareness Month exclusive series featuring the real journal entries of breast cancer survivor, Jessica Sliwerski. Read the previous entry here.
I am irritated about the way in which I am losing and not losing hair. The hair on my head was falling in fast clumps, so it had to be shorn and now I am bald.
But I still have hair on my arms.
And I still have all the annoying little blonde facial hairs, my mustache and my beard.
And I still have nose hairs.
I still have eyebrows and eyelashes — not that I'm complaining. Those need to stay as long as possible, though I know they're not long for this life. This morning I awoke with one stuck to my nose and another to my cheek.
When I look in the mirror I don't see me. I see a naked white head and eyebrows and eyelashes and big eyes and little ears sticking out on the side. I don't look like me and yet it is me, but a futuristic sci-fi version of me.
"It's because we always draw aliens as bald," my mom explained when I shared this observation with her.
"I guess…" I said, rubbing my head.
When I got out of the shower last night I noticed the hair on my head was starting to grow back. Little tufts of wispy blonde hairs at my temples. Tiny dark hairs on my dome.
"How can that be?" I thought. "What are you doing, little hairs, defying the chemo? You need to die so I can live."
I didn't like seeing these little hairs sprouting on my head. I tried plucking them out with my fingertips, but they were holding strong. There must be something about the poison; it must be cyclical such that in about another week, there will be another round of shedding. But in the meantime, these hairs needed to go. They bothered me.
I padded into the living room where Kyle was watching the Yankees game. "I need you to trim my head," I said, quietly. He got up and purposefully walked to his bathroom, retrieving his manscaping tools from beneath the sink.
"I don't think these will work," he said, examining the blades.
"Just try," I said and so he did, but he he was right. The blades couldn't catch the little hairs.
"We're gonna have to shave it," he said.
"No," I said, worried about being cut and bleeding and an infection.
"It's the only way to get the hairs, sweetie," he said, getting his razor and shaving cream. "Sit here," he pointed to the edge of the bathtub.
And so I sat on the edge of the tub and closed my eyes and quietly cried.
I cried because I was afraid of the razor.
I cried because my husband was going to shave my head.
I cried because I had cancer.
I cried because Kyle and I had had a dumb fight earlier that day.
I cried because my mouth hurt and because I felt sick from eating too much chocolate.
Kyle ran his hands under the faucet and then dampened my scalp with warm water, slowly massaging it as he did so. I cried harder, mourning the loss of our intimacy, feeling sorry for myself and sorry for our marriage because we hadn't had sex in so long.
His hands felt so good on my sad skin. I loved those hands, I missed those hands.
A week after my doctor removed my last drain she told me in a very business-like manner, "You have to start playing with them now. Massage them. Get used to them."
The look on my face told her how horrified I was by this order. I could barely look at my new breasts and she wanted me to play with them?
When I showered, I didn't even touch them; I gingerly dabbed them with a loofah while staring ahead at the tiles on the wall. When I got out of the shower, I was grateful for the steam that covered the mirror because it meant I could avoid my reflection as I quickly slipped the recovery bra over my breasts and a shirt over the bra.
"Like how often?" I timidly asked.
"Twice a day, at least," she said. "If you don't touch them the nerves won't heal and the way they feel right now is the way they will feel forever. You don't want that."
She was right, I didn't want that. I also didn't want these breasts. Nor did I want breast cancer.
Sensing my discomfort and disgust, the doctor added, "You need to get comfortable with them."
I decided boob massage was the perfect job for Kyle. That night after I showered and climbed into bed, I let him go to town, lathering his hands with my girly lotion and giving my weird new breasts a solid rub down. We did this nightly until I started physical therapy and the therapist started legitimately massaging my breasts for 45 minutes three times a week.
I relieved Kyle of his obligatory boob duties and since then, we really hadn't touched each other with the exception of holding hands and hugging.
Feeling those familiar hands gently massaging my head felt so overwhelmingly wonderful and necessary. As Kyle covered my skin with shaving cream and meticulously began to shave, I cried harder. When he was finished he gently patted my head dry and kissed it. I thanked him and then placed my head in my hands and sobbed. He sat beside me on the bathtub ledge, hugging me.
"I hate this," I said. "I hate this so much."
This being cancer.
This being chemo.
This being the loss of our sex life.
This being the drain on our marriage.
This being code for everything that had no name but that we both acutely felt and had been feeling every single day since my diagnosis.
"I know. I fucking hate it, too," he said, hugging me closer and kissing my head again.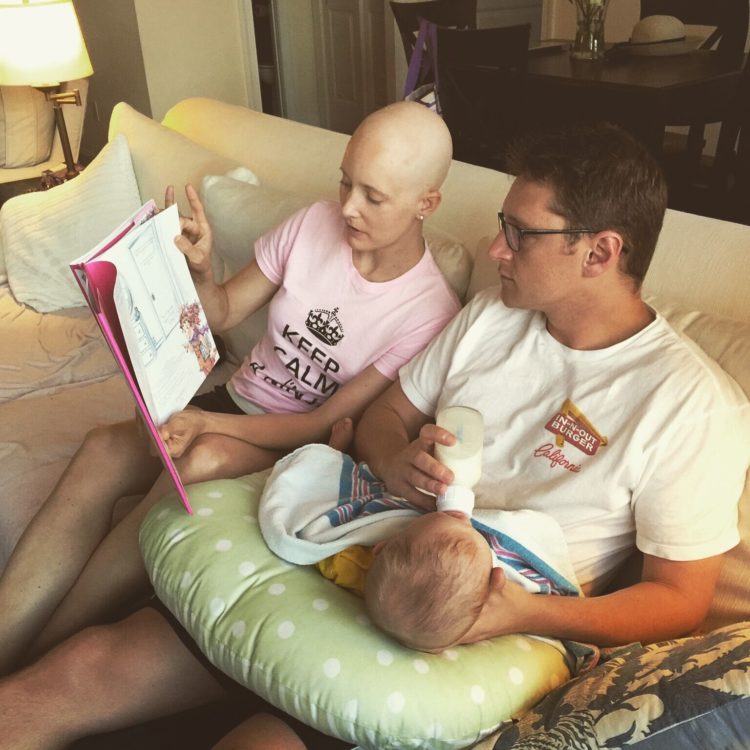 We want to hear your story. Become a Mighty contributor here.
All photos courtesy of Jessica Sliwerski