Drugs, Hugs and Losing My Jugs: A Breast Cancer Journal - June 3, 2015 - Day 14
---
This is the seventeenth entry in a 31-day Breast Cancer Awareness Month exclusive series featuring the real journal entries of breast cancer survivor, Jessica Sliwerski. Read the previous entry here.
"Will I for certain lose my hair?" I asked my oncologist.
"Yes," she said matter-of-factly.
I sat, silently absorbing this unsettling information.
"If you do CMF, you will not lose your hair. You can do that treatment; it's your choice. But I am recommending, based on what I know about you and what I know about your cancer, that you do TC, and it is 100 percent certain you will lose your hair with TC."
When I learned after my mastectomy that my lymph nodes were clear, there was a part of me that hoped I had dodged the chemo bullet. Despite mentally preparing myself from the day of my diagnosis for the possibility of chemo, it still came as a blow when I learned I would need to undergo treatment. Chemo scared the shit out of me, especially because of the certainty of alopecia.
The announcement to the world that I have cancer.
I could have chosen not to do chemotherapy. The mastectomy removed the tumor. My lymph nodes were clean. But my risk of reoccurrence would be 18 percent. It's wild that they can figure this out.
I am still young, I have a brand new baby I love with every fiber of my being. I cannot risk ever having cancer again.
"What about a second opinion?" my friends and family asked after I shared the news that my oncologist was recommending chemotherapy.
"Why? So I can hear that I don't need chemo? No one is going to say that. As much as I don't want to do chemo, I also don't want to hear that I don't need chemo. The hospital will agree I need chemo, but will just recommend a different type of chemo — CMF or ACT."
CMF and ACT are other chemotherapy cocktails for the treatment of breast cancer. Each letter stands for a different drug. There is also TC, my poison. Isn't it funny that in order to live I have to inject myself with so much poison?
Had I chosen CMF, I could keep my hair. It would thin, but it wouldn't fall out completely. The side effects are also much more tolerable. I nicknamed CMF "chemolite" because it's the easiest of the three choices I had. But there are some downsides to it.
For example, the C portion of the cocktail causes menopause. As a young woman, this is not good because of things like osteoporosis and other ways that menopause would impact my health. And it has the least benefit in terms of reduction of risk of reoccurrence.
While these percentages are minuscule, I only want to do chemo once and I want to put this experience behind me knowing I did it as aggressively as I could.
Then there's ACT. ACT is a super aggressive form of chemo. My oncologist called it the "most active." It's the big guns. It's hardcore. But it also carries with it the risk of heart failure and leukemia. I believe Robin Roberts, the anchor on "Good Morning America," had ACT to treat her breast cancer. She then developed Myelodysplastic Syndrome (MDS), which from what I can tell is not leukemia, but may be somewhat related as it's a disease of the bone marrow.
My oncologist mentioned her name when we were talking about this particular regimen, so my understanding is that while it's a highly effective regimen for killing errant breast cancer cells, it does bring with it the risk of other nasty diseases.
In the middle, but still very aggressive, is TC. It's a shorter length of time than ACT. It is not as tolerable as CMF. It does not carry the risk of heart failure and leukemia. But it does cause hair loss and other highly uncomfortably side effects.
Since the beginning of this experience, I have thought about losing my hair. You hear cancer and it's the first place your head goes, especially as a woman. When I learned I needed chemo, I began to mentally prepare myself for the hair loss.
Before my first infusion, I hacked off all but less than an inch of my beautiful blonde hair. Since my first chemo infusion 12 days ago I have obsessed about the rest of my hair falling out. I cannot stop thinking about it. I have a recurring dream in which I touch my hair and fistfuls of it fall out.
In my dream, I just stare at my hand, horrified. I wake up in the morning and immediately stare at my pillow to see how many strands may be there. So far, none.
When I'm in the shower I stare at the water spooling down the drain. It's still clear. I am conflicted about washing my hair. On the one hand, I want to luxuriate in the tingly freshness of the shampoo and enjoy every last minute I have with my hair. On the other, I am terrified to touch it for fear it will stimulate the follicles to collapse.
I stand there beneath the hot water, conflicted and paralyzed. I vigorously soap my armpits, checking to see if those hairs are falling. They aren't, of course. Those ones will probably be the last to go just to fuck with me. I am dwelling on my pubes. For so many years I've shaved them, but because I heard they are the first to go, I've been letting them grow. I need to see them fall out so I know it's happening.
All day long I touch my hair. I tug at it and then instinctively look at my fingers to see if it's fallen out. So far, nothing.
Every time I enter the bathroom I look in the mirror. There is a barely-visible patch above my left eyebrow where it's started to thin. There's another patch at my right temple. No one sees these but me. I've tugged and checked over a hundred times and so far there's been nothing but my fingers staring back at me. Any day now I will tug and check and I will be sick because there will be hair.
When I'm feeding Penelope I stare at her fine blonde baby hairs. She had nothing for so long and suddenly, overnight, she has so much. I am jealous. I feel betrayed. We were supposed to be bald together. She was bald for months and now she suddenly has hair? It feels insulting.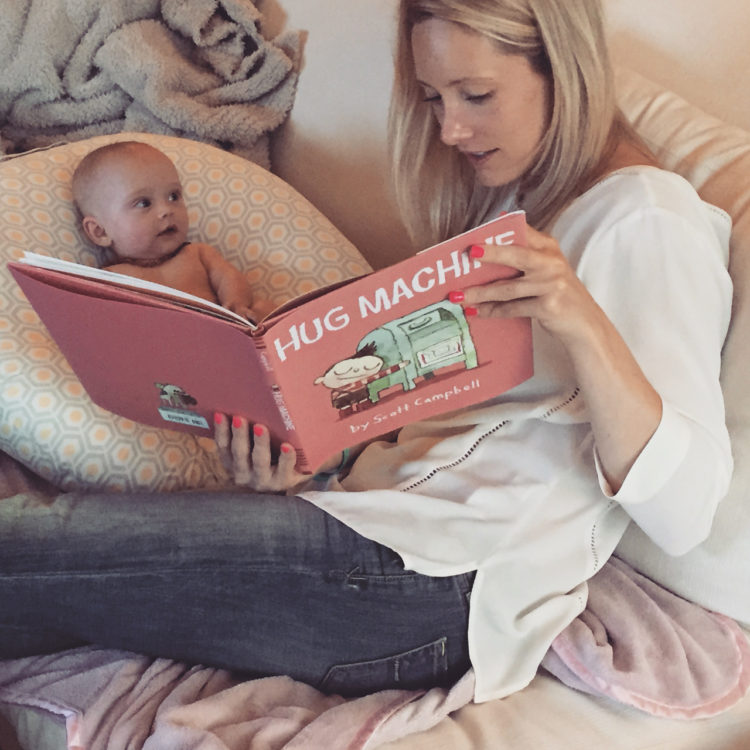 I rub my nose and my cheek and my chin and my eyelids in her hair, breathing in her sweet baby scent. "You won't even know when mommy has no hair," I say. "And if you did, you wouldn't even care." Again, I am beyond grateful I have Penelope.
At night I can't fall asleep. I lie awake obsessing about my hair. I obsess about the moment when it will start to fall out. I tug some more and check again. Still intact.
I think about Kyle's upcoming birthday and the fancy dinner we are going to. I start to panic when I realize I will be bald then. What does a bald girl wear to an upscale New York City restaurant? I roll over and stare at Kyle, sleeping soundly, his hair longer than mine now, longer than mine for the near future.
I wonder if I will still be lovable when I am bald, when I look like cancer. I already feel ugly and needy and weak, neither feminine nor sexy.
I couldn't take it. I couldn't keep wondering and worrying when it would happen. I Googled "TC hair loss when" and found a breast cancer chat dedicated to this exact topic — the waiting and wondering. I scrolled through the posts, all from women who'd undergone TC.
The number I saw, again and again, was 14, as in Day 14, as in 14 days after the first infusion. I started to panic. I climbed out of bed, walked into the kitchen and took a sedative, my hands shaking and my heart racing. I'd wanted to know and now I knew, but I only felt more anxious now.
I could have done TC and saved my hair if I chose to use a cold cap. The hospital has them and while expensive, we could afford it and insurance may have helped.
A cold cap would keep my head excruciatingly cold during the infusion and thus prevent the cells on my scalp from dying. These have been used for many years in Europe and clinical studies have been done in the US as well. A cold cap would have kept my hair because the chemo wouldn't kill those cells.
But how would I ever be able to sleep at night worrying about the cells I didn't kill? Worrying that cancer would metastasize to my skull? As I think about chemo, my mantra has been, "Leave no stone unturned." If someday there is a reoccurrence, it will not be because I didn't do everything in my power to kill my cancer.
Today is Day 12; tomorrow, 13; Friday, 14. It is 100 percent certain my hair will fall out. It is the thing I have been dreading since the beginning. I have given my breasts. I have given my nipples. I have given my tastebuds. I now must give my hair.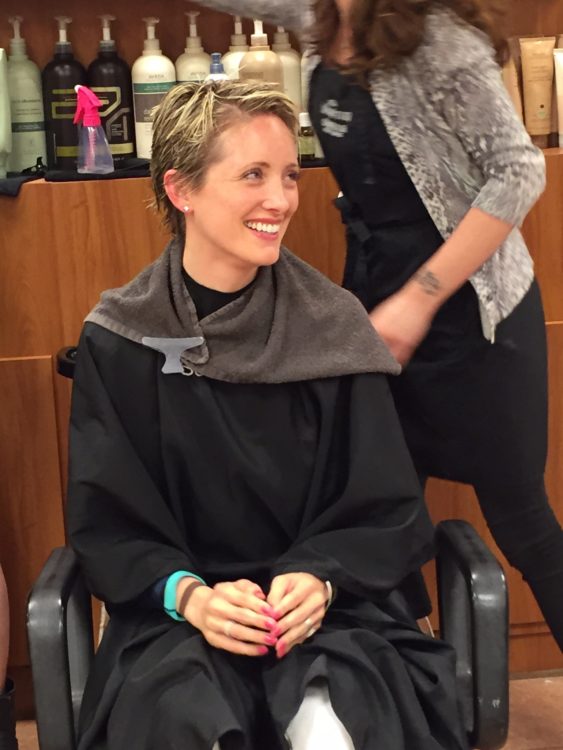 Tomorrow night I will go back to Marlo and she will buzz the remaining hair. Day 14 I will not tug and I will not stare at fistfuls of hair.
We want to hear your story. Become a Mighty contributor here.
All photos courtesy of Jessica Sliwerski