11 DIY Gifts That Are Perfect for People With Chronic Illnesses
---
One of the most special types of gifts to give or receive is a "DIY" gift – something handmade and tailored exactly to the recipient's needs and wants. DIY gifts can be super creative, personal and unique, and many are fairly inexpensive, mostly requiring materials you may already have around your home.
Whether you have a chronic illness yourself or are looking for a gift to give a loved one who is chronically ill, there are plenty of fun and affordable DIY options.
To help spark some ideas, we asked our Mighty chronic illness community what would be a thoughtful DIY gift to either give or receive. Here are their suggestions.
We hope the products below, all recommended by our Mighty community members, help you or a loved one in your health journeys. Just so you know, The Mighty may collect a share of sales from the Amazon links on this page.
1. Hot/Cold Rice Pack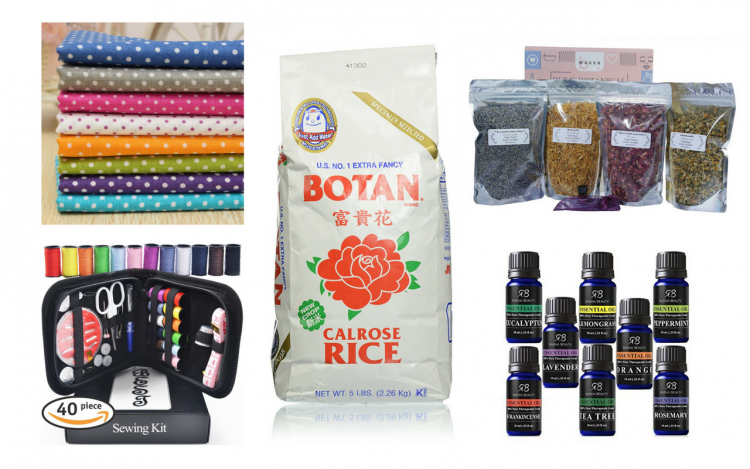 Materials needed: Fabric ($9.99), Sewing Kit ($7.99), Uncooked Rice ($4.79). Optional: Dried Herbs ($22.90), Essential Oils ($14.95).
A homemade rice pack can be microwaved or frozen to provide pain relief for those who struggle with chronic pain.
Chelsea Gober told us, "DIY microwaveable heating pads would make nice presents. You just need fabric and uncooked rice. You would need to pick a fabric, cut out two pieces and sew them together (leaving one end open), then stuff them with rice and sew the last side. You could cut them into cute shapes, too."
"Microwave warming pad," said Autumn Dawn. "Decide what size you want/get fabric. Sew along both widths and one length leaving the top open, fold inside out and sew in vertical lines from the open top to closed bottom. Add uncooked rice, essential oil mixed with rice (if you want), and sew the top together. Microwave and enjoy on achy areas."
Katrina Cox Orr noted, "If you microwave it with a cup of water near it you get moist heat too."
2. Movie Night Box
–>
Materials needed: –> ($10.92), –> ($3.49), –> ($11.76), –> ($11.99), –> ($16.99).
Get your friend ready for a fun night in with your favorite snacks, candy and movies. Don't forget some fuzzy socks or a cozy blanket to snuggle up with!
"Movie night box!" suggested Jillian Seiden. "If someone's not feeling well, gather blankets, popcorn, chocolate, etc. and put it all in a box to surprise them with and watch a movie or two with them. They'll enjoy your company and a movie is perfect because you can just lay there. You don't have to really talk or interact."
Hannah Derrick wrote, "As someone with a chronic illness, I would love to get all my friends together (like five people) and have someone plan a movie night at home in PJs with snacks and fun treats!" 
3. Decorative Calligraphy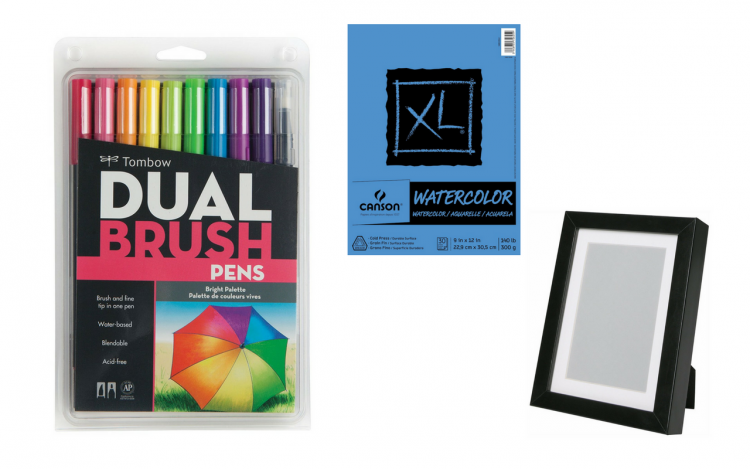 Materials needed: Dual Brush Pens ($14.43), Watercolor Paper ($8.69), Frame ($8.40).
Love to get fancy with writing? Use some fun colored pens to write out an encouraging quote or phrase your friend can keep on display as a reminder to keep fighting.
Alane Perry said, "I know calligraphy is in right now…if that's something you are able to do or if you're artsy/creative, an inspirational message written in a cute frame could mean the world! I have a young cousin who loves to practice calligraphy and I've thought about asking her to write some things up for me to hang around and keep my spirits up."
4. Homemade Coupons
–>
Materials needed: –> ($6.33), –> ($4.85) and –> ($4.99).
Homemade coupons are easy to make but so very meaningful. Make coupons for chores or tasks your friend or family member may need help with – such as cleaning their home or picking up their groceries – that they can redeem at a later date.
"Coupons!" said Kathy A Zabliski. "Coupons for things like: help with the laundry, a night with movies and popcorn…etc. Choose things that would help out the ill person or things to make them feel better."
Bailey Sonday suggested, "A 'gift certificate' book filled with 'good for house cleaning,' 'babysitting,' 'home spa day,' 'foot and back rub,' etc."
5. Mason Jar With a Recipe and Ingredients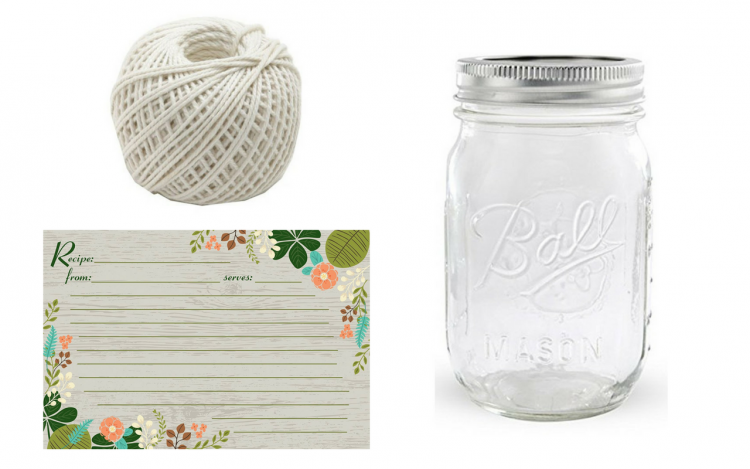 Materials needed: Mason Jar ($6.51), Recipe Card ($5.99) and String ($3) – plus the measured dry ingredients!
If you have a friend who loves having a tasty treat but doesn't like doing all of the prep work, you can do it for them! Find a recipe your friend can eat, combine all the dry ingredients in a mason jar, attach the recipe and voilà! They get a homemade treat, with significantly less effort.
Courtney McNamara recommended, "One of those 'in a jar' recipes, like brownies or hot chocolate. You can customize a recipe to their taste or dietary restrictions. When they want a sweet treat, half the work is done since the dry ingredients are already measured! Just dump in a bowl, add the wet ingredients (maybe gift the wet ingredients too) and bake. Minimal effort and clean-up too."
Shannon Barnsley wrote, "Mason jar of homemade cocoa mix, mini chocolate chips, crushed peppermint sticks and mini marshmallows with a holiday ribbon around it (or stirring spoons for cocoa dipped in chocolate and with crushed candy canes on them). Or baking mason jars with all the dry ingredients in them and the instructions on a tag with a pretty ribbon around it. I've made chocolate chip cookie, oatmeal chocolate chip cookie, oatmeal cookie and pumpkin spice pancake ones before."
6. Handwritten Notes
–>
Materials needed:  –> ($8.53),  –> ($5.95) and  –> ($7.95).
It may seem simple, but a handwritten note on some pretty stationary or a postcard is a lovely way to remind someone you're thinking of them and are grateful to have them in your life.
Heather Moran recommended, "A note telling that person how much they mean to you. Or little notes of inspiration in a jar to get them through each day to keep them fighting, 365 of them… they can open one each day. Just to keep them holding on each day."
Renee Whykes told us, "A basic DIY I do for friends is I color in a Johanna Basford postcard and write a encouraging note on the back in pretty calligraphy, usually a scratchie thrown in for good measure."
7. Pre-Made Meals (in a Disposable Dish)
–>
Materials needed: –> ($2.51) and –> ($10.99) – plus a frozen, pre-made meal, of course!
Preparing several easy dinners can be a huge help for someone with chronic illness. Simply put it in a disposable dish and attach a recipe card with cooking instructions. All they have to do is pop it in the oven!
Barbie Ann Villanueva suggested, "A ready-made meal in disposable dishes! Maybe a meatloaf or lasagna that just needed to be baked would be OK if it was in a foil pan that could be thrown away. Dishes are a huge chore for me with chronic back pain and sciatica. There is nothing worse than having to wash someone else's dishes and worry about getting them back to them."
"Making a ton of pre-made meals you know they enjoy and stack their freezer with them so they save money and won't have to worry about cooking for the month," said Kerianne D'Hondt.
8. Handmade Journal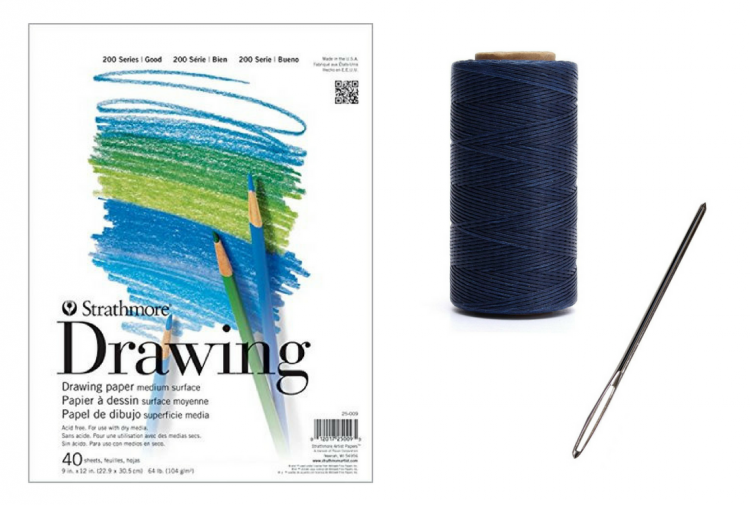 Materials needed: Drawing Pad ($8.06), Waxed Thread ($7.79) and Large Needle ($4.91).
Writing can be therapeutic for many people, as it gives them a place to express their emotions and document their experiences. You could either make a journal for a loved one or, if they're crafty, give them the tools to make one themselves.
Nicole Lee told us, "I would give a kit to make a journal – all you need is paper, some strong thread and a needle. Just fold the paper in half and sew at the seam. When I journal in a book I created myself, it makes it feel more special."
9. Photo Collage
–>
Materials needed: –> ($24.99) and –> ($12.99) – plus your favorite pictures!
A framed photo collage can easily be assembled to give your loved one a visual reminder of all your favorite memories together.
"A collage of your friendship together. It solidifies that there is always someone there for them even when they can't give back. I would get printed photos and find a frame that was unique and talks about friendship and maybe type a letter on the back of admiration for the friend battling the illness," said Kerianne D'Hondt.
10. Knit Blanket or Quilt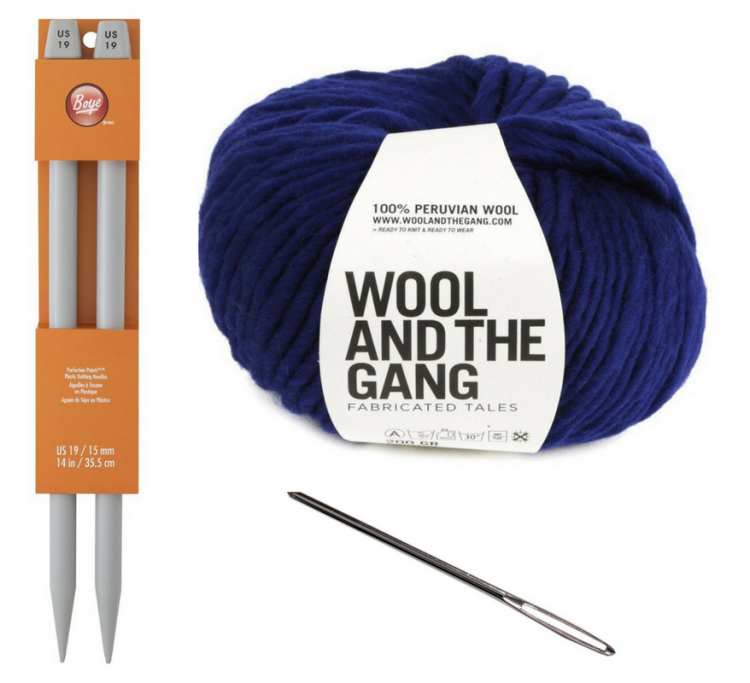 Materials needed: Knitting Needles ($5.64), Wool ($23.50) and Sewing Needle ($4.91)
If you like to crochet or knit (or are interested in trying it out!), you could make something warm and cozy (blanket, scarf, hat, etc.) for your loved one to cuddle up with.
Eloise Lucretia Melissa Howlett wrote, "If I did crochet or knitting or quilting, a blanket might be good for some folks. One they can keep folded on their lounge room sofa (or wherever they go to rest during the day) in easy reach."
"One of those arm knitting blankets," suggested Krista Itzhak. "The wool is soft, and it's nice mild exercise. Unfortunately, it's expensive. Crochet hooks, yarn and a guide for a scarf (easy) would be nice too."
11. Bath Salts
–>
Materials needed: –> ($6.94),  –> ($15.99), –> ($8.78), –> ($5.99), –> ($12.95), –> ($14.95),  –> ($12.99) and  –> ($3).
Many people living with a chronic illness enjoy taking warm baths as a way to both relax and ease aches and pains. A jar of bath salts is easy to assemble, and you can customize the color, scent and ingredients to accommodate your friend's needs.
"Detox bath salts/foot soaks," said Kari Prince. "Get a jar of Epsom salts and decorate it nice or add your own essential oil blend to it for a personal touch."