How to Make Your Next Flare Easier on Yourself
---
I find that whenever I go into a flare, everything I need is spread out all over the house. Usually during a flare, I'm also in too much pain to get from the couch, to the bed, to the bathroom. But, if I can do all of those things at all, then that's really a successful flare day.
That's where a "flare box" and a "good things jar" come in.
A flare box is a box dedicated to items that you need or that will provide comfort during a flare or on a bad day. You know, the items that are all over the house when you need them the most. It can be your favorite blanket, a heating pad, a teddy. Perhaps it's your favorite board game, puzzle, movies you like to watch, chocolate bars, candles – all the things that will help you feel a bit better and take away some of the pain you are experiencing because of the flare.
Decorate your flare box. Make it beautiful. In doing so, you will make the experience of a flare, a better, more beautiful one.
Make it something that you treasure, and take care of, so that it has importance. That way, when you have your bad day, the flare box has the healing powers you need it to because you have bestowed those upon it through your belief in it's ability to help.
I always need my heating pack, or my hand warmers, or my Voltaren gel, the chocolate bar that is down a flight of stairs in the kitchen, and my pain meds which are spread out throughout the house. Then I often want a blanket, movie, some gummy bears, or a migraine med.
I waste more energy wandering around and moaning about the pain it takes to wander around finding the things I need than I would if I just had them in one box.
Have it in one place. Make a flare box. Make things easier on yourself.
This holiday, if you do something for yourself and your illness, do this.
Get your friends to contribute little encouraging notes for your flare box that you can read.
I am going to combine my flare box with something called "the good things jar," which I used during my depression to cheer me up.
A good things jar is a jar where you write down all the good things that have happened to you, and place the notes inside the jar. If you have a bad day, you can pull them out and be reminded that this bad time will pass, and something good is coming soon.
I'm going to put a good things jar in my flare box.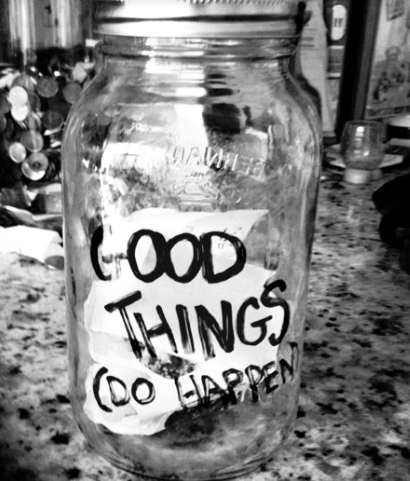 I used any old jar, just like you can use any old shoebox for your flare box. (Although you may want to use a wicker basket, or something else, but you don't have to go out of your way and spend lots of money to get a particular box.) Start with something you have around the house and that can be easily decorated – but that is also big enough to fit your flare items. Take care in choosing a box that will mean something to you, and reflect how important a role this box will be in your life. Cherish the choice you make.
For my good things jar, I used an old mason jar. The first time I made one, I just wrote on the jar in sharpie. The second time, I made a little card and used some glue to glue the card onto the jar, and then I put ribbon around it.
I'm going to ask people, to put little notes into my flare box, too. I'm going to put the comments from articles that I write in there, and I'm going to put all sorts of sources for emotional encouragement. I'm doing this because a flare, while it's painful, isn't just physically tough – it is emotionally challenging to hold on and get through it and not give up. This is where the good things jar and the notes of encouragement come in. Try putting your favorite poetry, or helpful Mighty articles and quotes in the box too.
Make your flares easier on yourself. Make them into a healing work of art (as best you can).
Be armed and ready for your next flare with a beautiful box and words of encouragement, so that when it comes, you are ready to tackle it the best way you know how.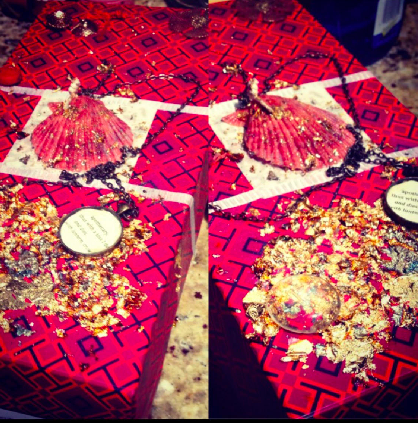 Here is a picture of another type of box that I made several years ago (not big enough for a flare box), but it may help get your brain jogging for ideas. It is a patterned shoebox with gold colored foil, paint, some shells, and some other miscellaneous items glued on top. Use whatever makes you think will brighten your mood, or bring comfort.
Good Luck with making your flare boxes and good things jars. I hope they help!
If you or someone you know needs help, visit our suicide prevention resources page.
If you need support right now, call the National Suicide Prevention Lifeline at 1-800-273-8255, the Trevor Project at 1-866-488-7386 or reach the Crisis Text Line by texting "START" to 741-741.
We want to hear your story. Become a Mighty contributor here.
Gettyimage by: bruniewska