Behind the Vacation Photos of a Person With Chronic Illness
---
Did you see my vacation pictures?
Yes, I went on vacation.
Yes, I have a chronic illness.
And yes, I am still in pain.
I learned years ago to fit my chronic illness into my life, and not my life into my chronic illness. So the vacation to Disney World that I planned with my best journey friend nine months ago just happened – even in the midst of a rheumatoid arthritis (RA) flare. I am not going to lie, it was not easy and I felt pain every day I was there. But every bit of pain was worth the memories I made.
Mariah Carey sings the words, "She smiles through a thousand tears." And no statement could be more fitting for a chronic illness warrior's vacation photos! Like any person, the pictures we post on Facebook are our best ones. No one, healthy or sick, wants to post unflattering vacation photos on social media. Before I posted my vacation pictures, I studied them like a teenage girl trying to impress a crush. My checklist included questions like:
Does my prednisone weight gain show too much?
Are my fingers noticeably swollen?
Is my smile on point?
After posting my vacation photos, I knew I would hear a lot of different statements – but one I knew I would hear more than once haunted me, "Are you feeling better? It looks like you are."  Nothing could be further from the truth and posting my best vacation photos failed to show all of the truth of my vacation.
The truth is that chronic illness does not take a vacation. Chronic pain does not take a vacation. Disability does not take a vacation. And, rheumatoid arthritis does not take a vacation. I packed it all up and took it all with me to Florida. My medications, calls from nurses, calls from the pharmacy, and immune dysfunction all made the trip with me. And getting to Florida took extra preparation from my medical team. A week before I left, my rheumatologist worked tirelessly to patch me up by providing 12-15 injections to help with my flare. Also, taking a vacation meant an increase in prednisone. My doctor doesn't discourage me from living life or vacationing, especially since he and I both know that life is uncertain when one has rheumatoid arthritis.
Many with chronic illness have a behind the scenes story concerning their vacation photos, the stuff we try to hide behind the smile that we post on social media. I want to give you the behind the scene look at my recent photos and share what they did not show. Hopefully, my candidness will clear up any misconception that the smile in the picture gives.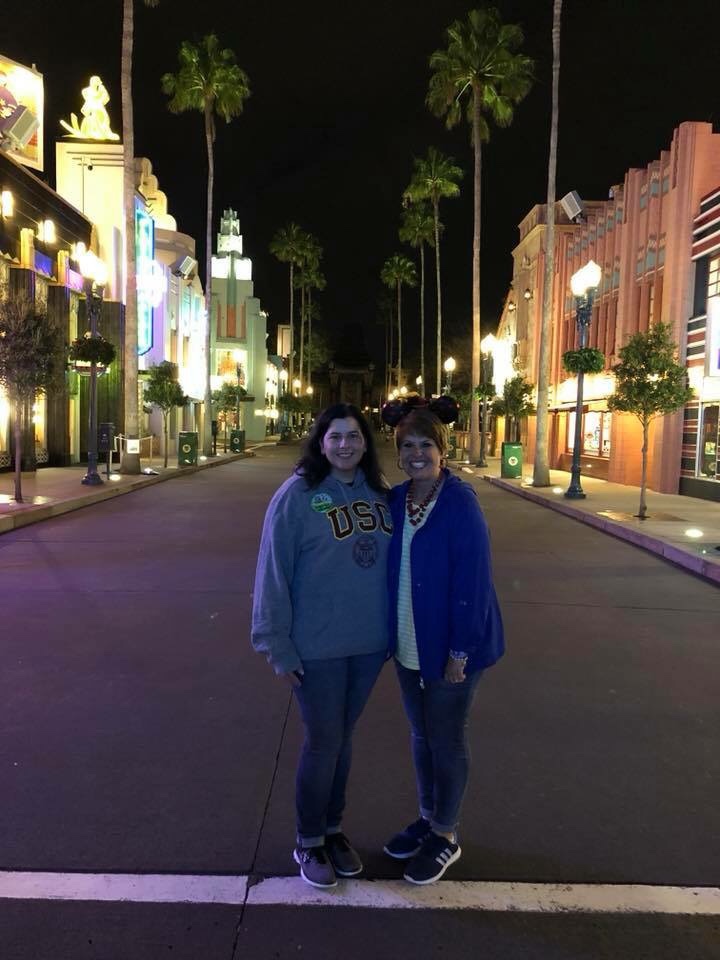 So what did my pictures fail to show? For starters, the flight to Florida from California was a long flight. While the healthy world congratulated my husband and I on finding a direct flight, my body suffered from a long period of travel without the opportunity to walk around. Sometimes layovers are a welcomed break as it gives me time to move around beyond a plane seat.
Another behind the scenes photo would be the physical ordeal that required us to request for a room upgrade because my joints and lungs couldn't make the 10 minute walk to our "garden view" room. And, once we arrived in our "upgraded" room, I found myself unprepared for the wood floors. Walking on wood floors with arthritic feet is as painful as walking on rocks with bare feet.
While I posted several pictures at the park, the un-posted picture would show a need to request a disability assistance pass. That request is always awkward because my illness is invisible and there is fear that I may be seen by others as "taking advantage" or "abusing the system." It causes anxiety at the start of any vacation at a theme park. Also, because I have RA, mornings are very tough and that morning pain doesn't take a break when on vacation – so many morning hours were often lost while I "thawed out." Often the first thing my husband and I did upon arriving at the parks was have lunch. That is why there are more posted night photos than daytime vacation photos. I joke a lot about being a vampire because my friends see more night photos than day photos, and that's the reason why.
I didn't post the pictures showing my constant need to stop and rest, which was the result of my current flare state. I looked for benches and areas I could sit and rest. And medicine doesn't take vacation either. I probably should have bought a ticket for my traveling pharmacy. I still have to take my medicine while on vacation, so pictures fail to show that I was actually eating "that" or drinking "this" while I took prednisone so I could keep going.
My Starbucks from the parks photos were a daily staple and pretty popular with my friends and family. But, what you didn't see was a day I cried into my Starbucks coffee because it was the day my body decided it had enough with my vacation shenanigans. Yep, I cried into my Starbucks while at the happiest place on earth.
There is so much more than the above examples, but I'm certain that you are starting to see the pattern. This pattern is all too common for so many in my shoes. Like I said before, we fear posting vacation photos for the misconception they may give. Just because our vacation looks painless or healthy in the photos we post, it probably is not the total truth. The pictures we choose to post are putting our best "sick" foot forward!
So, to the friends who have seen my pictures and wonder if I'm feeling better, I'll just say this: my mind and spirit were energized, but my body will probably be in recovery for a few more weeks – and that's OK. I made some really wonderful memories and brought home some pretty awesome Mickey ears!
We want to hear your story. Become a Mighty contributor here.