A Message to Shooting Survivors, From a Virginia Tech Survivor
---
After I wrote an open letter to the survivors of the Las Vegas shooting as someone who survived Virginia Tech, many people contacted me with questions. I've decided to share these questions and my responses so that others can benefit as well. I also want to point out that these are my responses based on my personal experience. I share with you the lessons I learned throughout my recovery process, as well as what I wish I knew years ago.
Does there ever come a day you don't think about it?
Yes. Eventually. I can't remember exactly how long after the VT shooting it was for me, but it was a while. After the shooting, I struggled to be present. I either wanted to go back to life before the shooting or fast forward. But I had to accept that life wasn't going to return to the way it was before, and I couldn't fast forward through the pain. You have to sit with it. It sucks, and I don't have much advice to get through it. But I would advise: don't try to go around the pain, or avoid it or ignore it.
I will add that there is yet to be a fireworks show in 10 years that I've enjoyed. I don't think I ever will. That's OK. There are plenty of other ways to celebrate life and our great nation.
Am I even a "survivor" since I wasn't physically injured?
Oh gosh, what a good question. I still struggle sometimes calling myself a "survivor." Ultimately, yes — you are a survivor. You experienced and lived through a shooting, a life-or-death experience. You survived. It is normal for the term "survivor" not to resonate for those of us not physically injured. But if you can get there, it is important in your recovery. When one calls themselves a survivor, they are recognizing the experience they went through was traumatic and not minimizing it.
I've been going to counseling for a couple months now, but I don't feel like I've made any progress. How long did you felt like you started making progress?
I went to a couple of counselors immediately after the shooting, but unfortunately, I wasn't being honest with myself about things that were going on, particularly regarding my eating habits. Therefore, without even knowing it, I wasn't being honest with my counselor. Years later, when I finally was ready to put in the hard work and get better, I remember showing up to the first counseling session and hoping it was going to be quick. She reset my expectations to a more reasonable timeline.
Recovery is usually not linear. There will be setbacks along the way. Eventually you'll get to a point where it's two steps forward, one step back, but in the beginning, it might feel like one step forward, two steps back. That's OK. Stick with it, continue showing up and try to stay in the present.
Do you still feel a strong desire to be surrounded by those who went through VT with you? I feel more comfortable sometimes around other survivors then my own family; did you feel this way?
Yes, yes and yes! This was the most bizarre thing for me. My classmates that I just met months prior to the shooting, my classmates who I barely spoke to and my classmates who I had almost nothing in common with. But these classmates. These classmates saved my life. These classmates and I survived a school shooting together. These classmates and I got through that day together, and the days that followed together. We were instantly bonded because of what happened on April 16, 2007.
We often use longevity to describe our relationships. But in situations like this, longevity doesn't matter. The bond you formed with your fellow survivors may be stronger than some of the longest relationships you have.
A friend told me tonight that she was surprised how hard I'm taking this because I'm generally so strong. Any suggestions on how I can respond to comments like this?
Responding to her comments will depend on a variety of things, such as what you are comfortable saying to her, as well as what you think she is going to listen to. It's hard to give concrete advice on what to say, but I can explain what I think is going on.
Years later after the Virginia Tech shooting, I drew this diagram to depict what was going on in mind vs. what people were telling me.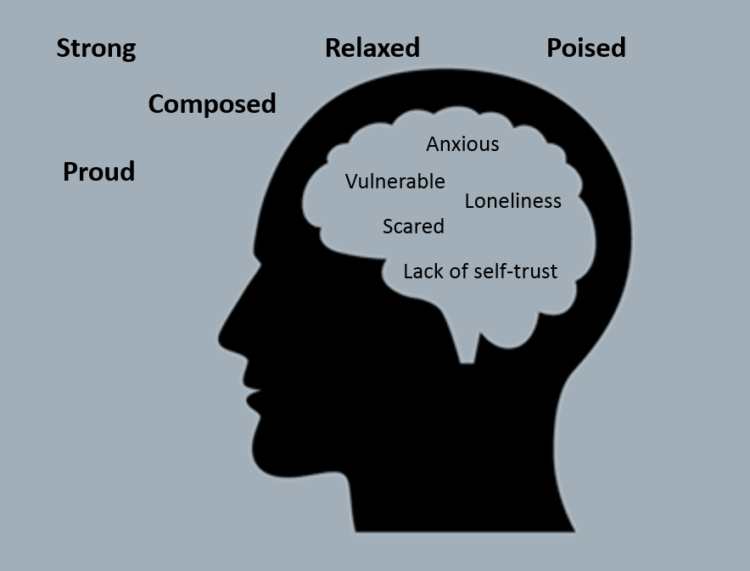 The words outside my head — strong, proud, poised, relaxed, and composed — were the things that my friends and family were telling me after the shooting. The words inside my head — anxious, vulnerable, lonely, self-doubt, scared — were the things that I was feeling. I didn't want to let my friends and family down by telling them that what they thought (i.e. I was strong) wasn't resonating with me (I felt weak). So, I didn't tell them I was struggling, and I held in the pain. I learned that the saying "fake it till you make it" doesn't apply here. I tried to fake being strong, and it was harder in the long run.
Please feel free to send me any other questions you have. Sending hugs and love your way!