What It Feels Like to Go Non-Verbal as a Verbal Autistic
---
As I sit, staring blankly ahead in the midst of my autistic meltdown, words course through my mind at the speed of light. All of my coping mechanisms seemed to have vanished, so the words are very negative. I am being brought back to traumatic memories and events. The voices of all the people who have abused me come out to play. I find myself back in my childhood home, having a PTSD episode about being shoved into my room and having the door locked when all I wanted was a hug. The scariest part for me is when I try to yell for help, but I can't. I can feel myself trying to push the words from my head out of my mouth but it just won't happen. I might be able to repeat a phrase over and over, but I can't control what phrase it is nor can I stop it. Other than that, it's complete silence.
I am usually very verbal. I often have a hard time processing and sometimes words can take very long to run down the tunnel and out of my mouth, but I can make it happen. There are times, however, I go completely non-verbal. This usually happens in times of burnout or during a meltdown. My vessel just shuts down and I feel like a shell of a human. It doesn't usually last very long, but there is always the next meltdown glimmering on the horizon. There are days where I am just having a meltdown every hour, which greatly increases the chances of me going non-verbal.
The basic difference, for me between verbal and non-verbal autism is the actual ability to physically use their voice, not the words inside their head. Thanks to all the technologies available now, people who can't use their voice to speak now have very useful tools to help them communicate. Your ability or inability to speak words has nothing to do with levels of intelligence or functioning.
I adore notebooks and I have them scattered around the house. If you flip through them, you'll see to-do lists or notes on my current knitting project. Every so often, you come to a page that has a messy and frantic message, pleading to make everything stop. When I am non-verbal, writing is my only hope of getting words out of my brain. I always try to have a notebook near me, even in the car.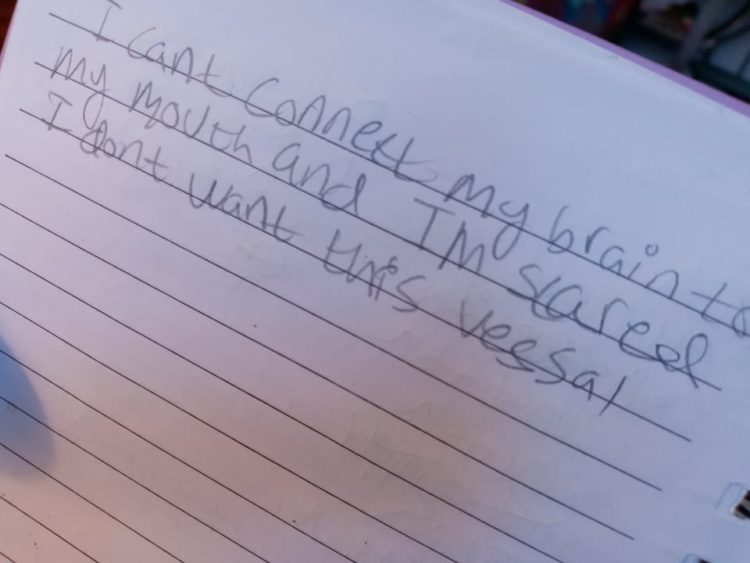 I have been rocking, tears streaming down my face, for who knows how long. I can feel a dull pain in my thighs and I know that I will have bruises tomorrow from punching myself. Slowly, the cloud lifts, and I suddenly hear myself screaming "help." A small bit of controlled verbalism is back. My boyfriend comes running down the stairs and gives me the deep pressure that helps snap me out of the scenes in my head. He holds me while I babble like a toddler, my words very limited, but more than I had a few minutes ago. Eventually, the meltdown stops, and I find myself back on the normal plane of existence. I have won another battle in the war that is my autism.