These Small Acts of Kindness From Strangers Got Me Through the Tough Times
---
At the age of 4 months my beautiful baby girl was diagnosed with agenesis of the corpus callosum, retinal lesions, infantile spasms and developmental delays, which all together is Aicardi syndrome.
Life became more challenging in an instant.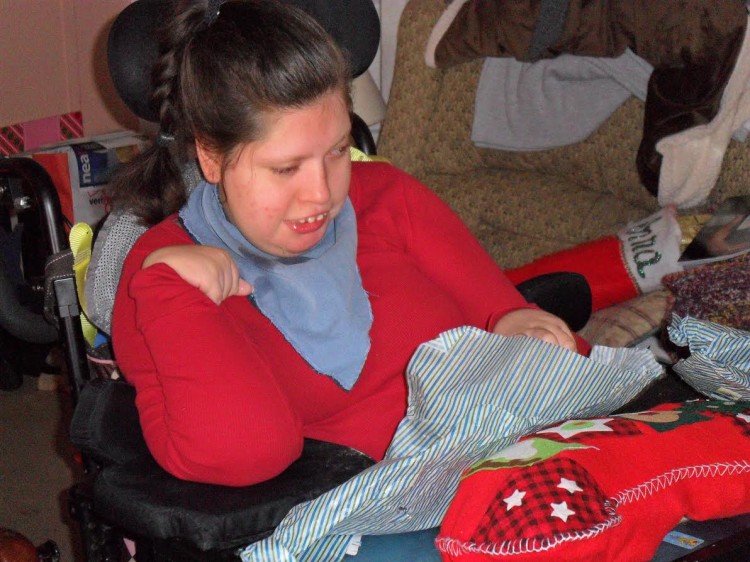 Over the past 22-plus years, as I grumbled my way through crowds at the mall and cried inside at amusement parks, there has usually been someone who extended an unexpected kindness, reminding me others see my daughter's value and recognize our family's challenges.  Sometimes it's as simple as stopping to say hello to Hillary, unfazed by her nonverbal answer, or opening a door as we approach pushing her wheelchair.
For her last birthday we took her to a local street fair where she was showered with balloons and trinkets from vendors and community organizations there.  One time we were traveling and a woman stopped at our restaurant table to tell me what a good mother I was. It was a gesture so simple, yet so powerful and needed at the time. I still tear up when I think of it.
When Hillary was 7 we were at the mall shopping in the Disney store and unbeknownst to us we were being watched. We exited the store and began walking through the mall when we heard a man calling to us. We stopped and turned around as he approached, holding out a small snow globe with Cinderella's glass slipper inside.  He said he had been watching us in the store and Hillary had touched his heart.  The snow globe sits on her dresser where every morning and night I am reminded of how kind some strangers can be.
It was around the same time that we went on a Girl Scout family trip to an amusement park.  As we were sitting on a bench with Hillary next to us while her older sister and her friends went on rides we were approached by a small group of giggling teenagers.  One of them held out a red stuffed dragon toy to Hillary and asked us if it was OK to give it to her.  It also is in her room where I see it every day.
Such incidences of random kindness are kept in my memory like treasures in a box.  I examine them on those days when I need an extra reminder that there is so much good in the world.
For all of February, The Mighty is asking its readers the following: Describe the moment a stranger — or someone you don't know very well — showed you or a loved one incredible love. No gesture is too small! If you'd like to participate, please send a blog post to community@themighty.com. Please  include a photo for the piece, a photo of yourself and 1-2 sentence bio.
Want to celebrate the human spirit? Like us on Facebook.
And sign up for what we hope will be your favorite thing to read at night.