The Moment in an Art Class That Showed My Daughter's True Potential
---
When my now-22-year-old daughter, Hillary, who is diagnosed with Aicardi syndrome, turned 3 and left early intervention services, we chose a self-contained special education school with a therapy-based program to begin her school career.
I struggled to see, even after nearly three years with early intervention therapies, how she would ever fit in anywhere, as she was usually the most challenged of her peers in the program. To put this into perspective a little, I had stopped hoping she'd be able to feed herself and chew. I was content that she could hold her head up while being fed pureed food and thickened liquids.
At the time she entered the public school system, I was not working outside the home, so I was free to visit the school whenever I pleased. The staff was always welcoming and happy to have parents and siblings visit, and I took my older daughter with me when she didn't have school. I felt it would help her to see that her sister was safe and had peers just as she did.
While I saw all that, too, I still had a tough time seeing her as doing anything "normal" enough to fit in outside the walls of the school… until one day when visiting and I sat in on her art class. In that room, I saw the most amazing thing.
Hillary was engaged in an art project, with the help of an assistant and the art teacher. She and the other five students in her class sat in their Rifton chairs around a half-circle table with the art teacher sitting in the middle. He was interacting with each one by turn, talking about what they were doing, and using hand over hand to help accomplish the task. It was overwhelmingly such a "normal" thing for preschoolers to be doing that it struck me that my daughter would be able to participate in activities with regularly abled peers with a little extra help.
She would, regardless of her challenges, be able to do all the things her sister did. It really changed the way I looked at what Hillary could do and how her life could be.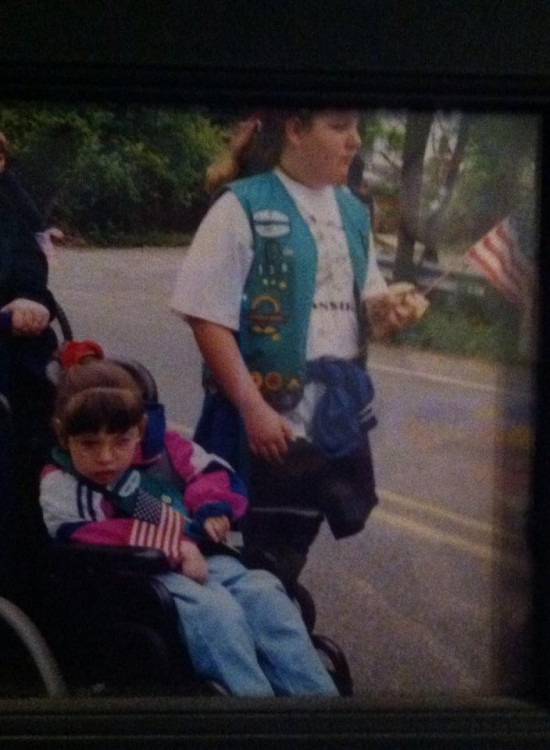 After that, I enrolled her in the Sunday school class for her age group at our church. I was amazed at how much she liked it and how interested she was in what her peers were doing.
As she grew older, she was able to join a Girl Scout troop in town, and when we decided that she should leave the self-contained school and be in our town's schools, she was able to participate in chorus (even though she is non-verbal), wood shop, keyboard lab, and art classes with her peers.
As she grew she was able to have most of the "normal" experiences of childhood that her sister did. There were even times when she and her sister were on stage together for chorus, in parades together with Girl Scouts, and participating in the church's Christmas pageant together.
Seeing Hillary in that art class helped me to see beyond what she wouldn't be able to do, and realize all that she could achieve and experience in her life.
The Mighty is asking the following: Can you describe the moment someone changed the way you think about a disability or disease? If you'd like to participate, please send a blog post to community@themighty.com. Please include a photo for the piece, a photo of yourself and 1-2 sentence bio.
Want to help celebrate the human spirit? Like us on Facebook.
And sign up for what we hope will be your favorite thing to read at night.