To the Girl Who Was Just Diagnosed With Ocular Albinism
---
Well, hello there, little me. You had quite a bit of a rough day, haven't you?
You spent a day not doing baby things, like napping or playing with your toys, but instead found yourself with your parents in a doctor's office not too far from Orlando. You were poked and prodded and had light shined into your eye, all because your mom and dad noticed you weren't making eye contact or tracking like a "typical" baby should.
That day was a frightening day for all involved, which ironically landed on all days, the day the Challenger exploded. A double day in history for your family.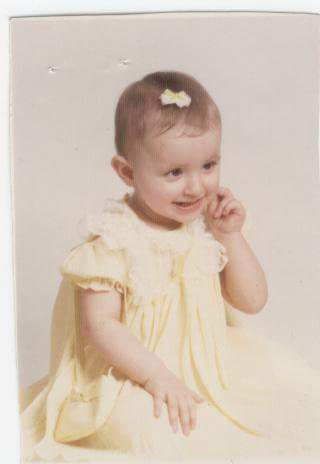 I ain't going to lie to you, little me — ocular albinism is a label not everyone wants, being legally blind and living a life restricted in more ways then one. Not being able to drive or participate in sports, being denied friendships and typical kid-like things because you're different. It's a devastating thing to know you might never fit in. You and your parents will find themselves crying some nights, wishing this would never happen to you and that it would magically go away.
Life is going to be hard; vision therapy and hospital visits will replace things like Gymboree or day care. Instead of cutesy circle time songs and finger games, you will constantly be tested by doctors and forced to explore the world in different ways through your vision therapy teachers, who will follow you up until you're in high school.
People will judge you, interrupt your normal life with mobility lessons and IEP meetings, and make your life a living hell. Nobody seems to take you seriously, and you will always struggle with trying to fit in.
But your tough and busy youth is just a small part of your life. With every bad experience comes a new opportunity to grow and prove the naysayers wrong. Everything you learned that you thought would be a waste of time actually comes in handy. Independence. You will earn it through hard work and determination. The dreams that got lost on that day in 1986 will come true. You'll go to college and graduate, move out of state and land your dream job at Disney. There really is light at the end of the tunnel.
The next couple years will be hard, but don't worry. It is worth it in the end. Although you can't see it right away, the world is a beautiful place. You will live your life essentially limitless. Your eyes will not define you. Your strength to overcome will.
Don't be afraid, little one. You got this.
Follow this journey on Legally Blind Bagged.
The Mighty is asking the following: Write a letter to yourself on the day of the diagnosis. If you'd like to participate, please send a blog post to community@themighty.com. Please include a photo for the piece, a photo of yourself and 1-2 sentence bio. Check out our Submit a Story page for more about our submission guidelines.
Originally published: February 4, 2016