Why I Wrote This Letter to the Class of My Daughter With Albinism
---
This is normally the greatest time of year for the introverted side of me. I survived the summer and now I get to send my little one back to school. Finally, I get to sink into a quiet routine where my work is completed in the daylight hours, instead of between 9 p.m. and 2 a.m., and no one is spilling my tea.
But this year is different. This year is "for realz." This year my daughter with special needs will leave her special education bubble and take a seat in a mainstream classroom. And instead of eagerly awaiting the start of school, my heart feels like lead and a sad lump has taken root in my throat.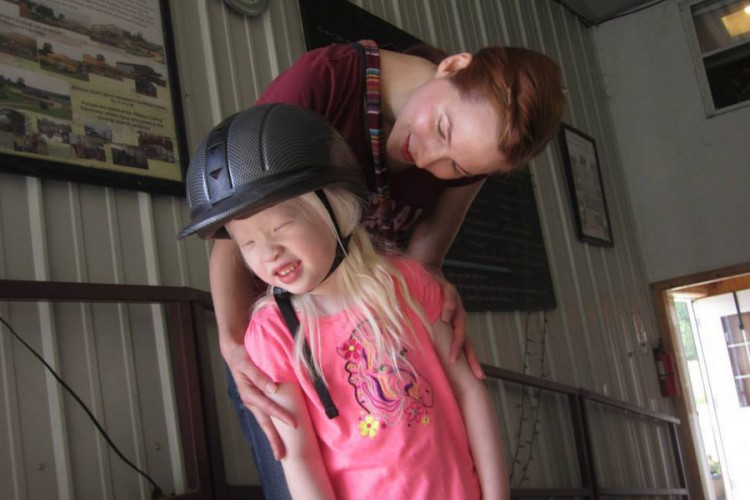 I have to remind myself that she will have an aide by her side. I have to tell myself she is very different from me, and quite possibly, the strongest and most extroverted person on the planet. Her laugh is contagious, and she will hopefully find a few kids who will truly get her.
Instead of sitting around imagining the worst of nosy questions going unanswered and looks being exchanged, I needed to do something productive to help ease the transition.
I decided to make this letter for her. And, of course, she wouldn't sit still for photos, so I ended up including all the attempts that I took, which, in the end, capture her in a more real way than a posed picture ever could. 
And I pray the kids in her class will be able to take it in and choose to be patient with my funny, brave and beautiful girl.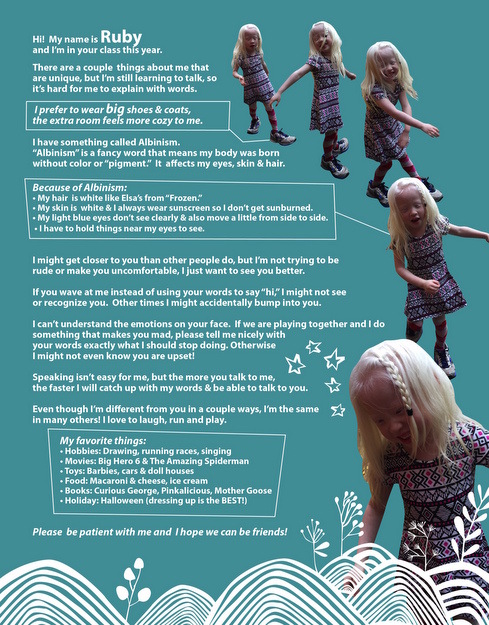 Hi! My name is Ruby and I'm in your class this year.
There are a couple things about me that are unique, but I'm still learning to talk, so it's hard for me to explain with words.
I prefer to wear big shoes & coats, the extra room feels more cozy to me.
I have something called Albinism. "Albinism" is a fancy word that means my body was born without color or "pigment." It affects my eyes, skin & hair.
Because of Albinism:
• My hair is white like Elsa's from "Frozen."
• My skin is white & I always wear sunscreen so I don't get sunburned.
• My light blue eyes don't see clearly & also move a little from side to side.
• I have to hold things near my eyes to see.
I might get closer to you than other people do, but I'm not trying to be rude or make you uncomfortable, I just want to see you better.
If you wave at me instead of using your words to say "hi," I might not see or recognize you. Other times I might accidentally bump into you.
I can't understand the emotions on your face. If we are playing together and I do something that makes you mad, please tell me nicely with your words exactly what I should stop doing. Otherwise I might not even know your are upset!
Speaking isn't easy for me, but the more you talk to me, the faster I will catch up with my words & be able to talk to you.
Even though I'm different from you in a couple of ways, I'm the same in many others! I love to laugh, run and play.
My favorite things:
• Hobbies: Drawing, running races, singing
• Movies: "Big Hero 6" & "The Amazing Spider-Man"
• Toys: Barbies, cars & doll houses
• Food: Macaroni & cheese, ice cream
• Books: "Curious George," "Pinkalicious," "Mother Goose"
• Holiday: Halloween (dressing up is the BEST!)
Please be patient with me and I hope we can be friends!
Follow this journey on Katecosgrove.com.
Originally published: August 31, 2015