My Daughter Was Alive for 23 Minutes, and Every Second Was Beautiful
---
Twenty-three minutes.
That's how long our daughter, Lyla, lived.
Twenty. Three. Minutes.
That's shorter than I had hoped, yet longer than I expected.
Let me explain.
At our 20-week ultrasound, my husband and I learned we were having a girl. We also learned she had a terminal defect called Anencephaly. Our daughter was missing the majority of her brain, and this was not compatible with life. She had a brain stem, which told her heart to beat and gave her body movement, but she would not live.
When I first heard this, I sat wide-eyed, breathless, looking at the doctor. How do you respond when given news like this? I couldn't move. Time slowed down as I looked around the room and met eyes with my husband. And then my thoughts began to race. Not compatible with life? This means death. This means no sweet baby with curly locks, no kisses, no diapers, no late nights, no first steps, no scraped knees, no hugs, no first day of school, no uncontrollable laughter or tickle fights or Ring around the Rosie, no prom, no wedding. I began to weep.
I was blindsided. This was my first pregnancy, and the joy that filled our hearts suddenly turned into despair. I had two options — be induced at 20 weeks, give birth and be done. Or — carry full term (which was completely safe for me to do) and meet our daughter, who might not be born alive — and if she was born alive, she would only live for a short while. We'd have to say goodbye as quickly as we had said hello. Those were my choices. Just those two. I ached for a third choice, silently begged for one that would mean life. But a third choice never came. My heart was broken.
I mean, sick-to-my-stomach, don't-get-out-of-bed, weep-at-a-moment's-notice broken. Some of the worst moments of my life. I remember lying on the floor at home and weeping because that's all I could really do. Flat out, on my face, weeping for my little girl.
I decided (and my husband stood by my choice) to carry Lyla full-term, in hopes to say hello (if only for a moment), hold her in my arms, hopefully hear her heart beat and tell her how much I loved her.
But in the midst of all the anguish, in the midst of the storm, the sun began to shine ever so slightly. The moments of sadness were softly sprinkled with joy.
This may sound crazy, but the nine months and 23 minutes I knew this little gal were life-changing. Real. Raw. Eye-opening. Breathtaking. Beautiful. Bittersweet. Wild. And filled with joy.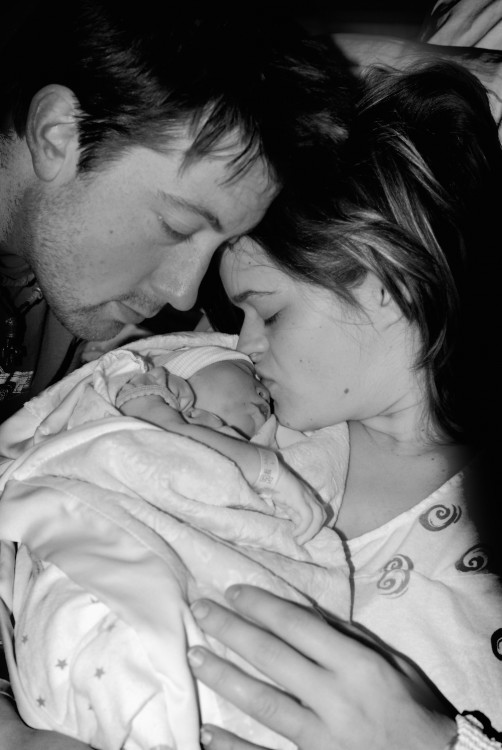 Our sweet little babe.
We came to some sort of understanding that this short existence was to be her story. A long life wasn't her tale to tell. We turned her brief time here with us into a gift, a blessing to us that we were even able to know her (in the womb) and hopefully for a short time on her birthday.
Yes, my heart was filled with so much sorrow, but Lyla reminded me what real joy felt like and that you cannot know one emotion without the other. Lyla made it known in my heart that life is fleeting and my loved ones deserve to know how much I cherish them. Her sweet little soul encouraged me to express my love to my family and friends. Even now, when I talk with those I love, the conversation usually ends with an unashamed "I love you." Lyla taught me that. Her tiny existence spoke volumes. She slowed down sweet everyday moments. She reminded me to stop and watch the sunset, listen to birds chirping, appreciate the "death" of winter because it simply meant new life was coming soon, to fill my life with laughter, to cry without shame, to love with abandon, to speak up, to listen, to hear others, to try my very hardest to journey through life with a nonjudgmental heart. That everyone deserves joy, everyone is worthy of kindness, everyone deserves their chance to speak, everyone needs love. It may sound crazy that an unborn baby taught me these things, but she did. And it brings happiness to my heart.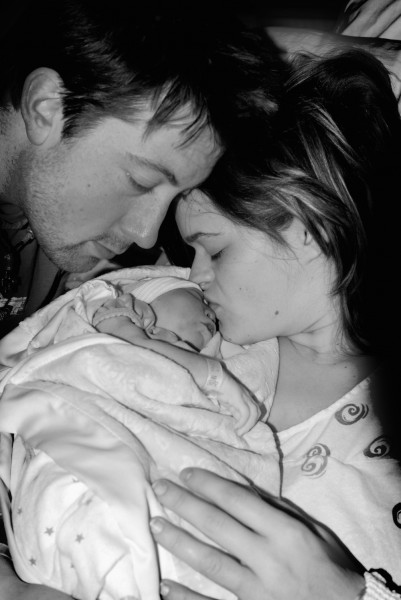 Lyla was born on June 20th, 2007.
She was placed immediately in my arms. I asked the nurse if she had a heartbeat, and her answer was yes. I listened to that slowing heartbeat, and my heart was overcome with sorrow and peace.
For 23 minutes, I held her in my arms, I kissed her cheeks, touched her fingers and toes, loved on her with every ounce of my soul, shared her with my husband and listened to her heartbeat slowly fade. And then stop.
Without a doubt I wish she was here. I ache for her and wonder what she would be like, what she would look like, what she would sound like. This June, Lyla would be 7 years old. And I miss her still. But I do not stay in the sorrow too long. I search for the things she taught me, the people she touched. I tell her story when I can, to those who will listen. I remind them to love one another and love with their whole heart. I'm reminded of Lyla in beautiful moments, in songs we sing at church, in the love I see families express towards one another, in rainstorms, in beautiful blue skies, in quiet moments of reflection, in laughter between friends, in the sweet love I have for my husband and daughter, Eden, and the love they have for me. I am so glad I met her.
Because of Lyla, life is full and beautiful and brighter and sweeter and richer. It's full of heartaches and disappointments, but also full of peace and joy, thankfulness and laughter. We have a 6-year-old daughter, Eden, who is the treasure of my heart. I truly believe I love her in an even deeper way because of my sweet Lyla. She still affects me today, and I hope she always will.
"When you are sorrowful, look again in your heart, and you shall see that in truth you are weeping for that which has been your delight." ― Kahlil Gibran
Miss you, sweet girl. Thank you for everything.
Love,
Mom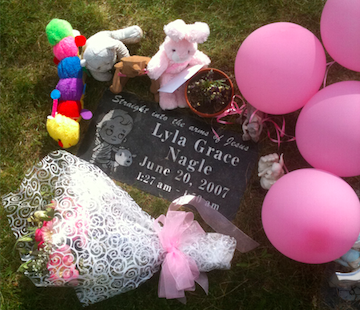 Originally published: April 23, 2014