Bekah Georgy Shares What Dressing for Summer With an Eating Disorder Is Like
---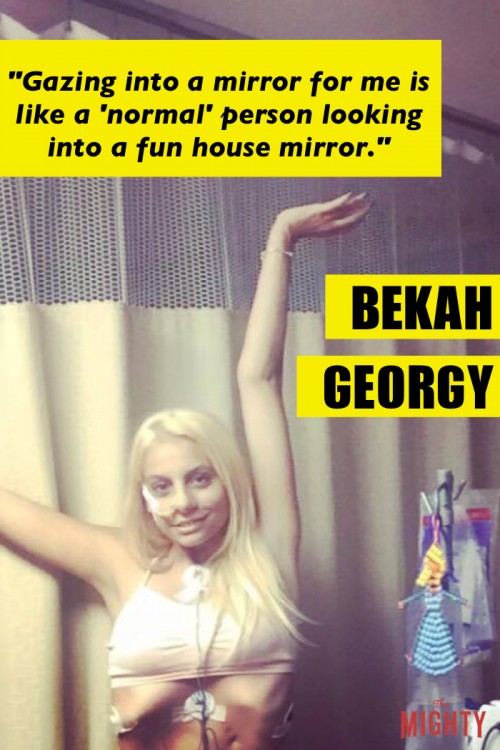 When Bekah Georgy looks in the mirror, her body looks distorted. "Gazing into a mirror for me, is like a 'normal' person looking into a fun house mirror," Georgy, who is in treatment for anorexia, said.
Georgy has spent the past 13 years trying to achieve her idea of a "perfect" body. "For 13 years I have literally been starving myself to death just to be thin enough," she said. "There is always that ounce of fat I believe is there, or a spot that isn't toned enough."
Georgy, from New Hampshire, admits some may find her body matches what society considers a "beach body." However, Georgy disagrees. "I normally love the beach but I feel like I don't have the right body to wear a bikini," she said. "I'm not toned enough, not tan enough, not thin enough. So I avoid going at all costs, and if I do, I won't take off my cover up."
Given the way Georgy feels about her body, summer consistently challenges the 23-year-old. Unable to hide her body under sweaters and sweatpants, Georgy's anorexia tends to get worse. In addition to having anorexia, Georgy also lives with gastroparesis and postural orthostatic tachycardia syndrome (POTS). "I had three feeding tubes put in and removed from my abdomen, leaving obvious scars," she said. "I also have self-harm scars I would rather hide. I feel that when people look at me in a bathing suit they are judging me by these scars."
Georgy also has a nasojejunal tube (NJ-tube) – a visible tube that runs from her nose to the middle section of her small intestine – which adds to her insecurities.
Should Georgy find herself able to dress for the beach, there is no guarantee her conditions can physically withstand the summer heat. " My POTS makes it almost impossible to sit outside longer than 15 minutes without feeling like I am going to collapse," she said. "Mix in the gastroparesis, where I have a hard enough time getting in fluids, the heat doesn't help that either."
Put together, Georgy feels her conditions force her to stay indoors. "If I do go out, I have to wear shorts and tank tops," she said. "But the image of the 'beach body' weighs on my mind so much that I would rather stay inside and hide."
Read More: This Is What It Looks Like When You Feature Disabled and Chronically Ill People in Magazines