The 10 Magical Moments in an Otherwise Tough Disneyland Trip
---
We were tired. It was a long day.
We had decided to take our daughters for a surprise afternoon trip down to Disneyland. They love that place more than anything any of us has ever loved in our lives. Our visits to Disneyland are usually magical. We vowed to never take preschoolers, yet somehow we've been there four times in the last year.
This trip was different. The drive was an unusually brutal two-hour journey that got us there in the late afternoon. It was also our first trip to Disneyland with our oldest daughter in a wheelchair. She was born with a condition called arthrogryposis, and she has to wear braces in order to walk. She enjoys walking, but she's been recovering from a major surgery and hasn't been allowed to walk much over the last three months.
This was also our first trip to Disneyland for our youngest daughter's prosthetic leg. She was born with a condition called amniotic banding syndrome which has left her without a usable right foot. Thanks to surgery in December, she's now running around with her new "robot leg," as it's called in our household.
At first, there was no magic happening on this trip. Our arrival at Disneyland began by trying the monorail for the first time. Let's just say that our oldest daughter let the whole monorail know there was no part of the journey she enjoyed. I got pushed over and over by an older woman with an obvious space issue. My wife kept pulling the partition rope out of my daughter's mouth. We separated after the parade so my wife and youngest could run to meet Tinkerbell (a new favorite). Sadly, Tink was done for the day. Later, as they dashed off the train, my daughter's robot leg fell off, surely scaring the bejeezus out of the lady who couldn't help but point at it, not knowing what to do. Meanwhile, my oldest and I weren't really feeling the Tiki Room.
Everyone was exhausted by nighttime. Well, mostly Mom and Dad.
We ended the night in my oldest daughter's favorite area of the park. It's the lobby of the building that houses the Sorcerer's Workshop, Animation Academy and Anna and Elsa's (from the movie "Frozen") Royal Welcome. The lobby is beautiful and open and has giant monitors on every wall that play classic Disney music while showing film bits and concept art from the films. Because standing in one place is difficult for her, my daughter loves leaning against a wall and shaking her rear end to the music. This lobby is a must see on every visit to California Adventure.
My wife and oldest daughter arrived before me. I was stuck in Cars Land trying to calm our youngest, who was having a tantrum about Lightning McQueen. When I arrived, my wife said some of the employees in the lobby asked her if my oldest wanted to meet Anna and Elsa. My wife said no because our oldest usually doesn't express interest in live characters. Of course, our youngest is in love with anything "Let it Go" oriented (as she calls anything having to do with that movie), but we hadn't arrived yet.
Another employee asked if my oldest had a favorite character. My wife pointed at her Sully shirt from "Monsters Inc," and he returned with a drawing of Mike and Sully for her. It was such a nice gesture. One friendly, energetic employee started pretending to be a monster and ran around with my youngest.
Soon, I realized we were the only guests left in the lobby. A manager approached me and said, "We didn't want your daughters to leave without having a magic moment. There's someone who'd like to meet them." The manager then brought out Anna and Elsa.
My youngest melted as if she were a teenager at a Beatles/Backstreet Boys concert combined. She literally hid her head in my wife's lap because she didn't know what to do with herself. I've never seen her so happy. Anna convinced her to take her hand and come dance with her. She hesitated at first, but soon she fell under Anna's spell and began giggling and dancing. A few minutes after that, she became her typical self once again and was bossing around Anna, telling her where to go and when to dance.
While the two of them danced, Elsa walked over to have a conversation with our oldest. We explained she wouldn't reply back, but Elsa continued to speak to our daughter just like we do. She may not reply, but that doesn't mean she is not worthy of our words and attention. It can be a challenge just to get my oldest's attention, especially when the giant monitors are playing the lantern scene from "Tangled" (one of her favorites). Anna and Elsa were both amazing and kept asking my oldest questions to see if they could get her to participate, but she just wanted to stay at the wall dancing to the music.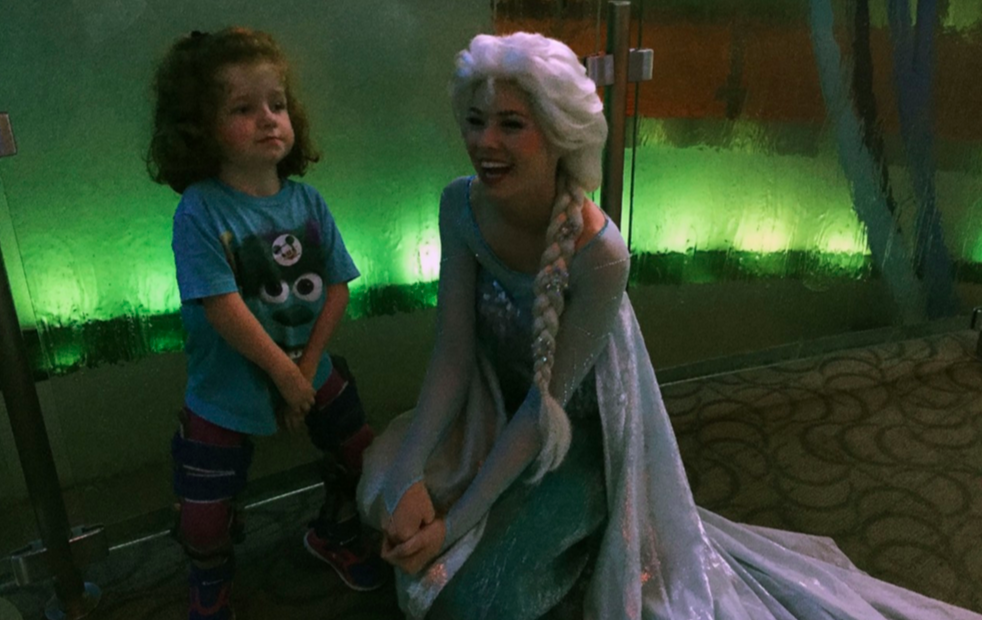 The princesses made a breakthrough when they decided to all dance together. Elsa twirled her beautiful skirt, and my oldest lit up in a way you rarely see. Magic was truly in the air.
For 10 minutes that day, a day that did not start off well, my family had one of the best moments of our lives. We'd had a lot of tough times so far in 2015 — four months ago, both those little girls were in casts recovering from major surgeries. The Disneyland employees had no idea what we had recently been through (although I'm sure the braces and prosthesis gave them a hint).
I watched my family in that moment and reflected on how far we've come. Just 18 months ago, my youngest was in an orphanage halfway across the globe sharing a crib and not knowing what a family truly was. After two big surgeries, she has the mobility to match her unstoppable energy. My oldest has begun to find her own ways to communicate with the world and has gained so much mobility. One of the managers came up to me and told me again how much everyone wanted to do this for my daughters. I looked to my wife, who never stopped smiling in that lobby, and said, "You know we'll never top this, right?" She said, "I know. We don't have to."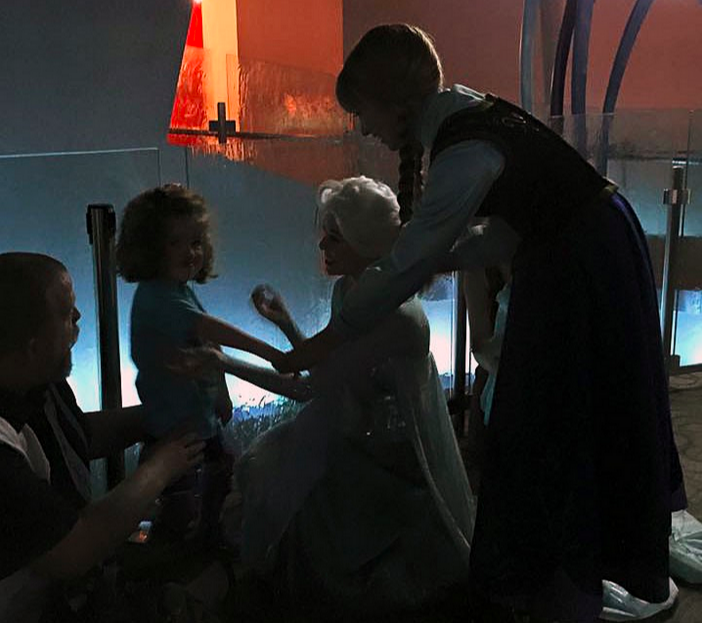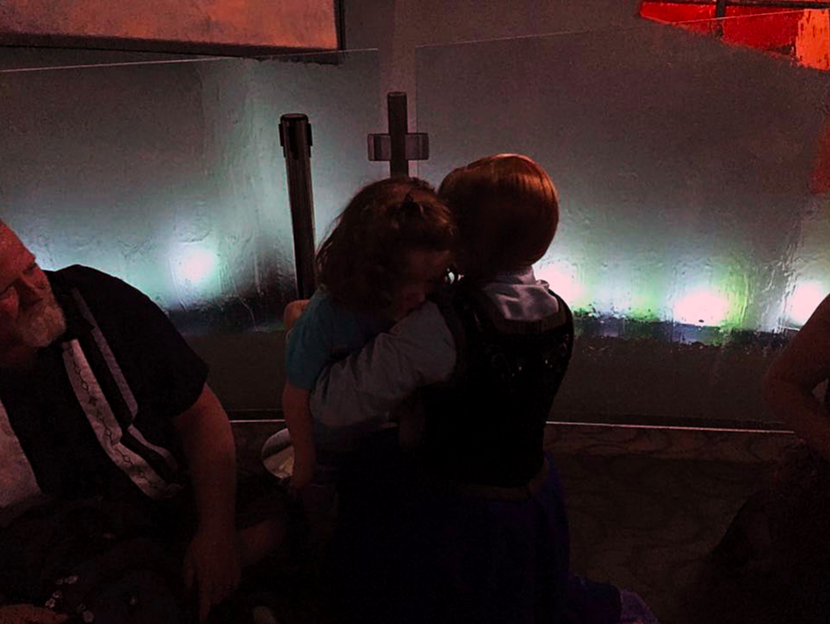 Soon, Anna and Elsa had to go to feed Sven the reindeer. We thanked everyone a million times and headed out of the park for the day. We couldn't stop laughing and smiling. We had just received a one-of-a-kind experience. What started out as day I kind of regretted ended up as a day we will never forget. We are so grateful to those employees for making my daughters feel so special and giving us such a magic moment, and we are thankful that Disney allows their employees the chance to do this. They all looked like they were having a blast watch our youngest run wild as well. Thank you to the young woman who asked for my camera and took a ton of pictures for us. Disney earned a lot of love when we shared our story with our friends and family on Facebook.
I hope all of you get to experience such magic in your lives.
A longer version of this post originally appeared on Medium.
Want to end the stigma around disability? Like us on Facebook.
And sign up for what we hope will be your favorite thing to read at night.
Originally published: April 29, 2015