When an Elf Heard Someone Say, 'Some Kids Are Too Old to Be Doing This'
---
For several years, we took our son, Quin, who has Asperger's syndrome, to the same Santa Claus at a local mall in Papillion, Nebraska. He and his photographer elf realized that our son was on the autism spectrum when they first met him. In fact, they seemed to remember him from year to year. 
Santa and his elf always gave Quin time to warm up to him. Santa would reach out for our son's hand to see if he would be willing to sit on his lap. These photos of Quin in a coat are from when he was 11. Santa appears to be sharing a secret with him while looking at the camera, apparently to make sure no one else can hear. Then Quin settled in for a hug as genuine as Santa's kind expression and full beard.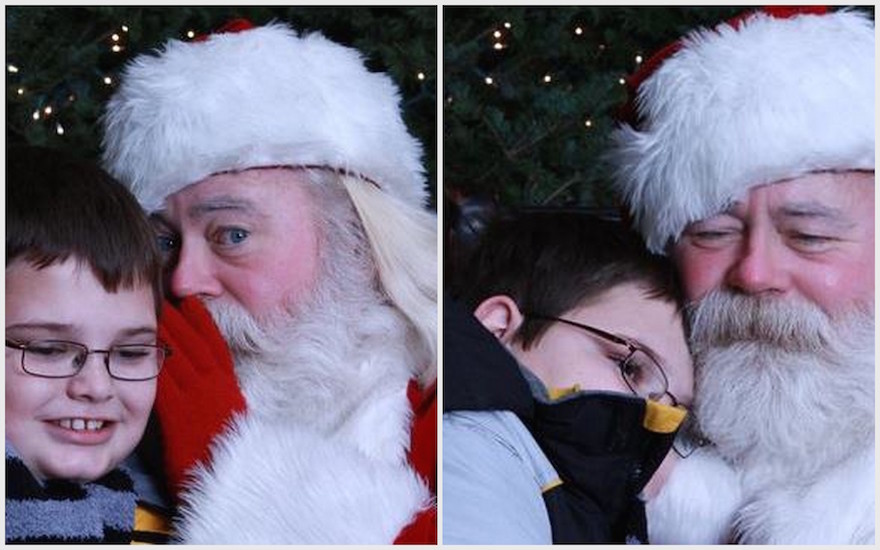 The photos below of Quin in a green shirt are from two years later. Now it's Quin who is enthusiastically sharing a secret with Santa. It was this year the elf overheard someone say, "Some kids are too old to be doing this," to which she responded that nobody is too old for Santa.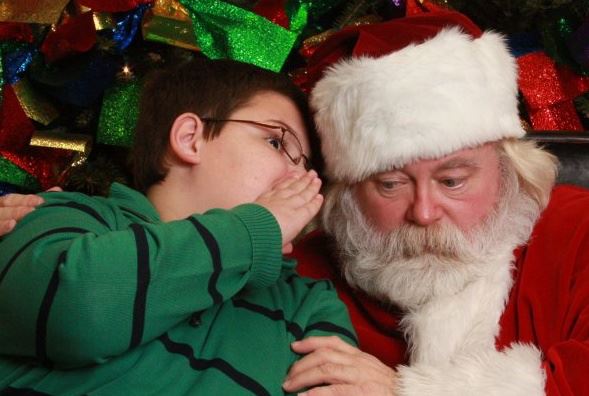 We always marveled at how this remarkable Santa would take the time to give every child he met his undivided attention. One year we saw Santa tell his elf to skip payment for a little girl whose father was overseas in the military, and he gave her a small medal in honor of her dad.
Not all Santas take their responsibility seriously enough to make the effort to connect with each on their level, whatever that may be. Every Christmas we looked forward to seeing this same Claus, as true a Santa as you could hope to find — not just for our child, but for the experience of seeing him with the other children and parents in line. 
Although Quin no longer makes visits to Santa, we hope this Claus is still brightening the Christmases of boys and girls in our area.
The Mighty is asking the following: Write a letter to a stranger or someone you don't know well who showed you incredible love during the holiday season. If you'd like to participate, please send a blog post to mentalhealth@themighty.com. Please include a photo for the piece, a photo of yourself and 1-2 sentence bio. Check out our Submit a Story page for more about our submission guidelines.