10 Things I Learned About My Son With Autism Through His Letterboard
---
This past year and a half has been nothing short of life changing for our family. My son, Ryan, who is 8 years old and has autism, began communicating with a letterboard this year.
Having Ryan spell out his thoughts has been by far the best thing to happen to our family (other than the birth of both of our children). I wanted to share with you the 10 reasons why this is, as articulated by Ryan himself.
1. He has written song lyrics in his head. 
He spelled out:
I AM IN MY HEAD. SO WONDERFUL YOU ARE, YOU ARE TO ME. NO ONE IS MY CHEERLEADER, MY FRIEND, MY CONFIDANT. NO ONE MAKES ME FEEL SO LOVED. YOU ARE MY EVERYTHING.
He then instructed me:
YOU ARE GOING TO TEACH ME TO WRITE MUSIC.
2. He wants his voice to be heard even if he cannot speak.
He has told me:
YOU INSPIRE ME TO NOT SETTLE FOR AUTISTIC SILENCE.
3. He loves his dad so much. 
When Ryan was apart from his dad on Father's Day, he wrote via FaceTime:
DON'T UNDERSTAND WHY YOU ARE MY DAD AND YOU ARE NOT HERE ON FATHER'S DAY. YOU ARE TOO FAR AWAY. YOU ARE MY HERO.
4. He wants to be an autistic advocate. 
When we started a blog to spread autistic acceptance and awareness he suggested:
HOW ABOUT SOMEONE ASKS ME HOW TO MEANINGFULLY INCLUDE AUTISTICS IN LIFE? 
He answered that question on our blog. 
5. He likes to know what is happening next. 
He seemed down one morning, and I asked him what was going on. He responded:
MOM YOU ARE NOT CREATING A SCHEDULE FOR ME. SCHEDULES ARE HELPFUL TO ME.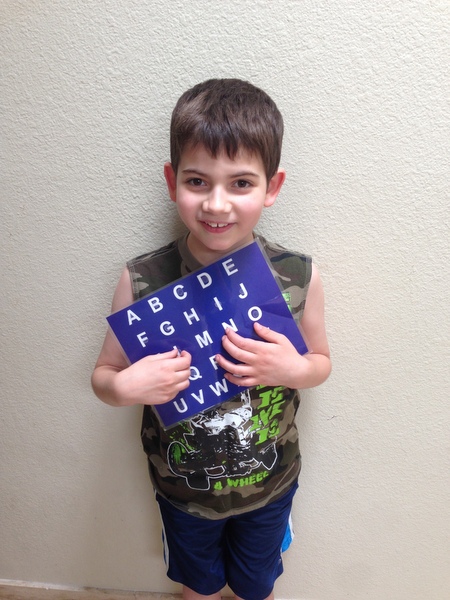 6. He loves his family. 
Once we had our first family get-together after moving halfway across the country for my husband's job and to be closer to family, Ryan spelled:
EACH DAY I HOPED TO BE AROUND FAMILY IN A LOVING WAY.
7. He is his own worst critic. 
On several occasions, after Ryan has gotten into something that he shouldn't have, he has spelled out:
I AM NOT VERY PLEASED WITH MYSELF.
8. He knows that good behavior gets rewarded. 
When he had to wait to go swimming, he spelled:
MAYBE IN BEHAVING WELL I CAN GET IN THE POOL EARLIER.
9. Even if it appears that he's not doing anything but self-stimulatory behavior, there is usually a purpose. 
I have asked him what he was doing while he was in his room and listening to "Thomas the Tank Engine" on his iPad (not watching it), and his reply was:
REALLY SOUL SEARCHING RIGHT NOW. 
10. His actions don't always match up with what he means. 
Just this past week, I asked him if he was ready for his lesson.  His reply:
YES TO THE LESSON NOW.
The problem was that he wouldn't go to the room with the table.  He laid down on the floor and wouldn't get up. I tried to pick him up but I couldn't. I tried again and failed. I then took his iPad and brought it to the room. He finally got up and followed me to the table. I went ahead with the lesson first and then asked him: "If you were ready to do the lesson with me, why was it so hard for you to come to the table?"
YES TO HARD. YES TO MY BODY NOT COOPERATING WITH ME.
"So is it OK for me to take your iPad and bring it to the table or to try and pick you up to get to the table?"
YES TO DOING THAT.
I can only imagine how much more I will learn and how much more the world around us will learn from my son. Even though I listed ten things above, the most important thing I've learned is that the sky is the limit for Ryan. 
Follow this journey on I Am in My Head.
Originally published: August 6, 2015