3 Things That Help Me as an Adult Who Experiences Shutdowns
---
After reading an article on what helps children with autism during shutdowns, I thought I'd write about my own experience as an adult who still has shutdowns.
First off, what is a shutdown? Here's my definition: A shutdown occurs when someone is experiencing sensory overload and snaps into their own world and out of reality. When I shut down, it can occur for different lengths of time and with different severities.
I'm blessed my fiancé, Traci, understands my shutdowns, knows what to do and knows why they may be happening. This is so helpful as an adult on the autism spectrum. So let's go into what helps me as I am shutting down.
1. If you know me well, you'll see me start to get quiet and anxious. My body just kind of freezes, and my mind starts to take myself out of reality. When this happens, please ask me if I would like to go outside. This will take me out of that mindset for a moment and help me realize where I am. I need to get out, and without you, I can't get myself out. During my student orientation at college this summer, everyone was talking too loudly, and I started to shut down. My fiancé asked if I would like to go outside, which helped.
2. If noise is an issue and I can't excuse myself from the situation, my fiancé might help me hold my ears or take out my ear plugs, anything to help simmer the noise down. If I am overheating — I'm hypersensitive to temperature, too — she will get water for me or soak a towel to help me cool off.
3. If I have already shut down, just be there. Knowing you are there helps. If you can alert me without grabbing me, that's even better. Allow me to relax during the sensory overload. Sometimes it may be a few minutes, and other times it might be an hour.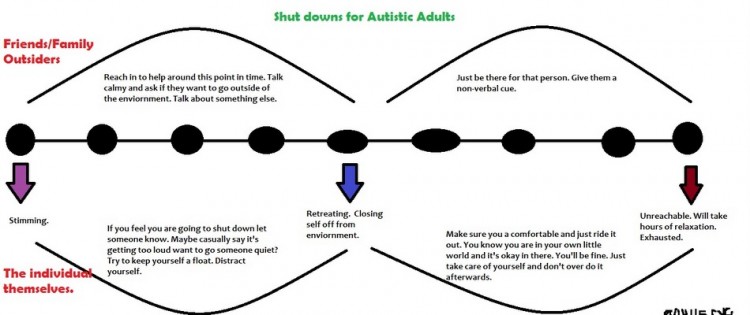 Things to remember not to do:
1. Don't touch me. Don't try to rub my back. Don't try to hold my hands. Just please don't touch me. Being overloaded already heightens the touches and just makes it worse.
2. Don't make me feel like a bother. Don't make me feel alone. Just don't.
My advice for adults on the autism spectrum who experience shutdowns? Get to know yourself. Find out what triggers your own shutdowns. For me it's loud noises, so I don't usually attend parties or go to Fourth of July events. And I always bring ear plugs with me because loud noises can happen anywhere unexpectedly.
I would also suggest talking to those close to you. My close friends understand me and my quirks to an extent. The number one thing my friends know is if I tap them on the shoulder, I need to get away from where we are. The nonverbal cues are the most important because as adults on the spectrum, we know being verbal during a shutdown can be quite hard. Make sure those close to you understand your main triggers. Maybe they'll see what's happening before it happens. Figure out what works for you because no matter what that is, it will help you in every situation.
Lead photo source: Thinkstock Images
Originally published: September 17, 2015