You wrote him a short note saying you thought karting sounded interesting and asked if he could tell you about it. All we can say is thank you. Thank you for giving Anthony the opportunity to write. Thank you for providing him with motivation. Thank you for allowing him to show what he knows. Thank you for giving him confidence in himself. Thank you for showing him someone cares about what he thinks.
As a boy with autism, Anthony's interests tend to be very focused, and he can have difficulty engaging in conversations or tasks not associated with what he's interested in. Some people with autism can turn their special interests into an advantage, such as a career, hobby or a way of relaxing. Anthony revels in talking about and doing anything to do with his current special interest, motor racing. What happened when one boy took an interest in Anthony's topic was, to us, amazing.
Anthony has no problem talking about racing. Indeed, sometimes you can't stop him. This currently includes being able to script all the highlights of the 2015 Formula 1 season from the television. When he appeared for show and tell in his full karting gear, it was deemed the "best ever" by the class.
What really challenges Anthony at school is writing. Anthony has autism, ADHD, sensory processing disorder and hypermobility. In short, he can find it difficult to hold a pencil, feel what the pencil is doing, concentrate on what he is supposed to be writing and can find it physically tiring. It's no surprise that Anthony has never written more than a single of page of work at school. He is also very concerned about getting things wrong so he will make sentences short, using small words so he is less likely to get tired or make a mistake. This has hindered his practice and confidence.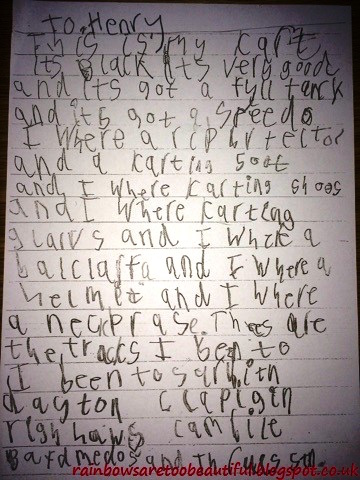 But thanks to a friend of a friend from school, Anthony has suddenly surpassed himself.
Following this kind gesture, Anthony was able to let go of worries about getting everything exactly right; he was able to write as he would talk. He produced three pages of words, which talked about karting and showed the world he has an understanding of principles such as counting, friction and forces.
I have transcribed his letter underneath:
To Henry,

This is my Kart. It's black, it's very good and it's got a full tank and it's got a speedo. I wear a rib protector and a karting suit, and I wear karting shoes, and I wear karting gloves, and I wear a balaclava, and I wear a helmet and I wear a neck brace. These are the tracks I have been to: I have been to Surbiton, Daytona, Clay Pigeon, Rye House, Camberley, Barford Meadows and Thruxton.

My Kart goes very fast. My kart has got an engine and it's got pedals. It has a radio just for information. Sometimes I drive on my own and sometimes I drive with boys and girls. You have to be a bit older to practice at some tracks. My kart has got very grippy tires and it has got worn-out tires and it has got dry tires.

The dry tires are very slippery because they are very cool. But when I get them very hot they're going to be faster than the worn-out tires. My kart has got three engines. You do have to be a bit older to do kart races.

Love from,
Your friend**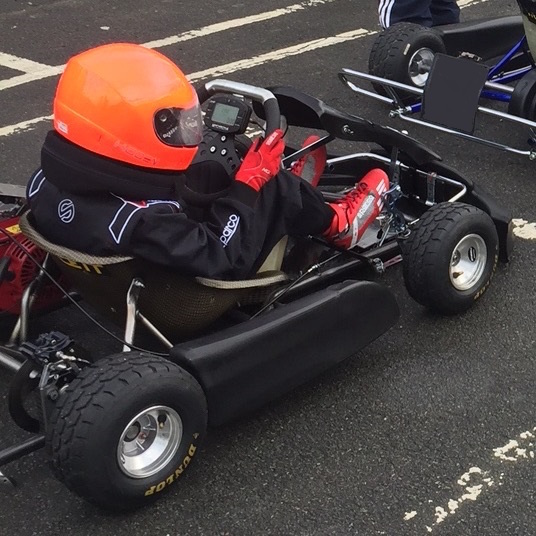 Follow this journey on Rainbows Are Too Beautiful.
The Mighty is asking the following: Share with us an unexpected moment with a teacher, parent or student during your (or your loved one's) school year. If you'd like to participate, please send a blog post to community@themighty.com. Please include a photo for the piece, a photo of yourself and 1-2 sentence bio. Check out our Submit a Story page for more about our submission guidelines.
**This passage has been modified for clarity.