Anova's Sensory-Friendly Kits Help People With Autism Avoid Meltdowns at Restaurants
---
For families with children on the autism spectrum, dining out can be particularly challenging. To help families have a less stressful dining experience, Anova – a nonprofit for children with sensory and learning differences – is providing restaurants with sensory-friendly kits designed to prevent and minimize meltdowns.
"I came up the idea to launch a sensory-friendly restaurant initiative after hearing so many of the families we serve at Anova express that they often choose not to eat out at restaurants because of the challenges associated with sensory processing disorders," Jackie Hadley, Anova's manager of charitable development and community relations, said.
Anova's kits were designed by occupational therapists and behavior analysts and include noise reduction earmuffs with disposable covers, a wipeable weighted lap pad, a visual motion toy and several sensory, stress, and fidget toys. The kits also include social stories in both English and Spanish and a mood zone chart with pictures for kids who are nonverbal or have trouble communicating. The kits are meant to be used during dining and then returned to the restaurant. All kits are provided free-of-charge to any customer who requests them.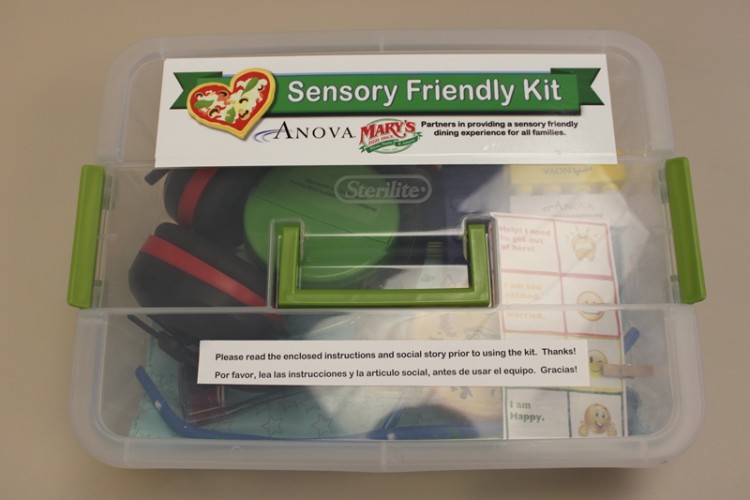 "Most people know that 1 in 68 children are affected by autism, but not many people realize that 1 in 20 children experience sensory processing disorders," Hadley told The Mighty. "It is not just those with autism [who struggle] with being overwhelmed by different sensory stimuli such [as] touch, noise, smell, visual, etc., so we wanted to include something that helped in all those areas."
Since the program's launch in April, Anova's sensory-friendly kits can be found at all 11 Mary's Pizza Shack locations in Sonoma County, California, as well as Steele and Hops in Santa Rosa, California. Participating restaurants receive several complementary kits as well as sensory-friendly training videos and in-person training workshops.
According to Hadley, who checks in with the restaurants once a week, feedback from families and restaurant employees show the kits work. Among the program's success stories are families coming in regularly for pizza night and special education field trips to Mary's Pizza Shack.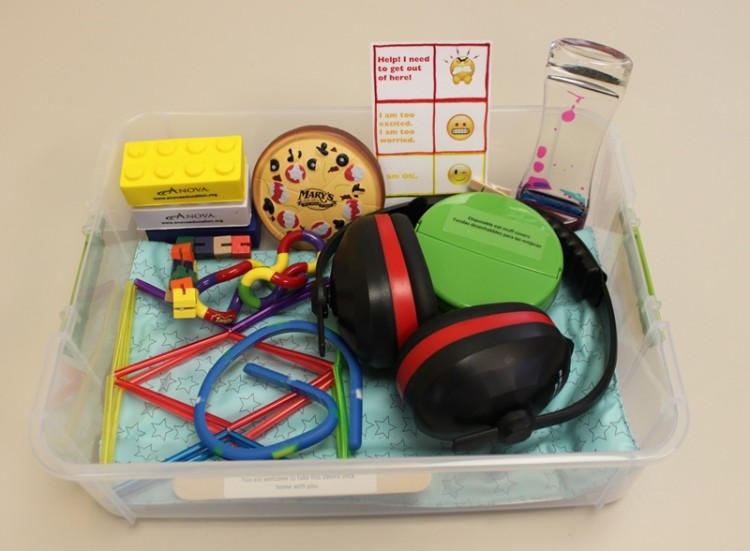 While Anova's kits are currently only available in California-based restaurants, Hadley hopes to expand the program to restaurants beyond the state. "We would be thrilled if any additional restaurants decided to use our sensory kits or implement a program of their own," she said. "We would be happy to provide the kits, help with sensory training, and offer guidance to successfully run the program."
So far Hadley has received requests from Australia and the East Coast, as well as special education teachers in the in Novato and Sacramento, California, school districts. "The thought of the program expanding on a national scope and into classrooms would be awesome," Hadley said. "Since we are a nonprofit, we would need to seek grant assistance to provide kits at that scale. However, we welcome the opportunity to assist whoever reaches out to us and will do what we can to contribute to a positive and collective impact in the world."
Anova's kits are not currently for sale, although the organization may make them available for purchase at a later date. Those interested in making their own sensory-friendly kit can learn how here.
Originally published: September 9, 2016