'As We See It' -- An Interview With Autistic Actor Andrew Duff
---
I am currently writing my fourth book on the topic of autism, growth, and transitioning into adulthood. I was excited when I saw a new series on Amazon Prime "As We See It" which features three 20-something roommates on the spectrum navigating the struggles of adulthood with the help of a life coach. It took me two days to binge-watch the eight episodes. While falling in love with the humorous characters and their quirks. Jack who has Asperger's has difficulty with filtering his comments, while Harrison has a phobia of leaving the apartment, and Violet is obsessed with finding a boyfriend on dating apps.
Having autism, I understood these challenges and the character Douglas, who had a crush on Violet and lived independently in an apartment atop his parents' garage. I too lived at home until I got married at age 35. Andrew Duff who plays Douglas shared with me his journey with autism and following his dream of being an actor in LA.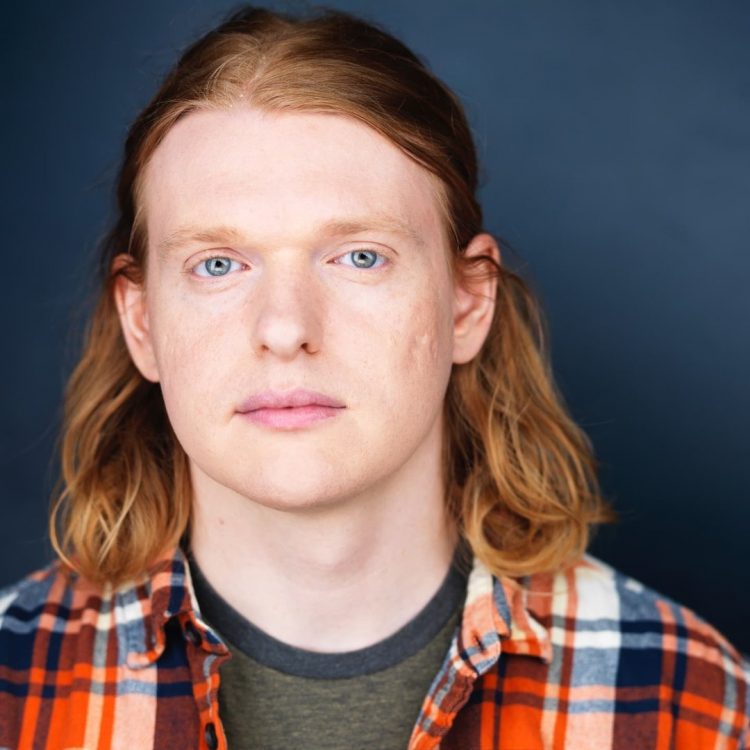 1. What is your hometown?
I grew up in Hillsborough, NJ. I got very lucky; the neighborhood had a ton of kids that were the same ages as my brothers and I, so being social and making friends was pretty easy from the get-go.
2. How did autism affect you as a child and at what age were you diagnosed with autism?
I guess the best way to describe it is that I was kind of an aloof kid. I would require a lot of time by myself; I still liked going out and playing with the other kids, but I usually needed to recharge a great deal more than my brothers and friends. I also didn't always understand what was expected of me, and was pretty prone to suggestions; I imagine I was pretty easily manipulated or pushed into things when I was younger. I also experienced speech challenges and was diagnosed with autism at age 2.
3. What sparked your interest in acting and theater?
The truth? Jackass. My brothers and I loved watching Jackass growing up, and every episode they would have the "DO NOT TRY AT HOME" warning. Well, we ignored that; we didn't try the super dangerous stuff, but we'd film ourselves skateboarding down slides, doing little local pranks, eating gross food. Eventually, it started to evolve into little skits, and from there I got really interested in this idea of story-telling. I went to a summer camp for acting and film, originally as a film student, but I ended up acting in a bunch of the work there too. I did actually do drama club in middle school and really loved it; I usually played comic relief characters, but I remember I was able to memorize the whole play top to bottom. I like to think I still have that capability, but it doesn't come as naturally anymore.
4. How did your family and teachers encourage your passion for acting?
My family has always been amazingly supportive, almost suspiciously so. They both have had careers as lawyers, and I think they wanted me nowhere near that profession. Joking aside, my grandparents were both actors when they were younger, so I think they were thrilled that I had a common interest with them; I remember doing a little scene with my grandfather for a school project on Galileo. My family might have realized before I did that acting was something I not only thoroughly enjoyed, but it was something I could do more than just casually. Natural bias notwithstanding, they have been my most balanced critics and biggest fans.
5. When did you decide you wanted to be an actor and work in the film industry?
It's something that ever since college was a possibility for me, but I struggled right out the gate from college. I fully admit that, for the first year of college, I was completely lost. I didn't really know what I wanted to do career-wise, where I wanted to live, who I wanted to be. One day Andy Paris and Anushka Paris-Carter, who have basically become a second family at this point, reached out to me about a theater piece they were working on. That basically set me off on the path I'm on now; I worked at Autism Speaks for a few years as a videographer, where I learned a great deal about the autism community I didn't know prior, and I became fascinated by not only how broad the spectrum was, but how broad the social/political elements of it are. When the theater piece with Tectonic was finally approaching, I decided it was time to leave that job and give acting a real go.
6. How does autism empower you as an actor?
For one, I feel more in touch with my senses. I look at the world through an inherently different lens (don't we all?), so I feel like I inherently react and approach scenes differently. It doesn't always lead to the "right" choice, but it darn sure gives some cool options. Another positive I think is work ethic; I will fully admit I was a bit of a slacker in my teenage years, but for some reason, acting was always something I took really seriously. To me, it's work and passion combined, and I want to give the best performance I can each and every time. The night before a shoot, I don't go out, I go to bed early, I really take care of myself and make sure I'm the best version of myself going into work the next day. Once the shoot is over, yeah, I'll live a little looser. But when it's work time, it's work time. I think part of it was, when I was first starting out, I was "fighting against the autism" in a way. Eventually, once I started really getting comfortable, I said to myself, "hey, I can actually use this thing to my advantage."
7. What steps did you take to become an actor? What were some challenges you experienced in becoming a professional actor?
I was actually convinced to audition at college, where my best friend Josh told me I should just audition, even if I wasn't a theater kid. When I asked why, he said "you're a ginger, you'll get something." That kind of spiraled quickly into me taking all these performing classes, ranging from acting 101 to sitcom and playwriting, and even taking part in the faculty productions. I got to learn from some absolutely amazing mentors, like Kirk Jackson, Jenny Rohn, Dina Janis, and a whole slew of others. After college, Andy and Anushka really took me under their wing with Tectonic Theater Project. I was ingrained in the Moment Work style of theater, and learned so much not only from a technique perspective, but how the business worked as a whole.
From there, I was lucky enough to get an agent in Gail Williamson, and later Katie McGrath, from KMR. I was completely and utterly new to this part of the job, and I will admit I have the toughest time with the paperwork and logistics of it. In terms of auditioning, I struggled with letting the audition be for a bit, and I was hyper-fixated on if I did a good job. Replaying in my mind my performance. I've since gotten much better at just letting the audition lie, but I'd be fibbing if I said I still didn't get nervous. With COVID times, the thing I miss most and struggle with is not having a director in the room; I thrive on being directed and collaborating, so the idea of just doing what I think is best and sending it in is always scary to me.
8. What did you like best about your college experience at Bennington?
Honestly, I can't say enough about how beneficial Bennington was to me. I've said in the past that I need to remind myself that it wasn't some weird four-year fever dream in the hills of Vermont, but it was a place where I realized acting might actually be what I need to do. I always went star-gazing at night, usually at least twice a week. It was my time of reflection, and sort of my decompression and therapy to figure out what I was struggling with (and I struggled with a lot). Being out in nature, alone, and able to be content with myself is something I wouldn't trade for anything.
9. How did you share with your friends about your autism in high school and college?
I don't think I was ever particularly shy about it; I volunteered with the autism program ever since I was in third grade, and even though I didn't have the information or context I have now, I did understand that there was something different about me. I didn't come out and say it all the time at that age, but I get the sense my peers were pretty aware of it. In college I tried to keep it closer to the chest; my close friends definitely knew, and I let my teachers know about it, but I wasn't volunteering or being as overt about it at that time. Nowadays, I just tell people unprompted. It might be annoying to some people, but heck, I find it liberating.
10. What are some similarities between you and your character Douglas in "As We See It?"
Man, Douglas is just the sweetest guy. Honestly, even though he's awkward and kind of shy and sheltered, he's braver than I am in a lot of respects. I think we both share that awkward and shy bit, but he's much better at telling people what he thinks. I've actually been trying to improve that for myself since taking the role! He's also a way better dresser than I am; I'm admittedly a bit of a schlub.
11. What did you like best about working on "As We See It?"
What didn't I like? The set was kind yet professional, the crew was super kind and accommodating, and the actors were just stellar. If anything I felt like I didn't belong; I auditioned then two weeks later I'm on a flight to LA and got right to work. That first day my nerves were through the roof, but actresses Sue Ann Pien and Sosie Bacon, who I was doing my first scene with, made me feel right at home immediately. The directors all brought out the best in me, and it's clear Jason Katims has a passion for this topic that goes way beyond just the show. Everything together was just a recipe for a fantastic experience and final product.
12. What was your greatest challenge transitioning into adulthood? How did you overcome it?
The biggest challenge for me was direction. As I said prior, I was pretty much completely lost after college. I lacked a clear path, and the drive to pursue what I wanted. I felt like I had hit the end of the road in a lot of ways. Thankfully, I did find my path and drive, and I owe it greatly to a combination of luck and acting upon that luck.
13. How do you keep your mind fresh and handle mental health issues?
When I feel depressed, I make sure I do at least three things: take a shower, get dressed, and send out an email. For me to do these three things I need to get out of bed and get moving. I also find ways to decompress and connect with others. I have a great support team working with me.
14. Share a humorous story from your life.
Geez, I feel like my whole life is just a comedy of errors at times. I feel like I should keep it PG, so the first one that comes to mind is I was at the Starland Ballroom in New Jersey seeing a ska show. (Ska is a genre of music that combines Jamaican and Caribbean rhythms, punk rock energy, and horn sections. Together, these elements create an energetic, highly danceable style of music that has achieved off-and-on mainstream popularity.) The crowd was moving back and forth a lot and somehow I got my right foot caught in the wave of people and it popped off (I'm notoriously bad at tying my shoes). I searched for it but it was long gone. A few songs later, I hear a yell. I look up, and I see a shoe flying at me from across the venue. I grab it and look. It's not my shoe, BUT it's the right foot and it's my size. I put it on and left with mismatched shoes. I like to think my shoe ended up with the other person who lost their shoe, and it was fate.
15. How has "As We See It" opened opportunities for you as an autism advocate?
I've been advocating on and off pretty much my whole life, but I'm really excited for people to watch "As We See It" because I think it'll open up the conversation about really having our community in the room, whether it be as actors, crew, writers or directors. The truth is, we need our community in all aspects of the progress to really get the change we're looking for. I'm also excited because there are actors on the spectrum in the show playing neurotypical roles, which goes to show that we really can play anything and everything.
16. What advice would you give to individuals with autism who hope to be actors or actresses?
In terms of technique, I'd say keep taking classes, find roles that resonate with you, then find roles that are trickier. It's a craft, and I believe pushing yourself out of your comfort zone only makes you better. Also, work with as many people as you can, both in class and professionally. It's art, and the more perspectives and styles you're exposed to, the better. I feel like a lot of my success has been luck, but it's also acting on that luck. If you see an opportunity or something comes your way, take that chance!
17. What would be your dream film or TV show to act in? And why?
Right off the bat, anything Stephen King-related, I'm a massive fan. In particular, I'd love to be in "The Long Walk," which is kind of Stephen King's version of "Battle Royale" or "The Hunger Games." I've been obsessed with that story since I was a kid. I'd also love to try for something purely dramatic and suspenseful; I tend to play comedic types, but would love to challenge myself and go outside the box.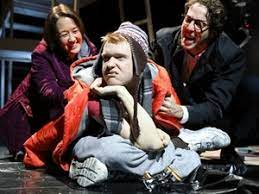 Andrew Duff's Bio
Andrew is a NY-based actor who was raised in Hillsborough, NJ, where he pursued filming short films and skits with his friends as a child and teen. While attending Bennington College, he wrote a one-man show titled "Where Are We Now," which explored his diagnosis of autism and the concept of what it meant to "get better." This work caught the attention of the Tectonic Theater Project, and he spent the next few years working with them on the Off-Broadway show "Uncommon Sense." Since then he has made the jump to TV and film and recurred on "Little Voice" (AppleTV) and "As We See It" (Amazon Studios). Andrew was also featured in the December 2020 Buzzfeed article "5 Autistic Actors You Should Be Watching Now," listing him along with names such as Mickey Rowe, Alex Plank, Kayla Cromer, and Coby Bird. Andrew is represented by Kazarian/Measures/Ruskin & Associates.