Why I Took My Autistic Son and His Service Dog to Meet Vice President Pence
---
I've received a handful of surprised reactions when I recently brought my son Kai and his service dog Tornado to a meet-and-greet with our current Vice President, even though I actively speak out in opposition of his and the administration's views. Anyone who knows me might know I basically talk all day about how our country's administration is affecting our loved ones with disabilities and their families by actively trying to vote away the things their lives rely on, for example: educational rights and subsidies, life-saving healthcare, protections under the Americans with Disabilities Act (ADA), inclusion and overall social acceptance, to name a few.
To begin, I believe it's important to listen to people even if their beliefs do not align with yours. I think adults and children often benefit from hearing opposing opinions so they can make informed choices and have well-rounded beliefs. Mr. Pence didn't spew hatred directly when he came, and in fact he and his wife were kind to us, which I appreciated. I also believe that even if someone is highly conservative and actively tries vote away your child's basic rights, it doesn't necessarily make them a bad person. Often times, their own life experiences have not placed them in a position to experience a life the same as ours. So I believe it's likely their stance could be in some form, ignorance.
To take Kainado to this event entailed a monumental amount of logistical planning on my part. Both for my other kids and also in preparation for Kai so he could be comfortable with what was happening. Initially I was given strict guidelines to follow that weren't necessarily "autism-friendly," but over a few days, everyone lightened up. Kai, Tornado and I waited for three hours and 50 minutes at the location before Mr. Pence arrived. Can you imagine what that would have meant for an autistic child with no food, bathroom, TV, iPad, snacks, music, toys or entertainment of any type?
Or a mom who can't bring her purse? Or a highly trained service dog with no reinforcing treats? Cue the Americans with Disabilities Act!
Thankfully because of the ADA, I was able to kindly ask for some accommodations for Kainado. Of course because we were not directly in the U.S., they could have been denied, but it would have made for very bad press. So the facility and the Secret Service allowed our accommodations. We had bathroom access, were given snacks, allowed an iPad during the wait and Mom had her bag. Kai wasn't touched without permission during screening, he talked with the VP and was able to sit in the children's area quietly, then attend a photo op with the Pence family successfully.
At one point, someone asked me to make Kai stand up during the VP's entrance, but I kindly let them know Kai could stand or he could be quiet and attentive on the floor with Tornado, but he couldn't do both. Aside from that, no one said anything about Kai's behavior, and we left him lying down nicely.
Tornado was of course very popular as always, with the VP interrupting his own remarks to make comments about Tornado. At the photo op, I was allowed inside the rope with the kids and photographers to properly place Tornado and Kai and had a small conversation with Mr. Pence about not petting Tornado because he was working. Kai also told Mr. Pence not to touch his dog. He also refused to sit next to him and opted to be on the floor with Tornado instead, which I sort of found funny.
People of every color and in every country of this world have disabilities, and it's sort of awesome to see how star struck the Trump supporters seemed while my autistic kid spoke to Mr. Pence like he was any guy on the street who wanted to touch his dog. All Kai cared about was if this white-haired man was respectful of his dog. It didn't seem like it mattered to Kai that there were a thousand cameras pointed at him, or 20 kids sitting nicely to take a picture while Kai had a whole conversation with Mr. Pence, or how the Secret Service was trying to move things along. Which is pretty awesome if you ask me.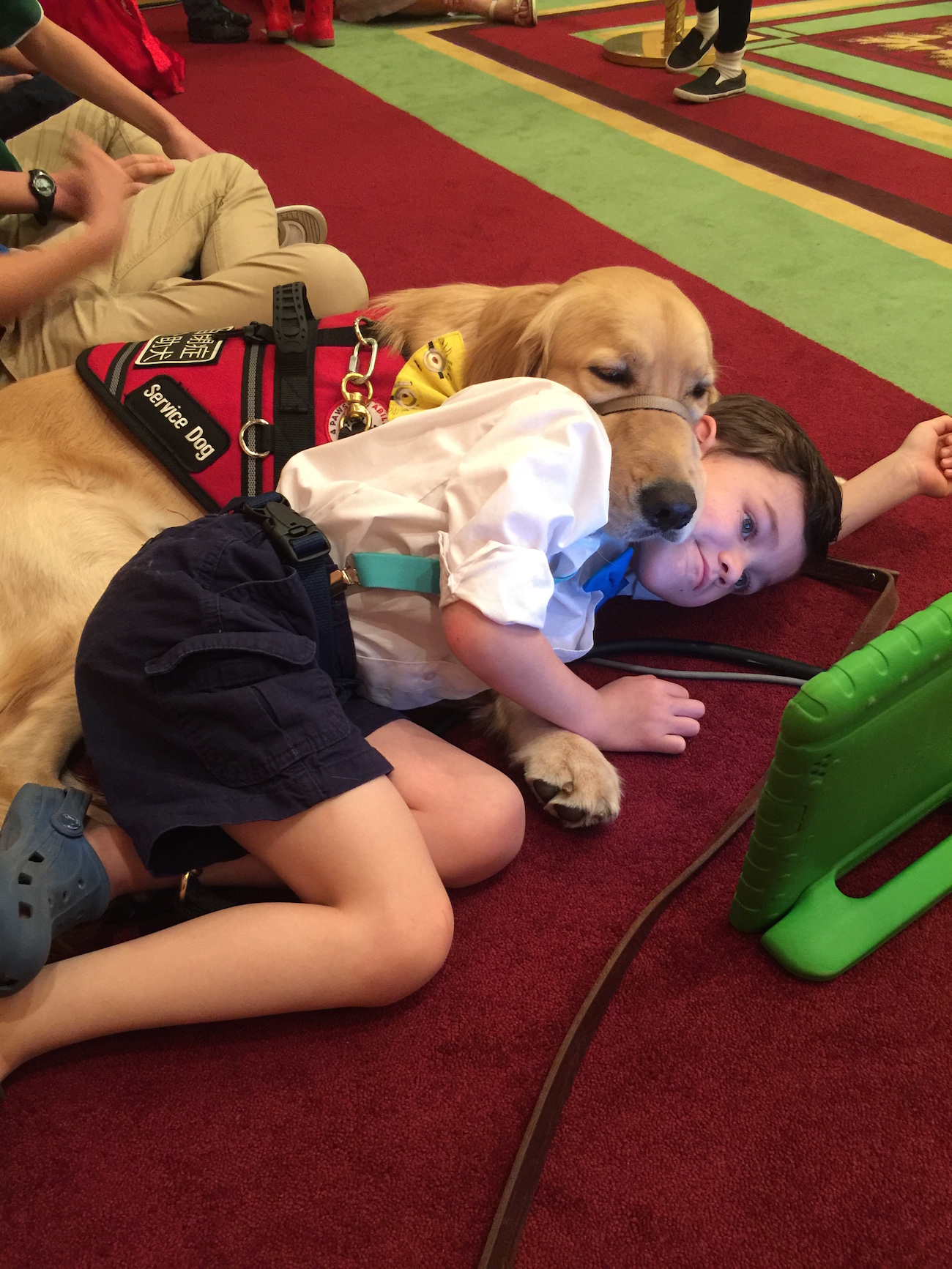 To me, as Kainado's mom, it was important to bring them because I want Kai to see his mom is not afraid to stand up for him — to stand with grace and kindness in the face of someone powerful and not be shaken while I asked for accommodations for my son so he could have a successful social outing as part of everyone else in this world.
It was also important for Mr. Pence to see that families like ours are in all levels of the government and the laws that protect us are meaningful. It is not enough to just "know" we are here. He must see us, feel our presence, hear our voices and look at our faces. We are within arm's reach, and we aren't going away, no matter how many times this administration tried to vote us into the "other."
My hope is in the future Kai learns that his voice is important, and he can still be kind while he stands up for himself. The laws that protect the disabled are valuable, and because they're in place my son was able to have a successful day. He socialized, and played, and talked, and made it through many hours of an event he wouldn't have been able to attend had those accommodations not been made. He learned that day that he had value in our society because he was included successfully as part of it.
Inclusion doesn't just mean being physically present; it means being thoughtfully included. That's why the laws are important, and disability rights are important, accommodations and inclusion are important, actively listening to the needs of the disabled is important, putting the issue front and center with the administration is important, standing up with grace in the face of oppression is important. And that is why I took my disabled son and his service dog to see the Vice President.
Editor's note: This story reflects an individual's experience and is not an endorsement from The Mighty. We believe in sharing a variety of perspectives from our community.
We want to hear your story. Become a Mighty contributor here.
Originally published: May 26, 2017