A Response to That Viral 'Plan' to Stop Public Meltdowns, From an Adult on the Spectrum
---
Let me start off by saying I'm probably easily offended. And I tend to take things personally when I am. However, I feel this time I'm allowed to be offended. I'm allowed to take it personally because it's a very personal issue, and the joke wasn't funny. The joke was offensive to me, especially as someone on the autism spectrum.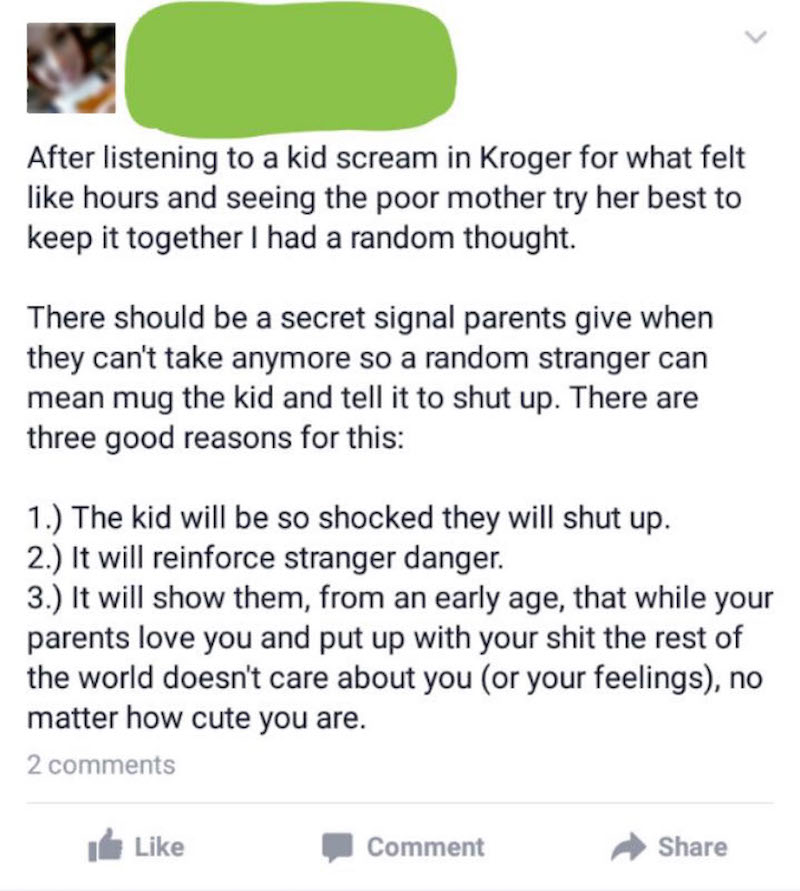 The text reads:
After listening to a kid scream in Kroger for what felt like hours and seeing the poor mother try her best to keep it together I had a random thought.

There should be a secret signal parents give when they can't take anymore so a random stranger can mean mug the kid and tell it to shut up. there are three good reasons for this:

1.) The kid will be so shocked they will shut up.

2.) It will reinforce stranger danger.

3.) It will show them, from an early age, that while your parents love you and put up with your shit the rest of the world doesn't care about you (or your feelings), no matter how cute you are.
I don't want to judge you as a person. I don't know you. But I certainly have a first impression based on what I've read. My impression is that maybe you don't know what it's like to have a meltdown in public. Maybe you don't understand the situation. Perhaps you were too tired that day to think about it, so I will explain what may have been going on.
I wouldn't wish a meltdown on anybody.  
It's not fun for me or the people around me. I try to contain it, but sometimes I just can't. Imagine being extremely exhausted, not just because it's been a tough day, but because that's how you feel at the end of every day.
You don't have the energy to go anywhere, but you have to, because that's what your parent needs to do. Imagine hearing the squeaking of the bad wheel on the cart. It's painful for you, but you are trying to put up with it. Then you walk into a store with extra bright lights. Your eyes are extra sensitive to them, and it hurts to keep them open. But you have to watch where you are going.  
Maybe it's hard to keep walking, and your feet might hurt because you have low muscle tone. You walk past the soaps and detergent isle, and you can barely breathe because of the mixture of scents in the perfumes. What if you were experiencing all of this, and you were not able to communicate clearly that you have a headache? Some children are nonverbal. And even if they are not, they still have a difficult time expressing themselves because, well, they are kids.
I'm not asking you to apologize. I'm not accusing you of being a horrible person. I'm simply trying to help you understand that what you posted is not funny.  And I want you to understand why.
We want to hear your story. Become a Mighty contributor here.
Originally published: October 17, 2016