Bully Attacks Boy With Autism Because of His Shoes, 'Sneakerheads' Respond
---
Jonathan Moran has more than a few supporters on his side (and his feet).
The 12-year-old from Linden, New Jersey, has autism, and was only at his new school for about a week when a bully attacked him on the school bus, WIAT News reported.
"[He] started making fun of my sneakers and calling me fat, plus he called me stupid," Jonathan told the outlet. "[He] started punching me, he broke my glasses, split my lip and gave me bruises around my face."
The story touched the EMT and firefighters who treated Jonathan and then drove him home. They decided to surprise him with sneakers, a t-shirt, socks and a wooden American flag.
But they weren't the only ones who Jonathan's story struck a chord with.
Devlin Braswell, a student at the Fashion Institute of Design & Merchandising in San Francisco, read about Jonathan on a website about shoes called Sole Collector.
Braswell, who also runs his own custom sneaker business, FBCC, posted on Instagram about how Jonathan's story moved him. He decided to put together a care package of shoes and clothing to send to Jonathan.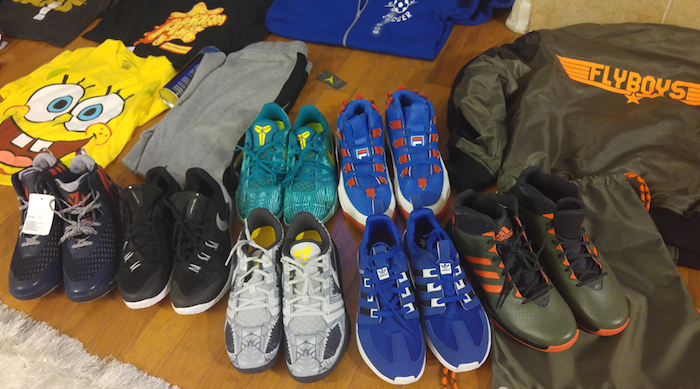 "When I read the story I was heartbroken because it was yet another story about a child getting bullied over his shoes," Braswell told The Mighty in an email. "I didn't know Jonathan was autistic until the end of the story but I had already made up in my mind I was going to send him some new shoes."
Braswell contacted Jonathan's mother, Hope Moran, to find out Jonathan's shoe size and address. The package, which is en route, includes seven pairs of shoes as well as some shirts and jackets.
"I wanted to send him seven pairs of new shoes so every day of the week he could wear a new pair, if he wanted to," Braswell told The Mighty. "I don't know why but in my head I was like, 'I bet no bully has seven pair of new shoes at once…' I genuinely hate to see anyone getting picked on because of what they don't have, especially materialistic items. We have to treat each other better at the end of the day. Instead of putting each other down we should be picking each other up."
Moran expressed her gratitude to Braswell for his kindness.
"It's been amazing," she told Sole Collector. "I think Jonathan's going to have shoes for the rest of his life… I can't imagine his face when he sees this box of sneakers."
RELATED: To the Person Who Called Me 'the World's Ugliest Woman' in a Viral Video
Originally published: October 21, 2015