Cool Gifts for Kids Who Don't Like to Play With Toys
---
Editor's Note
We hope the products below help you or a loved one in your health journeys. Just so you know, The Mighty may collect a share of sales from the affiliate links on this page. As an Amazon associate, we earn from qualifying purchases.
I know, Christmas is a week away and Hanukkah has come and gone. But maybe you're a procrastinator, too, and this list will still be useful. Even if it's too late for the holiday season, there's got to be a birthday coming up. I am willing to bet that sometime between now and 364 days from now, you will be looking for a gift and then you'll be happy you read this.
The other day my friend Sarah showed me the wish list she created on Amazon. She has a daughter with disabilities who doesn't really like to play with toys. A lot of kids like hers (and mine) don't. Our conversation reminded me of when my son was younger and didn't want anything to do with toys and he couldn't sit still for a board game. He was really, really, really hard to shop for. There were times when we'd wrap socks or underwear or other things he needed because he got the most joy from just unwrapping things.
Although my son now enjoys a growing number of toys, it's still hard to come up with gift ideas for him because he gets frustrated with things that are hard to play with and he is always losing pieces. When people ask what he wants for his birthday, it's still a difficult question to answer. You can only tell so many people to get him things that light up.
So what do you get a kid who doesn't play with toys? Here are a number of suggestions.
Toys They Can Watch
My husband is really into Quadcopters, and the kids love watching him fly them. These remote control flying devices range in size and price and, I have to admit, they are fun to watch fly, especially when they get stuck in a tree (shh, don't tell my husband I said that). You can get a mini quadcopter for around $25.
Disco balls and aquarium lamps are fun to watch and calming, too. Several years ago we gave out disco balls to all the kids who came to my son's birthday party. It was by far the most popular goodie bag item we've ever presented.
There was a summer where we had three different Gazillion Bubbles hurricane machines. We used the bubble-blowing machine so much that we had to replace it a few times. The self-blowing bubble maker generates more bubbles than anything we've ever seen. The only downside was the number of times we had to buy a new one.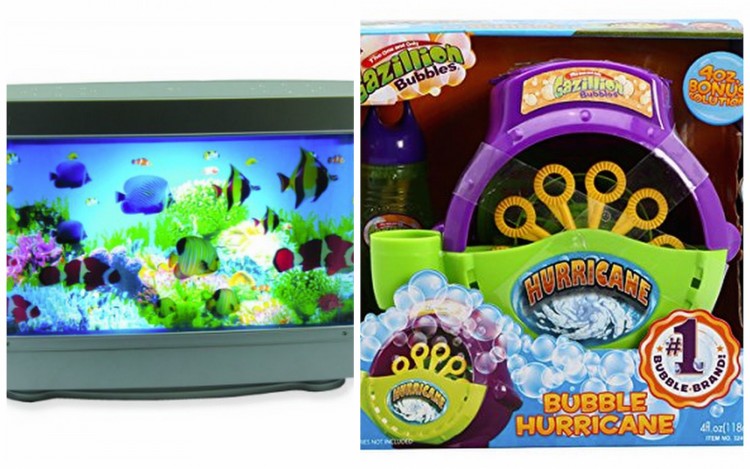 Cause and Effect
Kids, particularly with autism, like to see action and reaction. My favorite toy in this category is the Stomp Rocket. There was a time when we had a closet full of them to give as gifts. The kids love stomping the "launch pad" and watching a foam rocket soar into the air. Not only is it fun for them to see how high it gets, it also helps with gross motor skills.
The Hoberman Sphere has always been on my personal wish list. It's a simple circle that contracts and expands by pushing and pulling. When my kids get their hands on one, they can't seem to get enough of it.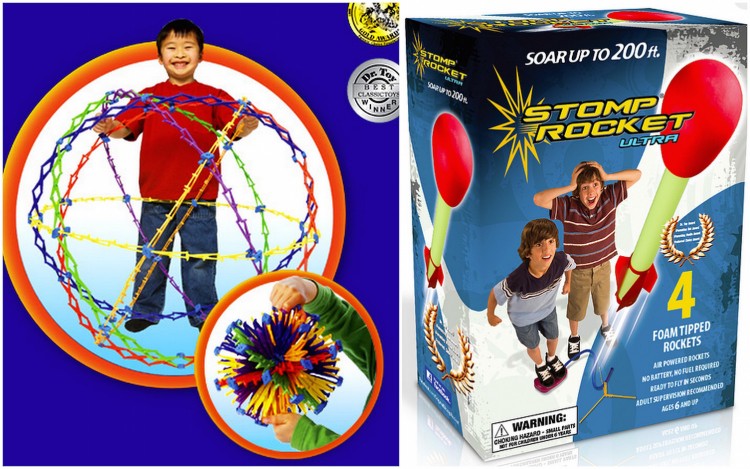 Other great cause-and-effect items are the Gyro Wheel (especially ones that light up) and the Toysmith Liquid Motion Bubbler, which you flip over to watch the liquid elements inside float serenely to the bottom. The box even says, "This is not a toy," so it's sure to please your non-toy kid.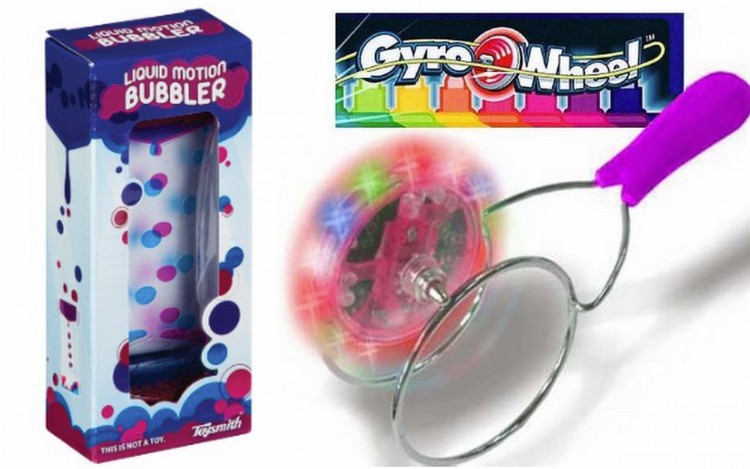 Sensory Gifts
There are thousands and thousands of sensory tools that are fun for kids. Two I'd put on my wish list are:
The Cozy Canoe is an inflatable canoe that offers deep pressure for those sitting inside it. It's a great place to read, play or chill.
A pack of Stress Balls and Squeeze Toys, because you can never have too many "fidget" toys. Kids love the feel of these squishy rubber items.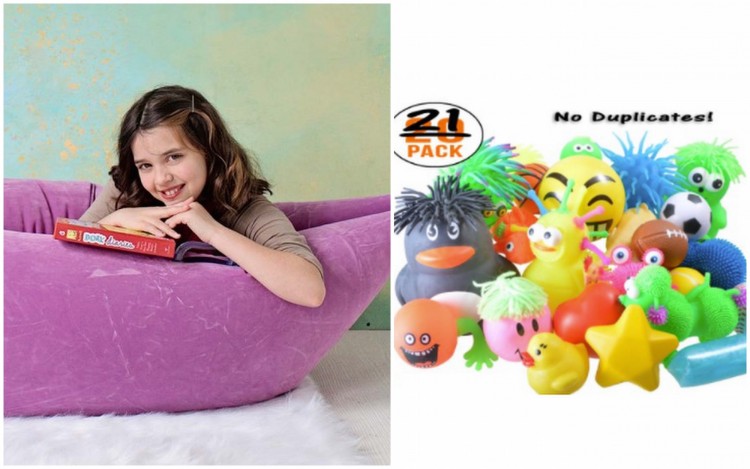 Items for Active Kids
A good occupational therapy (OT) gym can be a kid's nirvana. Between the ball pit, swings, trampoline and rock wall, there is so much to do at OT. A lot of families I know try to recreate the OT gym at home. Trampolines — from mini-exercise versions to full-size, outdoor trampolines — are especially popular. Indoor swings are also great. Just be sure to get the right mounting/hanging gear. All my kids — and their friends — love being able to swing indoors. We have our swing mounted on our basement ceiling, but there are also swings that attach to doorways or that you can attach to a free-standing base. A kiddie pool and a few bags of colorful plastic balls are an easy way to make an indoor ball pit. We've never done it, but they are always popular at friends' houses.
Other Ideas
Consider a personalized picture book. On his sixth birthday, my son got one of these. I created this book on Picaboo, one of a number of online sites that allow users to create photo books. My son's book is 82 pages of family photos and text, documenting milestones such as birthdays, vacations, the first and last days of school and other yearly traditions.
Something completely outside the box — two years ago, we had absolutely no idea what to get my son. He was obsessed with elevators. We looked for books about elevators and toys that might somehow resemble an elevator. After my son watched a video made by a teen who built his own for the millionth time, I thought it would be cool if my son could have his own elevator control panel. I scoured the Internet, found a local elevator company and e-mailed them to see if they had any suggestions.
Their response: "We actually have a briefcase that you open up and it has a whole panel of buttons that he can push and they light up. It just has to be plugged in. I would be happy to give that to you. We have not used it because we decided not to use that vendor's panel."
Places they can go — you can't wrap classes, tickets or memberships, but any of these would be excellent choices. I have a number of friends who recently started therapeutic horseback riding. One friend gave her son a horseback riding lesson for his birthday. He loved it and now goes weekly. Tickets to shows and concerts (especially sensory-friendly ones) are also great choices, as are zoo or aquarium memberships. When a kid has a passion for animals, just a few trips to the zoo can more than pay for the membership.
Looking for more shopping ideas? Try these Mighty gift guides:
Follow this journey on Special Ev.
Getty image by RafaPress.
Originally published: December 18, 2015