Dad Builds Bike for Son on the Autism Spectrum
---
Our son, Scott, struggled to ride a bicycle. Even at age 11, he used training wheels. There was still a wobble with training wheels and no real sense of security. If I tried walking alongside him and holding on to his bike to keep it steady, he would quickly let go of the handlebars and cling to me as if his life depended on it. With each wobble, absolute panic generated terror that froze him from all movement.
For four years, he was unable to ride his bicycle. We didn't really know why.
Scott has a desire to be like other kids. That includes riding a bike. His little brother has been pedaling without training wheels since about age 7. His friends in the neighborhood ride bikes all over. The best Scott could do was lie down on a skateboard and wheel himself along with his friends. For a long time we thought it was weak muscles; if he only worked on his core, he'd have the strength to master the bicycle. Over and over again, every spring and summer, we kept trying to encourage him as he faced his fears and attempted to ride a bike. It finally occurred to us this could be more autism related than a lack of strength or skill.
One of the senses that is different for some kids with autism is the vestibular sense. Our vestibular sensory system helps our bodies maintain balance and an understanding of spacial orientation in the world. Your vestibular sense keeps you upright, allows you to bounce and catch a ball, and helps your balance while you ride a two-wheel bike. As we researched autism and all the senses the condition affects, we discovered for Scott — to his brain's situational awareness in the world where all of his senses come in unfiltered and out of sync — his perception was his life did depend on him clinging to me. Much like vertigo can attack someone with a fear of heights, as soon as those wheels wobbled even fractionally on his bike, his brain immediately told him his life was in peril. No amount of encouragement could redirect him long enough to focus on his other senses and control the bike.
We struggled with what to do. Continue to encourage the bike? Insist that he keep trying? We found ourselves kind of on the fence about the best way to go forward. Next summer, he'll turn 12 and will be experiencing that somewhat halcyon time between elementary school and middle school — yet he still couldn't ride on bikes with his brother and his friends up to the local library or corner convenience store.
Recently, a friend hosted a lunch and play-date. Kids played while us moms enjoyed a beautiful afternoon of fellowship. This friend had an adult sized "delta" trike — with two wheels in the back. Scott got on that thing without hesitation and rode it like a pro — flying down the road as fast as he could pedal. Fearlessly. Fast and with a lot of strength.
For the first time in his life, he rode.
Seeing him do this showed us he isn't afraid of riding, even at high speeds. He isn't weak. As soon as the large, wide, stable wheels of the trike supported him, he was completely fine. Our son needed a three wheeled conveyance. My husband, Gregg, started researching trikes and autism and specifically the vestibular sense.
He learned trikes with the wheels in the back — the delta trikes — while generally very stable riding in a straight line, can very easily tip over if the rider brakes and turns at the same time. The problem is that the front wheel is at an angle to the direction of travel, and when the rider brakes, all of the body weight and centripetal force and kinetic energy of the rest of the trike transfers onto that lone front wheel which is already experiencing angular momentum. Flip!
In his research, Gregg found and purchased a set of plans from Atomic Zombie for a "Hammerhead Tadpole Trike." A tadpole trike has two wheels in the front and the rear wheel is the braking wheel. This puts two wheels at a proper configuration to the circumference of the turn, while the braking drag is all in the rear most part of the trike. This is called a "hammerhead" tadpole, because the configuration of the steering linkage and the front wheel braces resembles a hammerhead.
The design has a complex Ackerman steering system that involves a principle which allows the innermost wheel to turn more sharply than the outermost wheel in a turn. That helps the trike remain upright and stable during a turn, even a fast braking turn. It is designed to accommodate riding through snow and ice, so Gregg knew that a similar design would work for Scott on grass, gravel, sand, or roads and sidewalks.
We just needed a couple of "donor" bikes and a good bike frame to build it. We live on Fort Knox, Kentucky, so he took the plans he'd bought to our neighboring town of Radcliff to Outdoor Ventures, a bike shop just a few miles up the road from us. They were very interested in the project and wanted to do what they could to help us get our young son onto his own trike. After talking with Gregg and meeting with Scott, the owner basically donated some bikes and bike parts to the project.
A coworker who Gregg has known since Afghanistan, connected him with a friend, Al, who had the welding tools and skill needed to weld all the elements of the trike frame together. He obtained some steel and riding lawnmower steering bearings from the local Rural King and ordered a few spherical bearings, just in case. After ordering various pieces and parts, collecting different bikes and bike parts, Gregg prepped what pieces needed to be cut or ground down and sanded, inventoried all of the pieces and parts, and delivered them to the welder, Al.
Donating all of his time and talents, Al welded the parts Gregg brought him and built the frame of the bike.
Being a true pro, Al gave the hammerhead an even wider stance for greater stability and strength.
Gregg purchased racing forks and mag-wheels from Outdoor Ventures, put a comfortable wide seat on it, tightened the brakes to hair-trigger responsiveness, and let Scott give it a go.
Scott loved it so much he insisted he didn't even need it painted. Despite that, Gregg took it all apart again, sanded down and smoothed out the areas where it was welded, teflon taped all the threads, and puttied all the spaces with JB Weld. Then he primed it and gave it a bright neon green top coat — Scott's favorite color.
This past Sunday, our family rode our bikes/trikes to church together for the very first time. We're having to battle the words that other children say when they see the hammerhead for the first time. "That looks weird!" "What is that?" At first, these comments made Scott come home and not want to ride again. He thought the kids were mocking him, but we also heard them say, "I want a three-wheeled bike, too!" "Can I ride it?"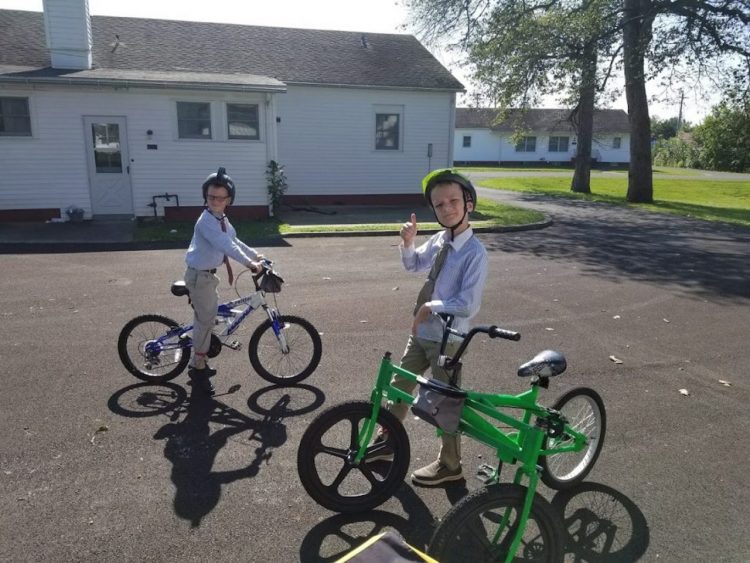 Despite that, when he gets on the seat and starts pedaling and re-introduces himself to the freedom of wheels and the feel of the wind against his face, he realizes it's OK if kids stare and ask him questions about it. Because he's free. He's having a real adventure, and little boys need adventure so they can grow into confident men. And he is able to join his brother and his friends as they storm the neighborhood on their bikes.
Gregg took them out in the neighborhood every night this week, chasing the sun, and watching him bike up hills, across grassy fields, and down the road without even slowing down, never afraid, ready to keep going forward. Last night, as they were putting the bikes away, Scott said, "Thanks for building this for me, dad. I love it."
We want to hear your story. Become a Mighty contributor here.