'Daniel Tiger's Neighborhood' to Feature New Autistic Character
---
PBS KIDS Adds New Character To "Daniel Tiger's Neighborhood:" Meet Max, Teacher Harriet's Autistic Nephew
Max's character will offer an authentic representation of autism for children and adult audiences alike
13-year-old Israel Thomas-Bruce has not had the opportunity to see himself represented on TV in the way that many other children may have. That is changing with the addition of a new neighbor in "Daniel Tiger's Neighborhood" – Max, Teacher Harriet's autistic nephew.
The show authentically cast Thomas-Bruce, who was diagnosed with autism when he was 4 years old, as Max. Thomas-Bruce said this experience gave him "an extra boost of confidence."
"It was exciting to play Max because it gave me the opportunity to help shed light on children living with autism. I am excited to know that another child can see Max on TV and see himself being represented. I felt at ease playing Max because it didn't feel like I was pretending. I also like that Max looks like me."
With one-in-five people having a disability in the U.S. today, the lack of representation – less than 1 percent in children's television – means that millions of children are unable to see themselves in media today. Furthermore, when representation exists, almost all representation of autism on screen is of white males. By making Max's character Black, "Daniel Tiger's Neighborhood" is ensuring that a population that is often overlooked is represented.
"At the very early stages when we were first discussing adding an autistic neighbor to our world, I was fortunate to attend the RespectAbility conference and hear from experts on representation and inclusion of characters with disabilities in the media," said Rachel Kalban, Vice President of Research and Curriculum at 9 Story Media Group. "It was clear from that conference that the intersection of race and disability was something not seen enough on screen. As we started digging into Max, our Senior Research Manager, Noriko Louison, did a content analysis of what autistic characters were currently on air and her research also showed a total lack of representation of Black autistic children in preschool TV at the time, despite that there are not racial differences in who can have autism (the differences that may be reported on seem to be based in likelihood of getting a diagnosis due to systemic barriers and prejudices). So, raising awareness that autistic children do not look any one way was important to us."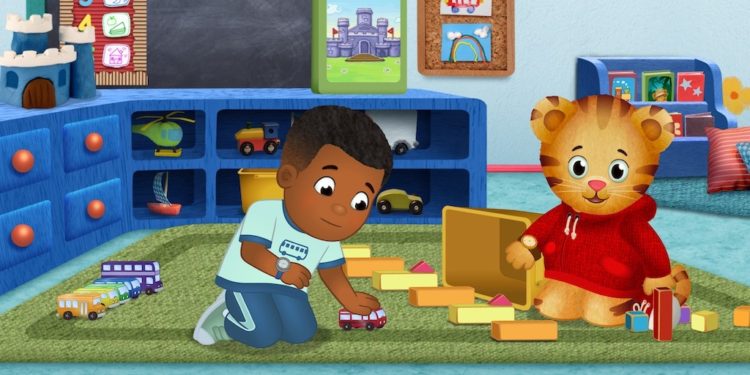 "We knew that we had to find a young Black autistic boy in order to authentically represent who Max is," Kalban added. "After going through all of the Toronto acting agencies, Nathalie Thoriel, our Voice Director, decided to get creative and started reaching out to schools and acting classes. We were introduced to a teacher who works with autistic children and she led us to Israel!"
Since Thomas-Bruce did not have voice acting experience, the team helped him through the process.
"He came in for an audition and our producers, Alexandra Cassel Schwartz and Haley Hoffman, created a social story to help guide Israel through the process of being in an acting booth, which is new to many actors," Kalban explained.
The team also adapted the character of Max to Israel's personality.
"We had crafted the design and personality of Max's character alongside consultants prior to casting Israel, but he brought a softness/reticence to the role that impacted the character we see on screen," said associate producer Haley Hoffman and supervising producer Alexandra Cassell Schwartz. "For instance, we pulled back some of the dialogue, so he is less verbal like we found Israel to be in the booth, which really speaks to the saying 'if you've met one person with autism, you've met one person with autism.' We didn't attempt to capture a combination of common autistic traits, but rather created a realistic look at one child."
The team worked with several consultants, including the University of Missouri's Dr. Wes Dotson, whose previous research showed that autistic children could learn skills from watching episodes of "Daniel Tiger's Neighborhood" and applying lessons to their own lives, as well as Kristyn Roth of the Autism Society of America. In addition, Jessica Rosh, a woman on the autism spectrum, also consulted on these episodes, making edits to the script based on how she felt Max should be portrayed. Including autistic individuals as consultants and in the writers' room is vitally important to ensuring authentic representation.
"Autistic people live and breathe the autism experience a lot," Rosh said. "So, they know what it is like to be autistic. They have a chance to have their voices heard and make change."
Supervising Producer for Daniel Tiger's Neighborhood Chris Loggins said the episode utilizes ideas from real-life scenarios. For example, Max and his aunt created a book with pictures to talk about the classroom before he arrived so he would feel more comfortable. In addition, they also shared the book with classmates to show what he likes. That idea came from one of Loggins' advisors whose daughter is a teacher.
While Max is being introduced this month in celebration of Autism Acceptance Month, Loggins said that Max and his sister Amira "will be included in the Neighborhood of Make-Believe going forward."
Most notably, Kalban said storylines surrounding Max will not be focused on his autism, "but about everyday preschool life and things that are going on in the Neighborhood."
"It was important to us that Max not just be brought in just to teach a lesson about autistic friends, but that he is integrated into our entire world, just like in real life," Kalban continued. "I am really hopeful that getting to know a multi-dimensional character like Max on screen, as a member of our extended Neighborhood, will help autistic kids and adults feel represented, and non-autistic kids and adults be more open and accepting."
Loggins added that while they made the decision to say Max is autistic, the term is mentioned just once. Instead, the episode focuses on Max and his full personality. "The strategy of the episode is to focus on 'When a friend needs different things than you, there are some things you can do.' This relates to everyone, applied to a range of both children and adults."
"The character of Max is so important, because it builds understanding for the non-autistic community to really get to know us better and see what we are like," Rosh added.
For Kalban, including Max in the Neighborhood is personal.
"It was really important to me that Max be shown as a member of a family," she said. "My brother is autistic, so I know how much richness having an autistic family member brings, and that it affects everyone in the family.  Seeing a sibling act the way Amira does with Max meant so much to me."
And for Thomas-Bruce, he encourages others with autism who may want to get into acting to "go for it."
"Believe in yourself and your abilities and just be real."
The "Daniel Meets a New Friend" episode premieres on Monday, April 5 on PBS KIDS.
To learn more about how this episode came to be, join RespectAbility for a live virtual event with several of the producers and consultants. This event is free to attend and there will be live captions and an ASL interpreter.
Date: Wednesday, April 7
Time: 6:00 p.m. ET / 3:00 p.m. PT
RSVP: https://www.respectability.org/2021/04/daniel-tigers-neighborhood-webinar (A recording of the event will be posted on this webpage following the live event.)
Originally published: April 4, 2021