How 'Fancy Nancy' Is Teaching Kids About Autism and Inclusion
---
With one-in-four people having a disability in the U.S., the lack of representation – just 3.1 percent on primetime television and even less in children's television (less than 1 percent) – means that millions of people are unable to see themselves in media today. Disney Junior's "Fancy Nancy" is hoping to buck that trend in a new episode, "Nancy's New Friend." Nancy is excited to meet her friend Lionel's favorite cousin Sean, who is on the autism spectrum. But Nancy does not understand why Sean does not respond to her and needs to learn how to connect with Sean in a different way than she does with other friends.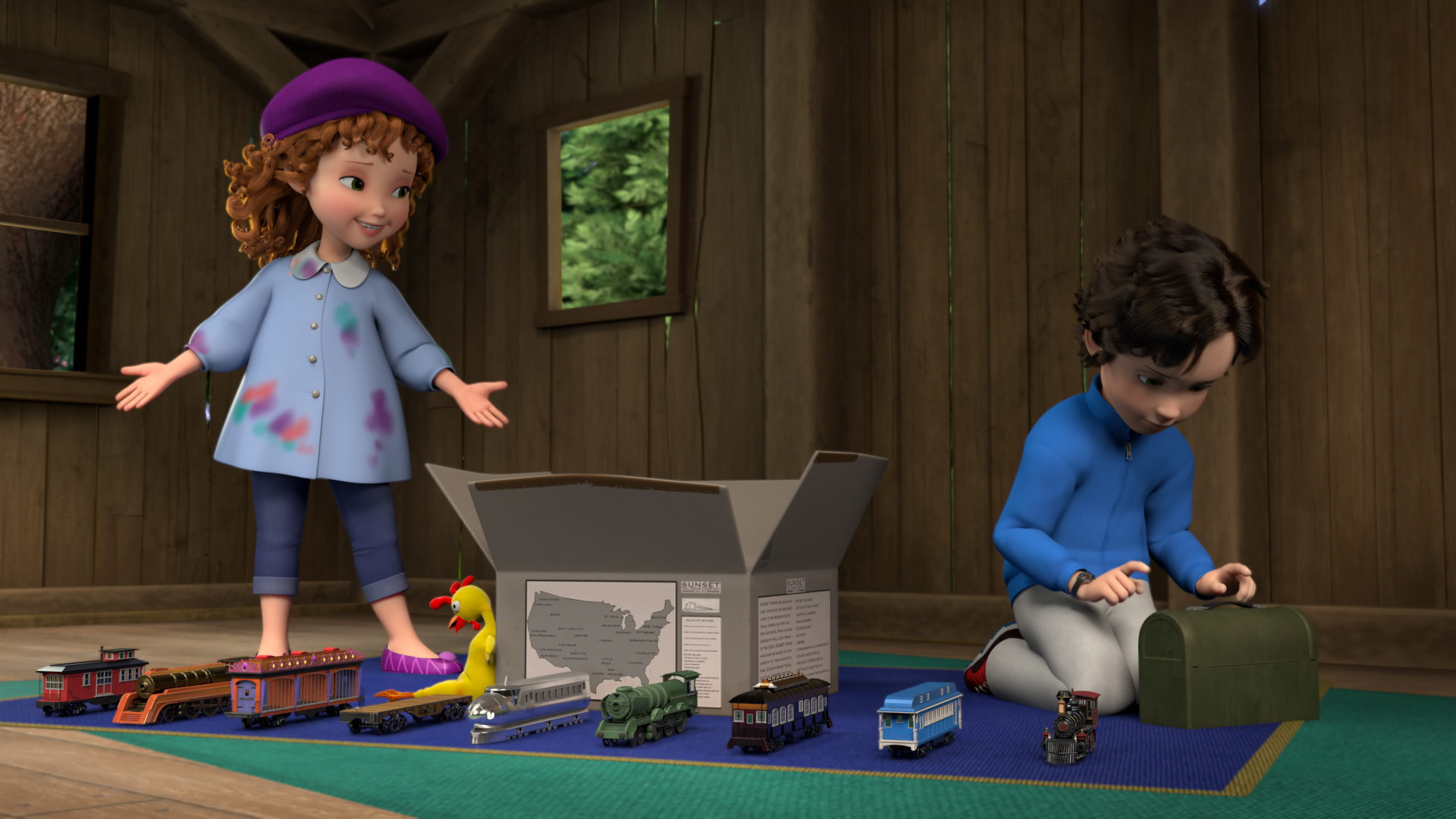 "We hope this episode will help our viewers understand that there are sensitivities to be mindful of when engaging with someone who has autism," said "Fancy Nancy" co-producer/head writer, Krista Tucker. "People with autism may act in ways we feel are different, and that's OK — they're just being who they are. In a world where so many children interact with kids who have autism, this kind of understanding creates compassion, tolerance and friendship. Most importantly, it creates a world that is kind and accepting of all of us."
The episode, which first airs on Thursday, April 2 at 8:00 a.m. ET, is timed to celebrate World Autism Awareness Day.
Authentic Representation: Actors With Autism
Ninety-five percent of characters with disabilities are played by actors without those disabilities. So, it is vitally important that the character of Sean is voiced by an 11-year-old autistic boy named George Yionoulis, who did not speak until he was 3 years old. Series writer Matt Hoverman discovered Yionoulis from a video he and his mother created for his fourth-grade class to explain what it means to be autistic.
When Nancy is trying to get Sean to be friends with her, she plans a thoughtful party – including train whistles since Sean likes trains and snacks with smooth peanut butter since Sean only likes smooth peanut butter. However, the music, train whistles and laughter, along with the balloons and decorations, cause too much stimulation for Sean. "Sometimes bright lights and loud sounds can be too much for someone with autism," Lionel explains to Nancy.
This scene is based on real-life experiences for Yionoulis. "I can hear and see a lot of things and sounds all at the same time, which sometimes makes it hard to focus on any one sound or thought," he explained in the video.
Elaine Hall, founder of The Miracle Project and now a consultant and on-set acting coach for several major TV/Film studios, consulted on the episode. "There is an enormous untapped potential of individuals with disabilities who are talented actors to play their own roles as people with disabilities," Hall said. "There is a misconception that individuals with autism cannot focus or attend to the demands that might be made on them in a professional TV, film or theatrical environment. This oftentimes causes production companies to hire those without autism to portray a character with autism. In actuality, actors with autism who have had proper theatrical training can be the best people for the job. They are prompt, follow directions, stay focused, rarely make distracting small talk and can memorize dialogue with minimal rehearsal time. Mostly they are experts in what autism is, so their portrayal is authentic. We hope that showrunners will continue to collaborate and develop this talent pool through these opportunities."
Representation of Autism: Creating a Culture of Understanding

"My hope is that this episode of 'Nancy's New Friend' will help children and their parents understand autism as a different way of being, rather than as something weird, or wrong or to be afraid of," Hall said, adding that only by Nancy learning to understand Sean's experience and point of view can the two create a true connection.
It is important to note, however, that Sean represents just one individual with autism. When asked what autistic is and how to describe it, Lionel says: "Autistic means Sean's brain works kinda different than other people's. For one thing, he doesn't really look at you when you talk to him. Also, he likes doing the same things every day because it makes him feels happy. So, if something changes, whoah, he can get very upset."
While these characteristics – not looking at people in the eye and wanting a routine – can be typical of people on the autism spectrum, this is not true for all Autistic individuals. The character of Sean also is very interested in trains – playing with them as well as sharing statistics and trivia about trains.
"Playing with trains, just like dinosaurs, is very common, but not always a thing for kids on the spectrum," said RespectAbility's Communications Associate Eric Ascher, who is on the spectrum. "But from watching autism on TV, you'd think they did."
In fact, the voice actor George Yionoulis' interests at age 9 included drawing and creating art, dancing and making music, both with instruments and through computer software.
But the message of this "Fancy Nancy" episode remains the same: "I'm a kid just like you. Because all us kids are different in our own ways, right?" added Yionoulis.
Originally published: April 10, 2020