3 Words That Helped Me When I Thought I Let My Son With Autism Down
---
I got lost heading back home from a meeting recently. It would have been fine, except I had to be home to meet my son Dominic when the school bus dropped him off. I thought about calling my husband, the bus company or one of my friends to help me, but in my mind I thought I could make it home before Dominic.
I knew the bus driver wouldn't leave him at our house alone because I signed a form at the beginning of the school year saying we wouldn't permit that.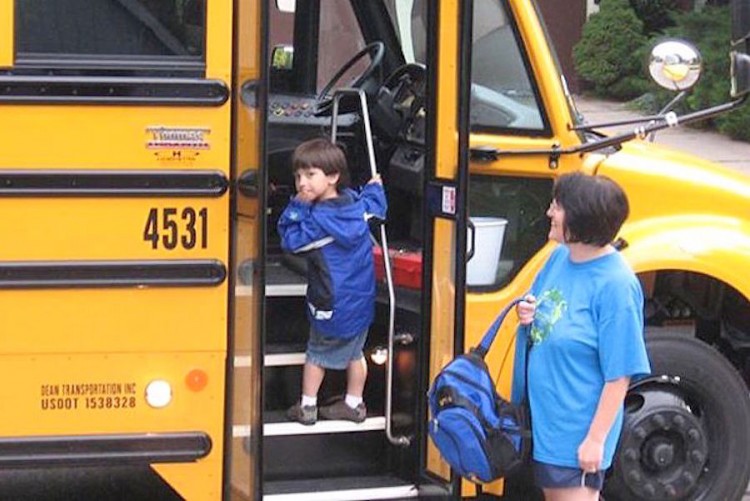 But what if it was a different driver and he didn't know to do that? What if the driver didn't know Dominic is on the autism spectrum and has epilepsy? The feeling of fear was beginning to set in as I continued to drive towards our house. I didn't have the bus company's phone number or the bus driver's cell phone number. I could have stopped on the side of the road to look it up, but again, in my mind, I thought I could beat the bus home.
When I got home, it was a full 10 minutes past the time Dominic is normally dropped off. Neither Dominic nor the bus were at our house. Now panic started to set in. For a split moment, I had no clue where he was. Oh my, that was a feeling I hope to never have again. I ran inside and checked on my home phone for a message from the bus company or the driver, but there wasn't one.
I immediately picked up the phone, called the bus company and they said, "Is your son's name Dominic?" I said, "Yes." They told me the bus driver kept Dominic with her as she finished her bus route and would drop him off momentarily. Whew. I was shaking and had to sit down. As the bus pulled up and Dominic stepped off, all I could do was profusely apologize to the bus driver and tell Dominic, "I'm sorry, I'm sorry."
I was beyond distraught. I felt like I had let my son down. I spent the next several hours rehashing the event in my head. What kind of mom was I to not have been there for my son with special needs? What kind of mom does that?
During my regular evening conversation with my dad, I kept telling him about what had transpired with the bus. After about 10 minutes, my dad said, "You're only human." Wow, that certainly helped me put everything back in perspective.
I try so hard every day to be everything to everybody that I don't always cut myself enough slack to make mistakes. Just those three words, "You're only human," helped me realize I could forgive myself. It's OK not to be perfect.
Sometimes as a caregiver, it's hard to step outside of ourselves and realize that, yes, we're doing a great job, and once in a while, things like not being there for your child's bus may happen. It doesn't mean you don't love or care any less about your children with special needs. It means you're human.
Follow this journey on Bountiful Plate.
The Mighty is asking the following: What's one thing you want to make sure the special needs mom in your life knows? If you are the special needs mom, challenge a loved one to respond to this! If you'd like to participate, please check out our Submit a Story page for more about our submission guidelines.
Originally published: May 16, 2016