How Flo Rida and His Concert Staff Made a Wish Come True for My Son With Autism
---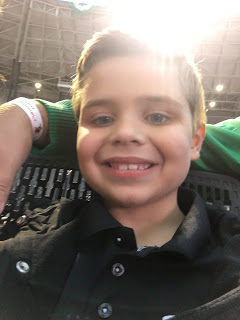 My son is a huge Flo Rida fan. He loves him so much he created a video dedicated to Flo Rida. In his video he told Flo, "I love your song 'My House,' but I want you to come to my house, Flo Rida." He then proceeded to dance to a song featuring Flo Rida. His video ended up getting over 200,000 views and made it onto Ellen DeGeneres' blog. Every day, my little guy would ask if Flo had seen his video. This is just a small depiction of how much my son loves Flo Rida. My son stated early on it was his dream to give Flo Rida a fist bump. He really hoped Flo Rida would see his video and he would end up getting the opportunity to give him a fist bump in person.
Last week, Flo Rida had a concert at the Washington State Fair. My mom surprised my little guy with tickets to the concert. I reposted my son's video in hopes it would get to Flo Rida. The day of the concert, I heard from Flo Rida's bodyguard's girlfriend. She had seen the video and she loved it so much she told me she would do everything in her power to connect my son with Flo Rida. It was extremely last minute and Flo Rida was on an airplane, so she couldn't make any promises, but she told me she would do her best.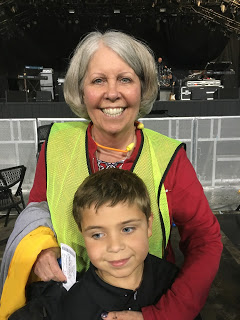 My son was overcome with joy when he arrived at the concert. He is on the autism spectrum, and he often listens to Flo Rida's music to help himself mellow out. As soon as the music began to play at the concert, you could see the amazement and pure joy in his eyes. We were seated on the floor in row 17. These were great seats, but not close enough where we could get close-ups of Flo Rida. In the middle of the concert, Flo Rida came off the stage. I immediately took my little guy and ran towards Flo in the hope he could get a fist bump from his hero. Unfortunately, the crowd got out of hand and we just missed him, but this is where things changed in our favor. In the hustle, we ended up getting ushered into the third row. My little guy and I got to finish the concert extremely close to the stage. If you could have seen my child's face, you would have been in awe. His face could have lit up a room!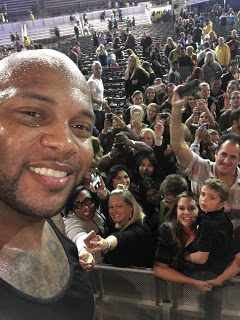 At the end of the concert, Flo announced he would take selfies with the audience. I knew this would be my son's chance to get his fist bump, but the problem was security was only letting the front row get selfies with Flo. I pleaded my case with a wonderful security lady, who happened to also be a grandma. I think she could tell just how much this meant to both me and my son. She told me to go through and she hoped my son would get his wish. I ended up having to try and get through another security guard, who was not as generous and absolutely refused to let us through. The original security guard could see what was happening, and she went out of her way to come towards us to tell the security guard she had given us clearance to get through. This lady was my son's angel. She made his wish come true! My son ended up getting his fist bump from Flo Rida, and he also got a selfie. I just cannot express how grateful I am to the security guard at the Washington State Fair. She helped make a little boy's wish come true!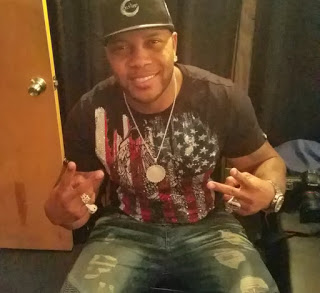 My son's night of excitement did not end there. Flo Rida's bodyguard called us just as we were leaving the fair. He told me his girlfriend had just got a hold of him and told him about my son. He ended up sending a picture from Flo Rida to my little guy and he promised Flo would personally watch my son's video. In addition, he told me he would send a package from Flo Rida to my little guy. Flo Rida's bodyguard and his girlfriend did not have to do this, but they did. They are busy people, but they took time out of their schedules to try and make a little boy's dream come true.
I love my son more than words can say. He has come so far in his short life. My son is resilient, and he hasn't let a diagnosis define who he is. This is why I wanted his dream to come true. From a special needs mom, thank you to the security guard at the Washington State Fair from the bottom of my heart! To Flo Rida's bodyguard and his girlfriend, I am beyond grateful to you both for making my son's wish come true! In the words of my son, "Flo Rida now knows who I am and I got my fist bump!"
Lead image via Eva Rinaldi / Wikimedia Commons
Follow this journey on Diary of an Autism Mom.
We want to hear your story. Become a Mighty contributor here.
Originally published: October 26, 2016