What 'Getting to First Base' Meant for Us as a Couple on the Autism Spectrum
---
In the aftermath of World War II, baseball metaphors for sex were often used by American adolescents as euphemisms for the degree of physical intimacy achieved on dates. Most people are familiar with the terms "getting to first base, second base, third base, or scoring a home run." First base is achieving a kiss, while scoring a home run is actually having sex with someone. Second and third base can be assumed as to the degrees of intimacy.
It might work well for the neurotypical world, but I have a much different view in my autistic world. Because for me, relationships with others are not so easily gained, least of all intimate ones. I treasure the relationships I do make and approach them with a very different perspective.
Dr. Tony Attwood commented why he felt our "all autistic" wedding was important to the autism community.  He states:
My thoughts are that this is a special occasion that I want to be witnessed and experienced by those who truly appreciate the exchange of vows, as well as the importance of the union between two people from the same community… Those in the autism community take such vows very seriously and from my experience, are very determined for the relationship to succeed and flourish. An autism-autism union is a very special occasion and an opportunity to celebrate the values,
determination and understanding of those within the same mind set who deeply love and value each other.

Congratulations on finding each other and finding love within and between each other.
Dr. Attwood's word so deeply touched my heart. They are so very true. In today's society people get married for many different reasons. Love isn't always one of them. People marry for financial gain, for moving up the social ladder, for prestige.
I was diagnosed with Asperger's at the age of 50.  Until that point I never even had a friend. If a fleeting thought of finding a mate to have a relationship with or marry would surface in my head I'd quickly dismiss the notion. After learning of Asperger's and getting diagnosed, my entire life changed.
First I realized I was not the only person on earth like me. Second, I began meeting others on the spectrum, as well as people who work with us because they want to be around us.
The first thing I did was start an Asperger's support group in my community. At one of the meetings came an autistic guy with his mother, who brought him there. He was extremely timid, and did not appear to have much confidence. We became friends and remained as such for the next year.
Our love story is extremely complicated and truly deserves to be made into a motion picture. Our first hug was under the stars in my driveway after he and his mother delivered a bunny hutch which Abraham had assembled for me. I'm not good with assembling things, and I'd purchased the hutch for my new bunny, but it had sat in the box for weeks. Abraham volunteered to put it together for me.
There, under a full moon, he initiated a hug. That is a moment neither of us shall ever forget. As our arms embraced each other, and we felt the warmth of each other's body, a spark was ignited in both our souls. We couldn't let go of each other. We became one, and neither of us could tell where one ended and the other began. The painting, "The Kiss," by Austrian symbolist painter Gustov Klimt flashed into my mind.
The feeling was so intense, so delicious, so shocking.  Neither of us had ever expected to find anyone with whom to fall in love and have a relationship with or marry. It seemed like an impossible dream. Suddenly a fire was lit within each of us. It was far beyond a sexual fire. It was a spiritual fire, one extremely deep. It was on a level much higher than what most people ever experience or can understand.
Having autism surely has its challenges. They are not by any means limitations.  They are simply challenges. They force us to work harder at overcoming them. Yet those same challenges — specifically sensory issues –offer us the luxury to experience things on this higher level. They can also work positively for the individual.
That first hug far surpassed "getting to first base." We both spent our lives "striking out" at simple relationships. Neither one of us ever had friends, yet now we realized the magical chemistry that drew us together.
Hitting one out of the park is every batter's dream in a real baseball game. Abraham and I truly hit one out of the park. On September 26, 2015 we became husband and wife at the Love & Autism Conference. Now, having had a loving relationship for the past three years with extremely positive intervention, Abraham has turned out to be a diamond in the rough. He's blossomed into a positive-thinking man who's confident, has great self-esteem, and enjoys life to the fullest.
Awhile back we attended our first baseball game together, a semi-pro game at our hometown stadium. We decided to go all out, and upon arrival to the stadium we headed into the team's merchandise store. There, we purchased baseball hats, flags to wave, and beads to hang around our necks. As we emerged from the store, we now looked like the other 5,000 people at the stadium. The music was loud but made us feel energetic. It was massive sensory overload, yet we were having a blast!
The next stop was one of the food establishments on the main concourse. We both ordered cheeseburgers and fries, a plastic baseball hat filled with popcorn, a big soft pretzel and drinks. Trying to maintain our new hats on despite the Gulf breeze blowing, we made our way over to a ledge with our hands laden with all the eats. There we stood, among the huge crowd, eating, cheering, and simply forgetting our challenges. We had a hilarious, marvelous, astonishing time. We even took selfies to create memories of our night at the game. Our home team won, and we joined right in with the roar of the crowd cheering them on.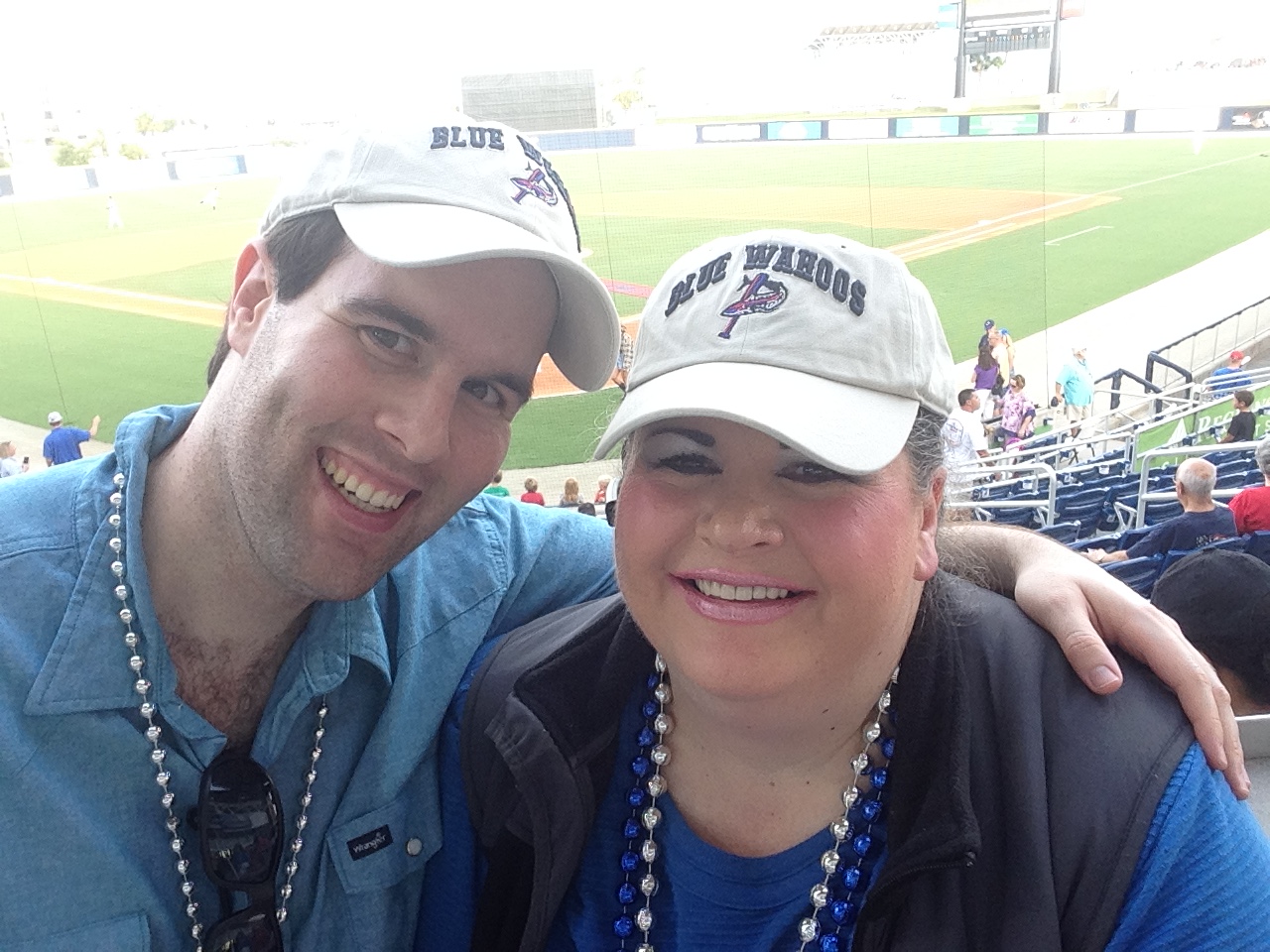 After the game we drove down the street to the pier to admire the full moon, enjoy the ocean mist on our faces, and savor the sound of waves lapping against the pilings. It was a perfect ending to a perfect night. We felt an overwhelming peace and comfort as we sat there on the bench because we won. I'm not referring to the baseball team. I'm talking about hitting the ball out of the park on love. It's more like
we've won the World Series.
Our autistic baseball game is quite different than everyone else's. As our very dear friend Eustacia Cutler says, we're "different… not less."
We want to hear your story. Become a Mighty contributor here.