Some Guidance for a Mom Still Learning to Navigate Her Son's Diagnosis
---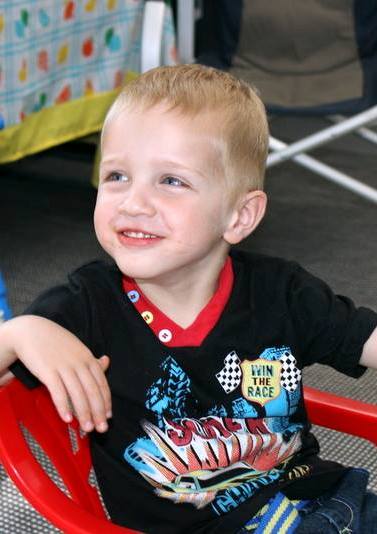 We accepted that autism will be part of our lives long before we had a diagnosis. This was mostly due to a wonderful speech therapist who I believe was put on this earth to make us ready to accept that our son is different. It took about 18 months for the word "autism" to first be mentioned, and I drove myself crazy for at least 12 of those 18 months (maybe even more).
This is what I would tell myself if I had the chance:
Don't try to change it. You can't.
Realizing this would have saved me so much anxiety, stress and even money. While still in denial, we tried everything we possibly could to get him out of his world and to get him to stop doing the stereotypical things you might find with kids on the spectrum. We took away all his cars so the temptation of spinning wheels would not be so intense. Whenever he found a car, turned it around and started spinning the wheels, the whole house would fall quiet with everyone watching him, the atmosphere so tense you could cut it with a knife. We tried every remedy in the book that was within our means to help him function normally. It took awhile, but we finally accepted that he is who he is and he's happy. He's not spinning wheels anymore but is obsessed with lights and will switch them on and off for hours. Or he will open and close a door continuously throughout the day. One day, he will lose interest in the lights and the doors and other repetitive behaviors will emerge. And that will be OK.
You will lose some friends and gain some new friends.
And it will be OK. You quickly learn who you can depend on when you're going through a difficult situation. We quickly saw that we do have friends who are not even a bit interested in our situation or the struggles we're facing. Friends with a "just get over it" attitude or friends who never tried to put themselves in our shoes to try and comprehend how difficult it is the day you realize your son has special needs. It's not that we expected everyone to be touched in the same way by the diagnosis or that we expected some special treatment. Unfortunately, autism put everything else in perspective for us. We can't spend time with people who make us feel like overprotective parents when we constantly have to get up in a middle of a conversation to see where Jaden is (because he will take to the streets if he gets half a chance). We limit the time we spend with people who tell us how we shouldn't believe what all the experts are telling us. We don't spend as much time with friends in general as before the diagnosis, because after a week of therapies, strategies implemented at home, meltdowns and communication difficulties, sometimes we just want to be together as a family over a weekend. And we need people in our lives that understand this. Not everyone does, and it's OK. We've made stronger bonds with other friends we already had. We have friends who cry with us, ask how they can make things easier for Jaden when we visit and really try to understand how our lives are different from theirs. We're meeting new parents with kids on the spectrum, and we learn from them. We're spending less time with other friends and know this might lead to the end of those friendships. And that's OK.
God will provide in many ways.
We're struggling financially and paying for all the therapies and treatments is a huge struggle. The anxiety and sleepless nights I experienced because of this overwhelmed me so much that I felt I could not go on with normal life sometimes. I was angry that we couldn't give him all the treatment he needed and I felt we were failing him because we couldn't afford the other 110 strategies out there to help him. I still stress about finances constantly and pray for a job with a better salary almost daily. But God has provided in so many ways. People in our lives have been so generous, and I'm humbled by their sincere offers of help. I still wish we could provide for all his needs on our own, but autism has taught me to put my pride aside and see the hearts of the people in our lives that God is using to help us.
Learn to grow a thick skin.
I could write a whole blog post on things people have said that have been insensitive and hurtful, made me feel guiltier than I already did or even made me laugh at the stupidity of what is being said. And most people with a kid on the spectrum will relate, because those comments are made over and over and over again. People say things that hurt. Family members get involved when they shouldn't or sometimes don't get involved when they should. I cried many nights over what someone did or didn't say or do, but I've learned that most people come from a place of love and sometimes deliver their messages in a wrong way. I've grown a thicker skin — and I'm still growing. I still wish the people closest to me would sometimes think before they speak, but when they don't, I smile and nod, change the subject and try not to think about it again.
Stop Googling the word "autism."
Just stop. Take a break from reading about autism on the Internet for awhile. And then, when you really need to Google, change the words. Google things like "visual schedules," "Makaton" and "vestibular activities." Googling the word "autism" and looking at the symptoms will not help Jaden in any way. I now only research specific things that I know will help Jaden at this moment. I'm not looking for answers regarding autism anymore; I'm looking for guidance on specific strategies that I find helpful.
Everything will be OK.
You will cope with it. You and your family will find a new normal. You don't know any better, so this is your normal. Bit by bit, you will get the opportunity to be a special kind of mom with a special kind of relationship with Jaden. And you will love every moment of it.
The Mighty is asking its readers this question: If you could go back to the day you (or a loved one) got a diagnosis, what would you tell yourself? If you'd like to participate, please send a blog post to community@themighty.com. Please  include a photo for the piece, a photo of yourself and 1-2 sentence bio.
Want to end the stigma around disability? Like us on Facebook.
And sign up for what we hope will be your favorite thing to read at night.
Originally published: January 7, 2015