I Used to be Nonverbal. 16 Years Later, I Was a Varsity Basketball Captain.
---
One of the first role models I had in my life was Magic Johnson. As early as 3, I can remember watching him play with the Lakers and being completely transfixed by his play-making ability. People like Magic fascinated me and developed my interest in basketball.
Today, I can say basketball has helped me progress as a person on the autism spectrum.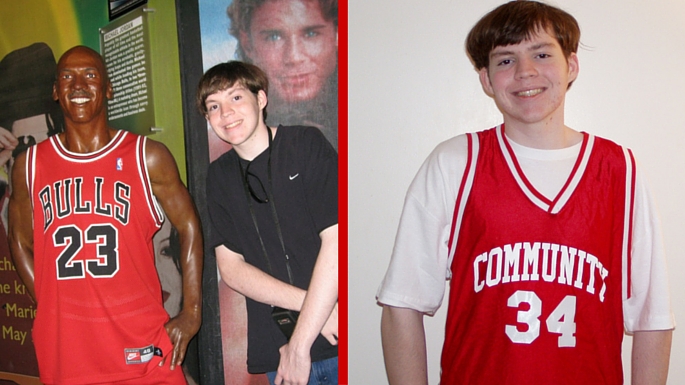 As a kid I had significant challenges with social interaction, communication and gross motor skill delays. My parents, who I've always praised for helping create the wheel for me when services for autism were less known, decided to take my love of watching basketball and try to turn it into a love for playing as well.
When I was 8 playing pee wee basketball, I found out right away that basketball — and any sport — would be an uphill battle. Both my hand-eye coordination and my issues with balance kept me limited in my abilities to perform on the court. What kept me motivated though was envisioning myself doing the moves of other basketball players I looked up to.
I'd run to the three-point line while I was practicing some days, and as soon as I got the shot I would scream "MAGIC!" at the top of my lungs. Sure, 99 percent of those shots didn't go in, but I found out rather quickly that I loved playing the game.
In grammar school, my opportunities to play were limited because my school didn't have a basketball team. Once I got into a high school for students with learning disabilities, I found out that we had both a junior varsity and varsity team! I was ready.
I was going to be the Magic Johnson of our JV team, I thought to myself. Then tryouts came. I was a 5'10", 230-pound kid wanting to play point guard while the rest of the kids were around 5'4″-5'6″. Within the first two sprints of the practice, I was already on the sideline out of breathe. Not exactly the MVP performance I was envisioning right off the bat. Three days later, I would find out I didn't make the team, and my goal of playing high school ball was defeated.
That defeat, though, made me think back to Magic Johnson and everything he has been able to overcome in his life. I told myself in the mirror the following day that I was going to come back and make it.
Fast forward one summer, and JV tryouts were happening once again. This time I was 60 pounds lighter and had grown three inches. I had participated in basketball camps almost every day that summer while working on my gross motor skills at my occupational therapist's office. I was beyond nervous. Would this be different than last time?
Luckily for me, thanks to my progress, making several basketballs during the tryout and pushing my body to the limit, I got a coveted spot on the JV team! I made it. Two years later as a senior after continuing to work on my craft, I was selected as varsity captain and had made some of my first friends ever.
Looking back, this passion for sports is what I advocate for when I talk to families now. I feel there are so many benefits to sports. I was able to become very good with my hands because of basketball and overcome many of my motor challenges. I was also able to find my niche when it comes to social interaction. The advice I'd give to other families out there is to give sports a try with their loved ones. The results I've seen are amazing. Even if it's not sports, find that niche they love and help them pursue it everyday.
As for my future with sports, I am now a huge college basketball and NBA fan. I love watching my alma mater the Seton Hall Pirates play, and also my Los Angeles Lakers. I'm also a huge fan of Coaches Powering Forward for Autism, which is an initiative to bring autism awareness to college basketball. Now in its third year, I've been so happy to see two of my favorite passions — autism awareness and basketball — come together to make a difference for our community.
A version of this post for appeared on KerryMagro.com.
The Mighty is asking the following: Share a conversation you've had that changed the way you think about disability, disease or mental illness. If you'd like to participate, please send a blog post to community@themighty.com. Please include a photo for the piece, a photo of yourself and 1-2 sentence bio. Check out our Submit a Story page for more about our submission guidelines.
Originally published: February 15, 2016