To Those Who Choose to Bully My Son With Autism
---
Friday afternoon I put my jacket on and stopped halfway from my house to the bus stop like every other day. It's my sons favorite thing to do. He asks me all the time to stop right there so he can run really hard and crash into my arms. He calls it his "Brock Entrance."
I knew something was wrong the second he got off the bus. Brock didn't run that day, but his smile wasn't gone. He came right up to me and said "[blank] choked me on the bus today."
My heart dropped. My breath caught.  My eyes started burning. I wanted to cry, but I couldn't. I have to be strong for my child.
I put his hand in mine and walked to our house. I had him sit on the couch and tipped his head back. That's when I noticed the faint purple marks and scratches under his chin. Inside my momma bear was slowly roaring to life; outside I was calm with my usual smile when I see my son after an eight-hour school day. I asked him, "What do you want for a snack today? Apples or big gooey chocolate donuts?" He picked the donuts, because you don't exist in our house. Your memory fades when his foot hits that last step on the bus. You take up enough of his time outside of these walls  —  you don't get more of him.
This is our time, and my time to remind and show him that love is a stronger feeling than hate. My son has autism and developmental disabilities, and he is so, so loved. He has a mom, dad, puppy, aunts, uncles, cousins, grandparents and friends who always make sure he feels that love the second we are in his presence.
But when I think of you, after the hurt and anger at the injustice you caused my son fades, I just feel sorry. There's a big part of me that hurts for you, too. I can't help but think of what you must be going through to have that much pain inside you'd take it out on my child. The child who always finds a reason to smile and sees the good in everyone.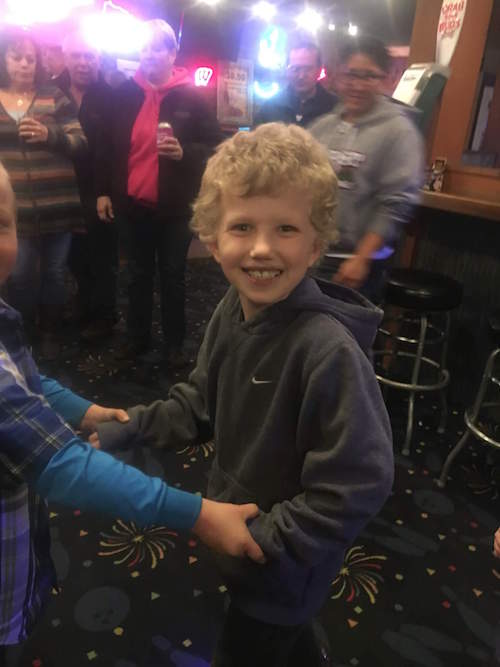 I believe one of the best parts about being a mom is having the power to help take pain away from my son. I get to do that, and I am doing that. The most important thing I've learned if your child is a victim of bullying is to remind them they are in no way at fault, and to always let an adult know what's going on. I always make sure to spend time after each school day discussing Brock's day with him. I call it "the highs and lows." I have him name a few things that were the high points, and a few things that were the low points, because I want him to know he can always come to me for anything good or bad. Whenever he names a low point, we discuss ways they can either be solved or improved. Communication is always key.
And now, he's no longer going to be the person you take your frustrations out on. That ended Friday afternoon when he took that last step off the bus and chose gooey chocolate donuts.
Brock is going to go on like Brock does  — with a smile on his face and without a care in the world.
And I hope, beyond all hope, when the next Brock comes around, (because there will always be another Brock) that you remember one thing: in the long run, the only one you're hurting is yourself.
Memories fade, but there will always be big gooey chocolate donuts to help pick up the pieces.
Follow this journey on Brock's World.
The Mighty is asking the following: Describe a moment you were met with extreme negativity or adversity related to your disability and/or disease (or a loved one's) and why you were proud of your response — or how you wish you could've responded. If you'd like to participate, please send a blog post to community@themighty.com. Please include a photo for the piece, a photo of yourself and 1-2 sentence bio. Check out our Submit a Story page for more about our submission guidelines.
Originally published: April 25, 2016