That Time I Blogged for 26 Days From A-Z for Autism Awareness Month
---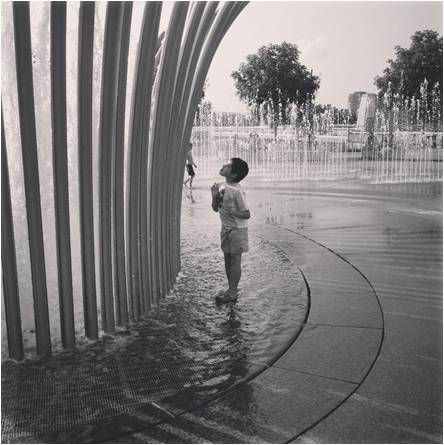 In honor of Autism Awareness month in April of last year I started a project to raise my own awareness on my small little corner of Facebook by lettering each day A-Z and sharing a little bit what autism is and what autism isn't.
I have two beautiful boys both on the spectrum. They couldn't be any more different, and while each have their unique challenges, they also each have their unique strengths.
Initially, without telling too much, I shared how things might look a little behind closed doors along with a personal photo to my friends who might not otherwise get that glimpse. But as the days in April passed and I became more comfortable with the safety of Facebook, a change took place with my friends on my page. Instead of the usual 20 or so likes I would get per post, I started getting hundreds. I also started to understand that perhaps the wrong kind of awareness exists. Friends and colleagues began to approach me to let me know just that, and thanked me for my efforts. Acquaintances stopped me to ask questions. I had others quietly ask me for advice since they weren't "out" yet with their concerns about their child. Others even reached out to offer help in some way.
Somewhere around "K" in the A-Z tale, my husband, who is a wildly private person, changed as well. He too was being stopped by supportive members our community. He had a change of heart. For the first time, he let me know that he was proud of us as a family and that he believed I was changing for the better through the process of writing. I had not changed. I finally felt I had permission to be open. The more he saw he could trust that I would still protect some of the more personal aspects of our life while still being honest, the more open and honest I could become. The process was cathartic for both of us. 
I asked my 12-year-old to read and approve every post or blog pertaining to him. My slow-to-warm, seemingly uninvested Aspie now looks forward to reading my writing and even asked to attend a large and lengthy public speaking engagement where I will be presenting.
Though I started with something on April 1… 26 days later I ended with something else.
April is Autism Awareness Month. In our world where every day is Autism Awareness Month. I erroneously thought "we don't need any more awareness… unless you have not interacted with the world at all in the last 10 years, everyone has heard of autism… everyone knows someone with autism… enough already with the awareness…"
But I've found, most people who don't really know someone with autism don't understand it, even though they thought they did, and they certainly don't hop on autism awareness blogs to understand more. I don't fault them for that. I would not either. I am a mother of two beautiful boys. Though their autism defines them about as much as their big brown eyes, this projection that we are just like every other family makes everyone around us more comfortable but ultimately becomes the elephant in the room. Not just for those who want to ask questions around my silent insistence things are "just the way they are" but by letting my kids think they are just like everyone else… when they are well aware they are not, leaving them wondering why their feelings are incongruent with the reality we try to portray.
So this year I once again started one more blog A-Z. It's not everyone's journey in autism, but it is ours, and it has been healing for all of us to say it out loud.
Follow this journey on Running Through Water.
The Mighty is asking its readers the following: If you could go back to the day you (or a loved one) got a diagnosis, what would you tell yourself? If you'd like to participate, please send a blog post to community@themighty.com. Please include a photo for the piece, a photo of yourself and 1-2 sentence bio. Check out our Submit a Story page for more about our submission guidelines.