17 Kids With Autism Turn 'Obsessions' Into Brilliant Halloween Costumes
---
In September we shared the story of Granderson, a boy with autism whose obsession with microwaves resulted in one of the most amazing Halloween costumes ever last year. That inspired us to ask our Facebook community if they or a loved one with autism had ever incorporated an "obsession" or unique interest into a costume. Turns out, Granderson isn't the only one who takes pride in what others may consider an unusual interest. Below you'll see 17 kids with autism whose out-of-the-box Halloween costumes are proof that different is cool.
1. A deck with stairs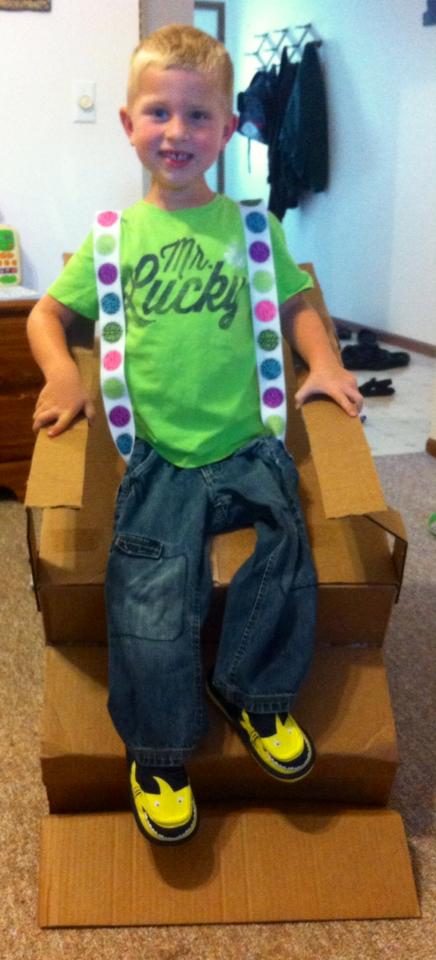 "I thought maybe this year for Halloween he would come up with something I could actually buy at a store. Well I was very wrong! I asked what he wanted to be… and guess what he told me? He said he wanted to be a deck! A deck with stairs and a railing! Seriously? I have no clue where he gets these ideas from, but I am all for embracing his creativeness. So I grabbed my trusty cardboard box and set off to work. Grandy is actually standing up and the legs are 'fake legs.'" — Brittany Van Arman-Miller
2. Pizza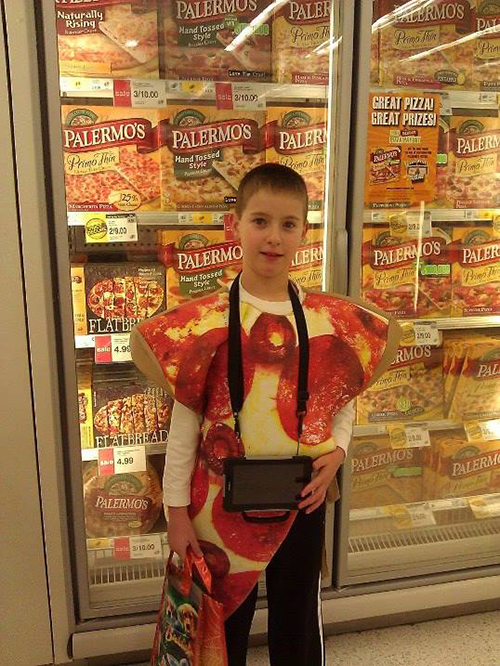 "My son dressed as a piece of pizza for Halloween one year because he was obsessed with opening and closing the doors in the freezer section of our local grocery store. We go to our local Hy-Vee store several times per week because he loves the store and the shopping experience." —Tyann Sheldon Rouw
3. A scuba diver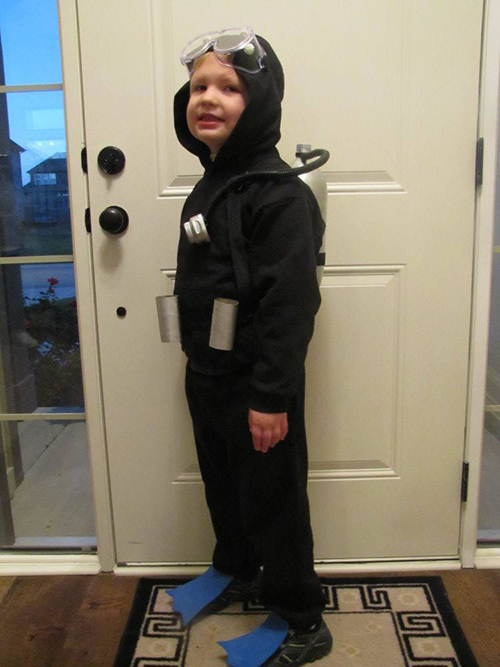 "A trip to an aquarium where we saw a man wearing scuba gear in a giant fish tank giving a presentation prompted my son's obsession with scuba divers. So I created this, complete with air tank, mouthpiece, swim fins, goggles and dive weights. He was a hit!" — Stacy Enloe Kucera
4. Oscar the Grouch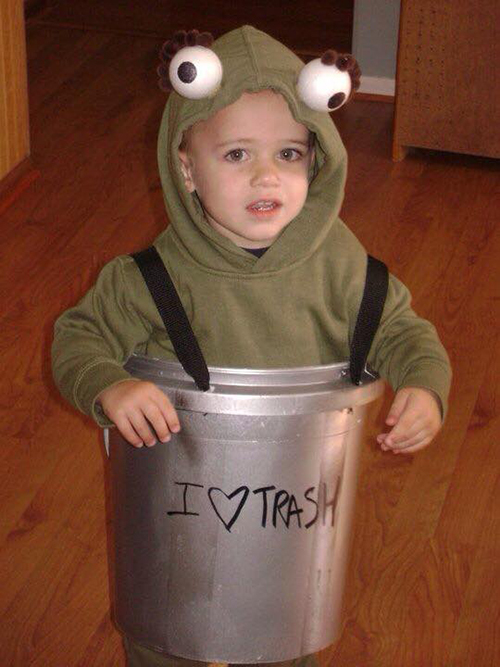 "Ryan, now 7, used to have an obsession with trash cans. So at age 2, Oscar the Grouch seemed to be the logical choice." —Kelly Lendman Stoeber
5. Lightning McQueen from Disney's 'Cars'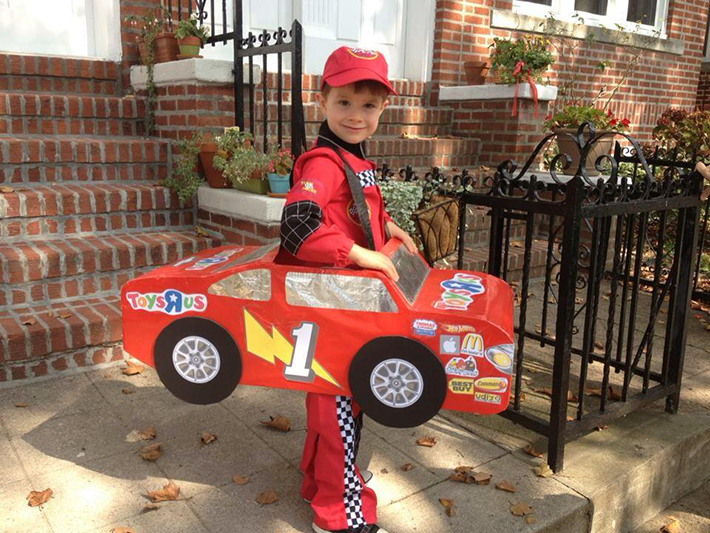 "Disney 'Cars' obsession translated with all of his favorite logos (another fascination)." — Amy Kenny
6. Buzz Lightyear + Tinkerbell wand + magician's hat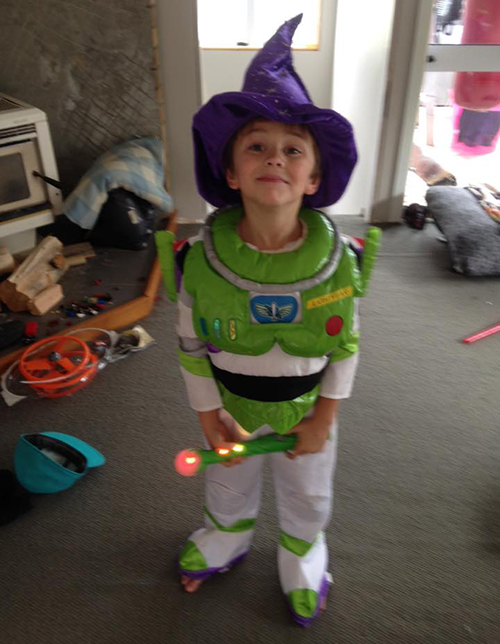 "He loves all things magical and purple, so this is Buzz Lightyear with a Tinkerbell wand and purple magician's hat… love his 'no rules apply' motto." — Cari Mckinley
7. Pirates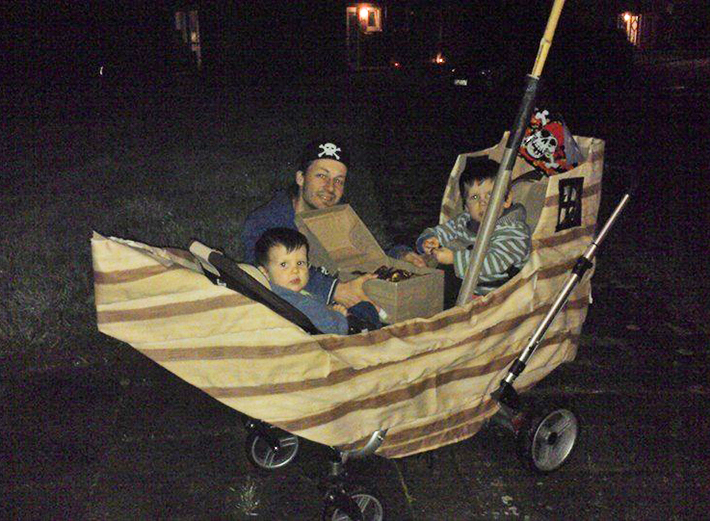 "My boys both have autism and lots of sensory issues that prevent them from wearing a traditional costume. I made their double stroller into a pirate ship with the help of some cardboard boxes and old curtains. I put a striped shirt over the sweater to give their clothing a pirate look without resorting to polyester costumes (because they have trouble with anything other than cotton). We were new in our neighborhood and both my boys can't have candy, so I made them a treasure chest out of an old box and filled it full of little gold chocolates that we handed out to the houses we went to, meeting our neighbors." — Jennifer Andresen
8. Skittles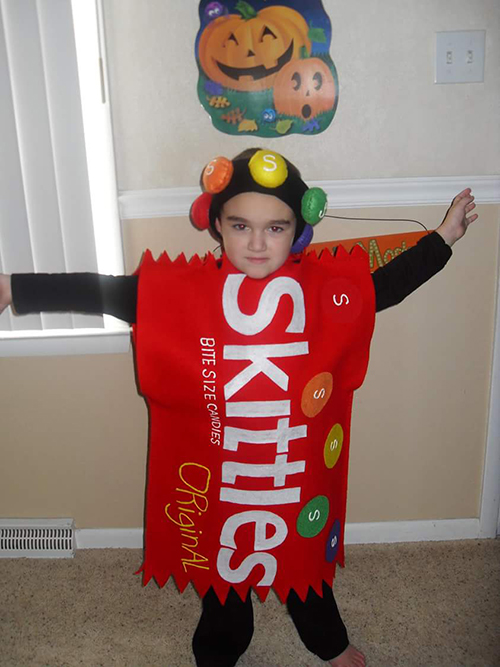 "Favorite candy!" — Rhiannon Dean
9. Beauty and the Beast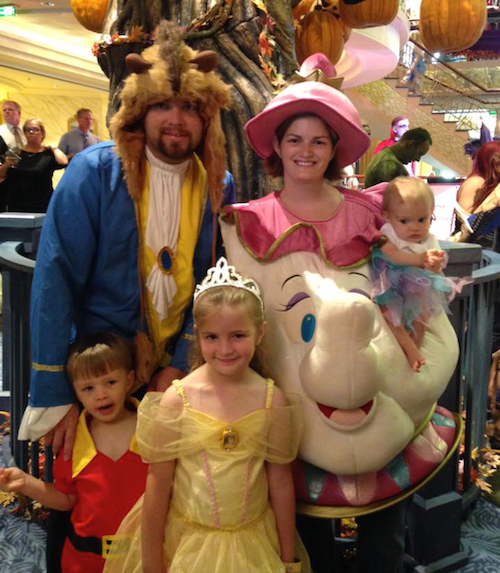 "My daughter has an on going obsession with "Beauty and the Beast." Last year for Halloween we decided as a family to embrace her love of the movie and dress up together." — Jill Kingery Hodge
10. A cat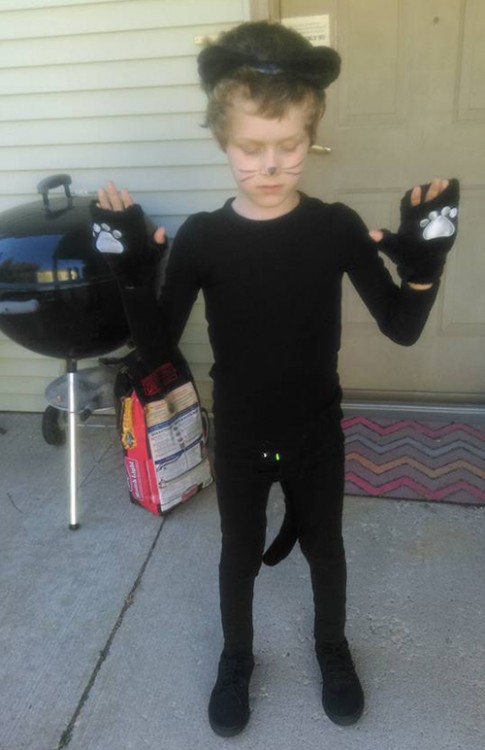 "My son is obsessed with cats. So naturally, this will be his costume this year." — Amanda Harter
11. The million-dollar wedge from "Wheel of Fortune"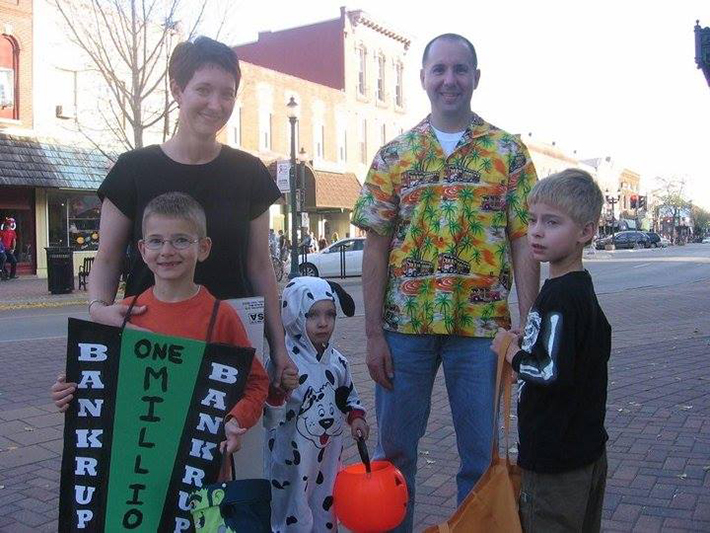 "My son was obsessed with "Wheel of Fortune" when he was 7 years old. He watched the show every night after we ate dinner. His costume was the Million Dollar Wedge, which was new on Wheel of Fortune that year." —Tyann Sheldon Rouw
12. Super martian robot girl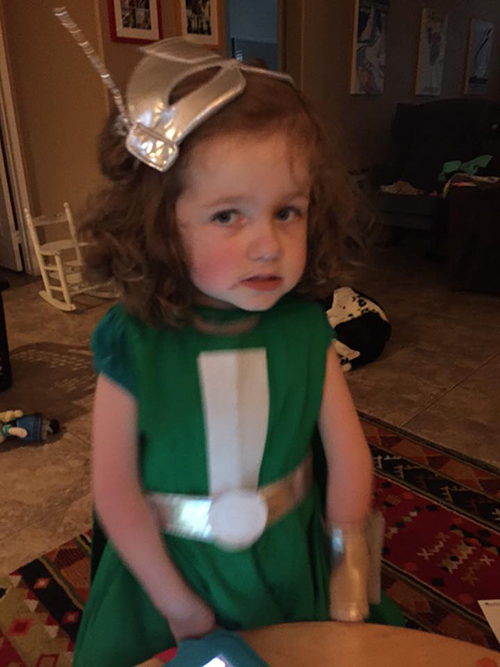 "Any ['Yo Gabba Gabba'] loving parent should recognize this one." — Angie Wiencek-Ashe
13. A vintage car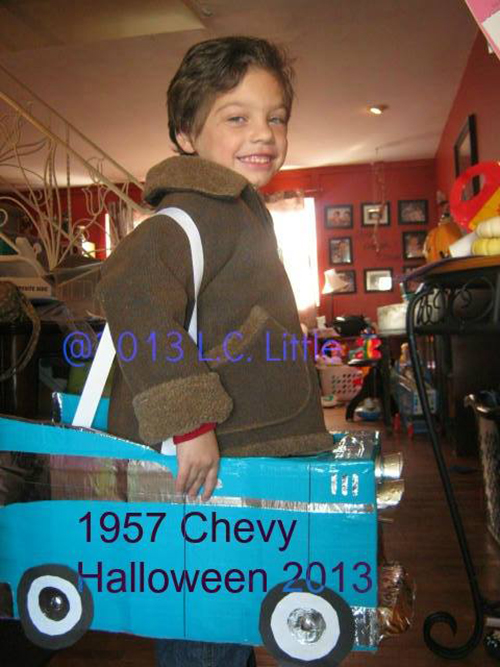 "My son loves cars. He was in love with a Chevy 57 so for Halloween two years ago, this is what happened. Kuddos to my hubby who worked on the box and duct tape to make it happen." — Lisbeth Carolina
14. An elephant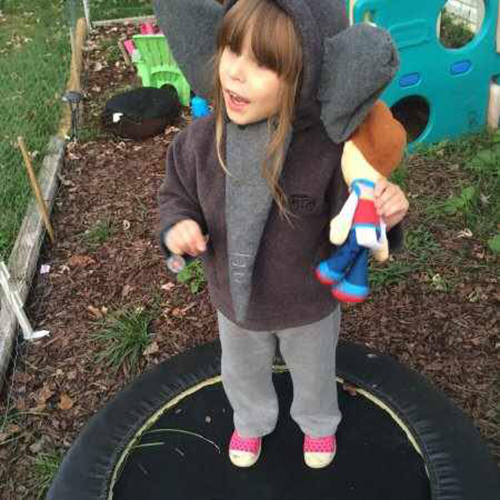 "This was supposed to be my daughter's costume last year but her social anxiety prevented us from going out with her brother. She has severe sensory processing disorder with her autism spectrum disorder so we kept it homemade with clothes she was comfortable in already. She's always been obsessed with elephants." — Alameda Dianna Plenger McElraft
15. A Lego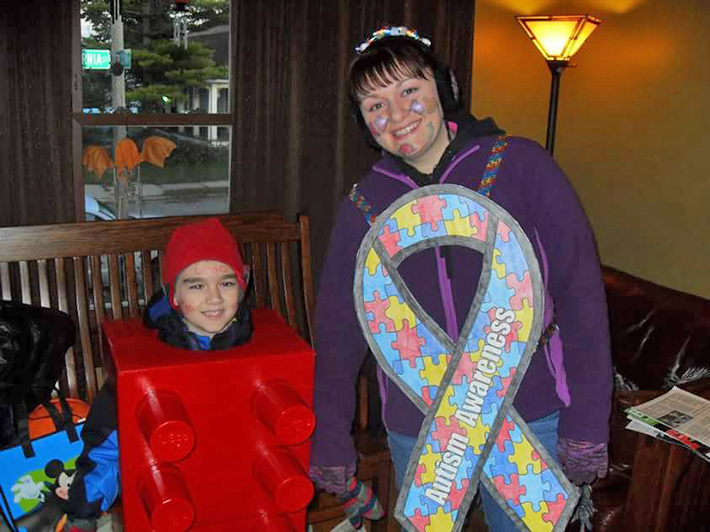 16. Santa Claus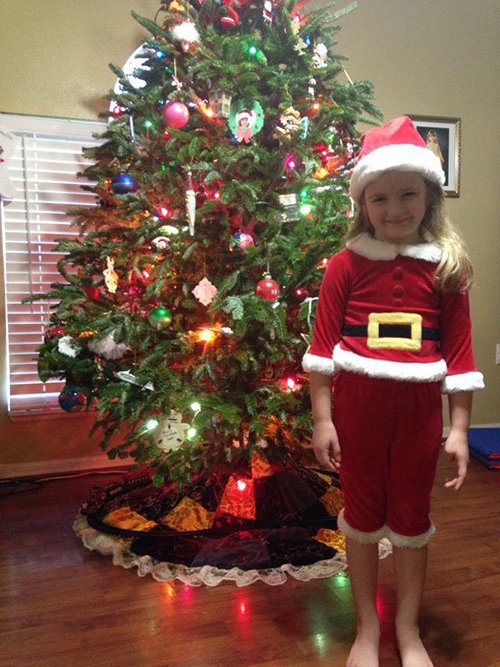 "My 6-year-old old daughter has always had an obsession with this Santa costume that's size "12 months." She would wear it year round 24/7. This is her last December still squeezing into it." — Jill Kingery Hodge
17. Spy vs. Spy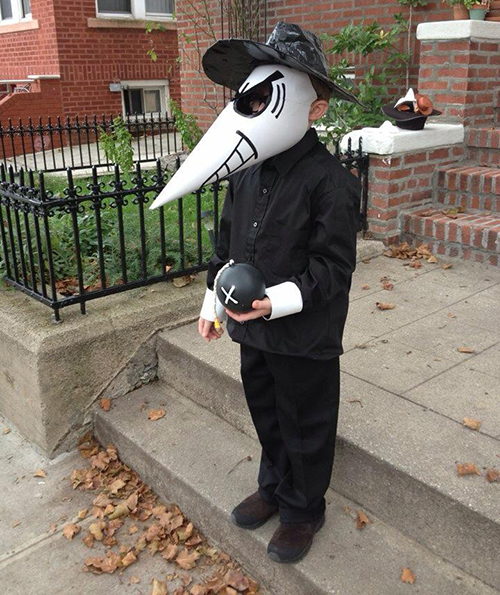 A special thank you to the –> for contributing to this piece.
Have you or a loved one with autism turned an "obsession" or unique interest into an awesome costume? Send us a photo of it to community@themighty.com.
Originally published: October 16, 2015