Mom Receives Rude Anonymous Letter From Neighbor About Her Autistic Son
---
On Monday, Magenta Quinn found a letter from one of her neighbors threatening to file a formal complaint against her child, who's on the autism spectrum, because they perceive him to be making "strange and disturbing" noises when he is playing outside.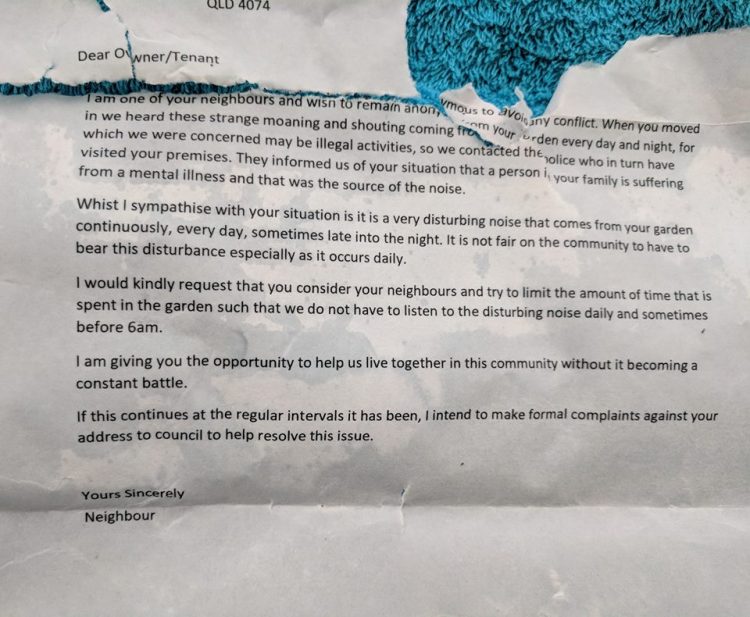 The letter read:
Dear Owner/Tenant

I am one of your neighbors and wish to remain anonymous to avoid any conflict. When you moved in we heard these strange moaning and shouting coming from your garden  every day and night, for which we were concerned may be illegal activities, so we contacted the police who in turn have visited your premises. They informed us of your situation that a person in your family is suffering from a mental illness and that was the source of the noise.

Whist I sympathize with your situation is it is a very disturbing noise that comes from your garden continuously, every day, sometimes late into the night. It is not fair on the community to have to bear this disturbance especially as it occurs daily.

I would kindly request that you consider your neighbors and try to limit the amount of time that is spent in the garden such that we do not have to listen to the disturbing noise daily and sometimes before 6 a.m.

I am giving you the opportunity to help us live together in this community without it becoming a constant battle.

If this continues at the regular intervals it has been, I intend to make formal complaints against your address to council to help resolve this issue.

Yours sincerely, Neighbor
Quinn and her son have been living in their home in Australia for only three months. Quinn's son does hum and yelp to soothe himself; it is a coping mechanism. The police incident happened about a month after they moved in.
Quinn originally posted the picture of the letter in a community page on Facebook. In an interview with The Mighty, she expressed she'd expected perhaps 30 people to see the post, but two hours and 400 comments later, people were saying they had similar experiences happen to them. That is when she decided it needed to go public. "I didn't wake up going, 'I'll be the face of stating bullying families with disabled kids isn't OK,' but here we are," she said.
In a recent interview for "The Project," Quinn said she felt shocked and indignant. She understands her son's noises could be unusual to hear. Yet that is not a reason to be unkind and lack compassion.
Quinn hopes her experience teaches other people they can take a stand against this kind of behavior."This has done it's own job making people aware," she said. "Accepting is a whole other ballgame that comes from the character of the individual."
Quinn still does not know which neighbor sent the letter. She believes communication could make it easier for everyone, saying, "I'd like to actually talk with them and see what their actual concerns are. He's a teenager usually in bed by 10 p.m. and not up before 9 a.m."
"Parenting disabled kids can be challenging," Quinn added, "but I'm a more patient person because of him. I've learned to give more, rejoice in the little victories and celebrate each day with a passion.He has an amazing sense of humor, loves animals and is a joy to be around."
Originally published: March 1, 2018