Why I Designed Neurodiversity Pride Pins for the Autistic Community
---
My name is Margaux and I run Navigating Life along with Retrophiliac on Etsy. I am an Autistic and a non-binary person (they/them).
While searching for enamel pins to adequately represent myself, I kept running in to the same thing: Puzzle pieces. Lots and lots of blue puzzle pieces. Most of these were being sold by parents of Autistic children and not actual Autistic people. They were delivering messaging I wasn't OK with and that plenty of Autistic folks reject.
These puzzle piece images are based on the Autism Speaks connection and the implication that autistic people are broken and need fixing. I found it patronizing and the merchandise available was not something that I felt reflected the beauty of the spectrum.
I found that a lot of the other enamel pins available were not meeting my expectations. I decided to create my own. I wanted something that would represent neurodiversity that I would be proud of wearing, but I also had to consider working with the restraints of what specifications enamel pins adhere to.
Working off of the current neurodiversity logo, which is a rainbow gradient, spectrum infinity logo, I knew I needed to separate the colors. I sketched out a Möbius infinity sign with the colors separated and took it to my roommate who does digital art and graphic design. My roommate Katrianna Anderson made it a ROY-G-BIV rainbow, adding colors I didn't have in my set of markers. Autistic people are so diverse and I really wanted to respect and honor that in my design.
I've been told by many people that the design looks more like a game board and I find that I'm OK with that comparison. A game is a journey and so is life (versus a puzzle piece indicating that something is missing).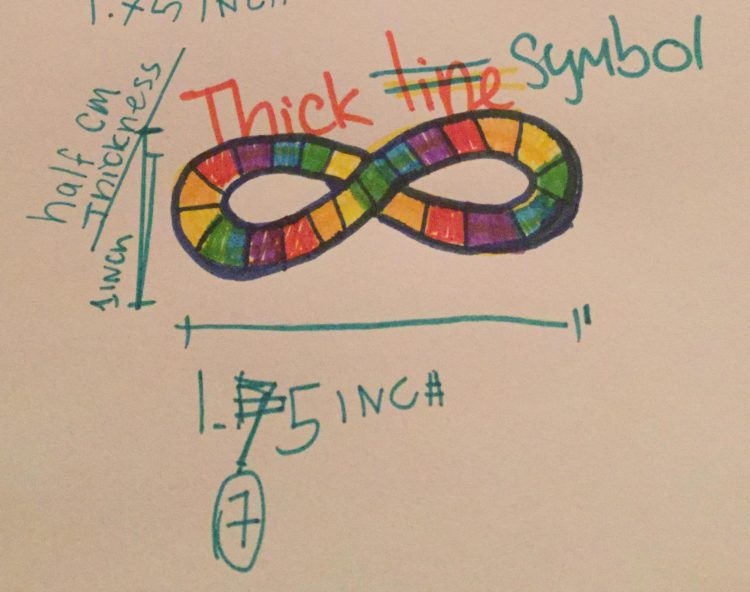 I applied for a BC ARTS Grant and I was lucky to become a recipient. This helped me put my vision in to motion. I drew it out on paper and then my roommate, who is a professional artist and able to work digitally, took my drawing and made it so much better. I then was able to secure an overseas manufacturer to create my patches, pins and necklaces. I utilized a local, Vancouver-based printer to get my vinyl, waterproof stickers made.
I also wanted to make sure that this collection benefitted Autistics United Canada, an organization with five chapter in Canada and an international affiliate of the Autistic Self-Advocacy Network. I am keeping track of all my sales and I will be donating 10% to the organization because there are so many orgs with little or no representation and even less funding because they get overshadowed by larger organizations.
I will be coming out with an identity pin soon and I also plan on continuing to add pins to my shop that represent even more groups of people. I think that's my next venture and I hope that each pin I come out with will have a percentage going to charity. It feels wrong for me to use this business knowledge I have and not give back. I've done a greeting card donation to many different cat charities in the past. This gives me massive purpose in my life, to utilize my art for good and better things.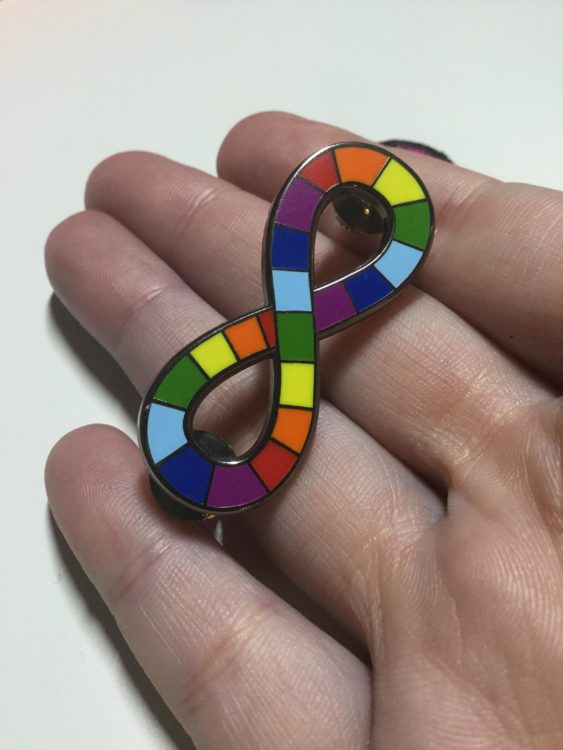 You can pick up a neurodiversity pride pin (and other pride merchandise) on Etsy here.
Images courtesy of Margaux Wosk
Originally published: October 8, 2020