How 'The Influencer' Helps Autistic Performers Rehearse Connection
---
Elaine Hall said when her son started showing signs of autism, she just wanted to connect with him. "When he would spin in circles, I would," she shared. "We'd be birds and we'd fly together and we'd connect."
The providers of traditional autism therapies and support would tell Hall that in seeking connection by meeting her son where he was, she was "enabling his autism." Hall still sought a different way to support her son's growth and development.
She recruited many of her friends and colleagues from her life as a top Hollywood acting coach as well as creative special education professionals. They assisted her in the development of a method that turned into The Miracle Project, a performing arts organization geared toward people on the spectrum.
There are different facets of The Miracle Project, including social skills classes, musical workshops, musical theatre classes and full productions. It is the last of these that has brought the most attention to the program in recent months.
In an effort to mitigate a public health crisis, people have been forced to stay home, cancelling in-person performances. Unfazed, Hall took The Miracle Project's signature productions online, including the upcoming debut of "The Influencer," a full-scale musical created by the project's students.
Introducing "The Influencer"
"The Influencer" follows a Midwest family as they face the "influences of work, peer pressure and social media." Starring a neurodiverse cast, the musical asks audiences to reflect on the pressures we experience daily while highlighting that approaching these pressures from a neurodiverse perspective can perhaps provide the best balance.
The development of the storyline for the production of "The Influencer" took place as usual — starting with a discussion around a specific topic among the students. Students asked questions like, "What is an influencer?" "Who or what influences you?" "What are personal ways to be influenced? The deep exploration led to understanding many levels of influence including care, concern and generational influence. All of these elements were incorporated into "The Influencer."
As it became clear that a stay at home order in California would be for an extended period, plans were made to develop an entirely virtual musical. This involved complicated strategies for synchronizing music and choreographed movements. Everyone seemed up for the challenge.
Louise Webber is a mother involved with The Miracle Project. Webber sings with a chorale regularly, and her chorale colleagues were separately trying to record and synchronize their creative efforts. Webber's comparison between her experience and that of Natalie, her daughter, highlights the value of The Miracle Project and the community it fosters:
"At the same time I was learning to record, Natalie was too. She was happier than I was," Webber told The Mighty, adding:
In the beginning those first few weeks there was a lot of frustration. Working through small things, small frustrations. I thought at that point we could have lost people [from the production]. It was too new, too challenging. I don't think you lost anyone because of the depth of the trust with The Miracle Project, the staff, the other class participants.
What is The Miracle Project?
The Miracle Project is a fully inclusive theater, film, social skills and expressive arts program for individuals with autism and all abilities. Through shared creative experiences with peers, The Miracle Project encourages individuals with autism and other disabilities to develop social and job skills, enhance communication, increase self awareness and confidence, ease anxiety, and find joy in experience.
Natalie Webber has been with The Miracle Project for about four years and "The Influencer" is her third production. People think she's shy, but she's really just soaking up information, watching and learning. Natalie takes advantage of all the opportunities available through the program because it will help build her knowledge and skill for a future in directing.
"I've learned so much with The Miracle Project," Natalie said. "You perform and you learn new skills. You learn about yourself and you grow as a person."
The Miracle Project integrates a neurodiverse mix of staff, volunteers and participants. Participants each year total about 275 with a ratio of four neurodivergent participants to three neurotypical co-actors. These co-actors are made up of peers and siblings of the neurodivergent participants.
Staff has a ratio of one neurodivergent staff for every four neurotypical staff members. The current production, "The Influencer," is composed of about 50% neurodivergent students and 50% neurotypical students.
Moving a Musical Online
While everyone at The Miracle Project was up for the challenge of creating a musical completely online, this presented challenges for some of the students. Adin Boyer, a musician and actor in the production, expressed some frustration with the process but told The Mighty, "I'm so grateful to have this community." He added:
"Developing the show and story was exhausting. Group settings are difficult. … Honestly, I don't like it at all. I prefer the in-person meetings."
Other participants found the process easier, including Natalie. When talking about the transition to Zoom and a virtual production schedule, Natalie said that she does so much online anyway.
"I'm on the computer all the time. I'm Facebooking, chatting with my boyfriend, chatting with my friends," she shared. "I don't mind, nothing changed. I'm always on all media, so nothing's new to me."
Boyer, Natalie and Louise Webber, and Hall all shared that there were many aspects of doing an entirely virtual musical that are challenging and frustrating.
To get higher quality sound recording the video editor for the production, Justin Anthony Long, had the students put fabric over their heads to make a "sound studio." There were times when a participant's entire family was involved, having to move furniture.
Sometimes the directions were confusing. It was unlike an experience any of them had had before — something that can be challenging for most people, and tends to be even more so for those on the autism spectrum.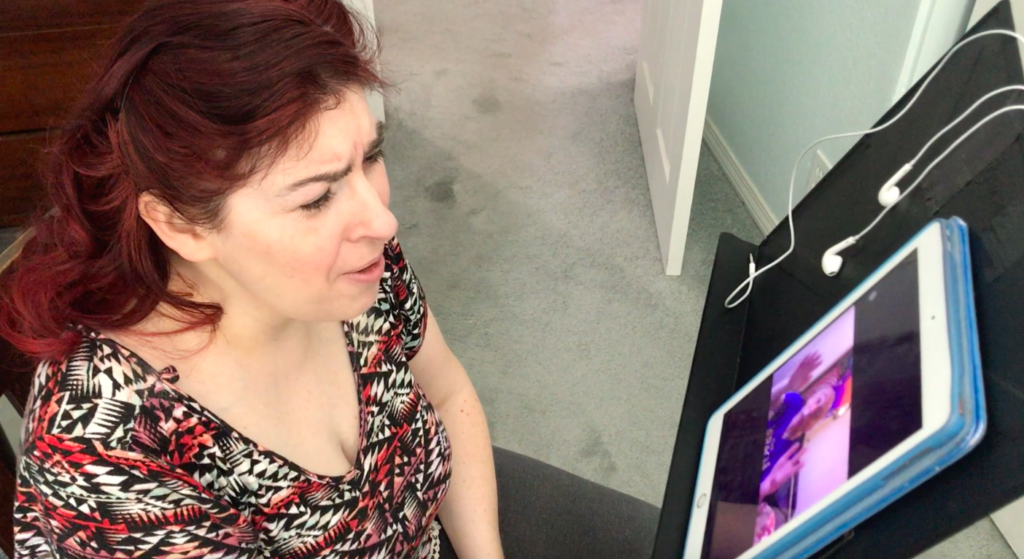 Boyer and Natalie ultimately said they felt the entire experience of "going virtual" had benefits. Natalie said that virtual production reduced much of the choreographed dancing that was originally part of the show:
"I was happy that I didn't have to dance because my balance has gotten worse," Natalie said. "I have to be holding hands, holding something, holding against the wall! But I love dancing, I just can't always."
While he was frustrated with Zoom and not able to be there in person, Boyer also talked about the advantages. He could get up and take breaks and not feel he was drawing attention away from the group.
If there was conflict within the group he felt more comfortable "stepping out" and taking a few moments to himself before addressing what might have been upsetting. Ultimately he felt that — when this did happen — he responded professionally to an otherwise difficult situation.
The Miracle Project community has helped Boyer cope with and navigate some of these difficulties. He has been working on seeing people "for who they are." His own hard work — and the chance to practice these skills in a supportive place — contribute to understanding more about other people's motivations and communication.
Rehearsing Connection
"The Influencer" is an impressive accomplishment for any cast. But it goes further than that. As Louise Webber said, "The show is the tip of the iceberg."
The Miracle Project is more than one show or production. It is a safe place to practice and improvise in a way that can build resilience and skills. The Miracle Project's tagline is "rehearsal for life."
"They went places that they never have gone before," Louise Webber said. "You can only do that with that amount of trust. … The process that The Miracle Project has been doing for years is what got them through this [challenge]."
In giving autistics space to literally practice and improvise skills for interaction, socialization and connection, The Miracle Project has provided invaluable tools to carry beyond just one production into "the real world."
Boyer said he keeps "thinking this is not the real world — this is what is going to help me."
Get Your Tickets
"The Influencer" will premier Thursday, June 25 at 5 p.m. PT with a second showing on Sunday, June 28 at 4 p.m. PT. Tickets are "pay-what-you-can" and are tax-deductible. Reservations are required and can be made online here. Once registered, you will receive a private Zoom link for the musical.
You can learn more about The Miracle Project's other programs here.
Images courtesy of The Miracle Project
Originally published: June 25, 2020