When a Shopper Told My Son With Autism He Was 'Badly Raised'
---
"You are rude and have been badly raised."
I turned around to face the person who had said that to my son. In a split second I had figured out what had caused such harsh judgment. My son had reached out and touched the woman, making circular movements with his fist on her left arm. That incensed her even more, and she yelled louder at him. The words seemed directed at me though for being such a terrible parent. She was after all, saying Ethan was badly brought up and had no manners.
We were at the supermarket, and Ethan had probably been distracted and ended up separated from his brother and me by the now irate shopper. In his need to join us, he rushed past, stepping on her foot and triggering the rebuke that first caught my attention. Ethan is on the autism spectrum and has severe language delays in English. The enraged shopper was speaking in French, a language he neither speaks nor understands. He did, however, understand that the shopper was annoyed and that he was the cause. He tried to apologize using the universal language of touch and completely missed the mark. Rather than understanding, he provoked a volley of insults.
I was calm when I turned to face the shopper and spoke to her in French, my fifth language. I apologized for my son having stepped on her and explained that he has autism and not only has a language delay but does not speak French. I told her my son didn't mean to offend her by touching her but rather, had been trying to apologize.
A few years ago, before Ethan developed any language at all, I had tried teaching both of us American Sign Language (ASL). He never quite got the sign for "sorry" and would rub his fist on the other person's chest instead of his own. Over the years I've managed to persuade him to avoid touching people's chests. For that, I was extremely grateful that day at the supermarket. At least the police were not called.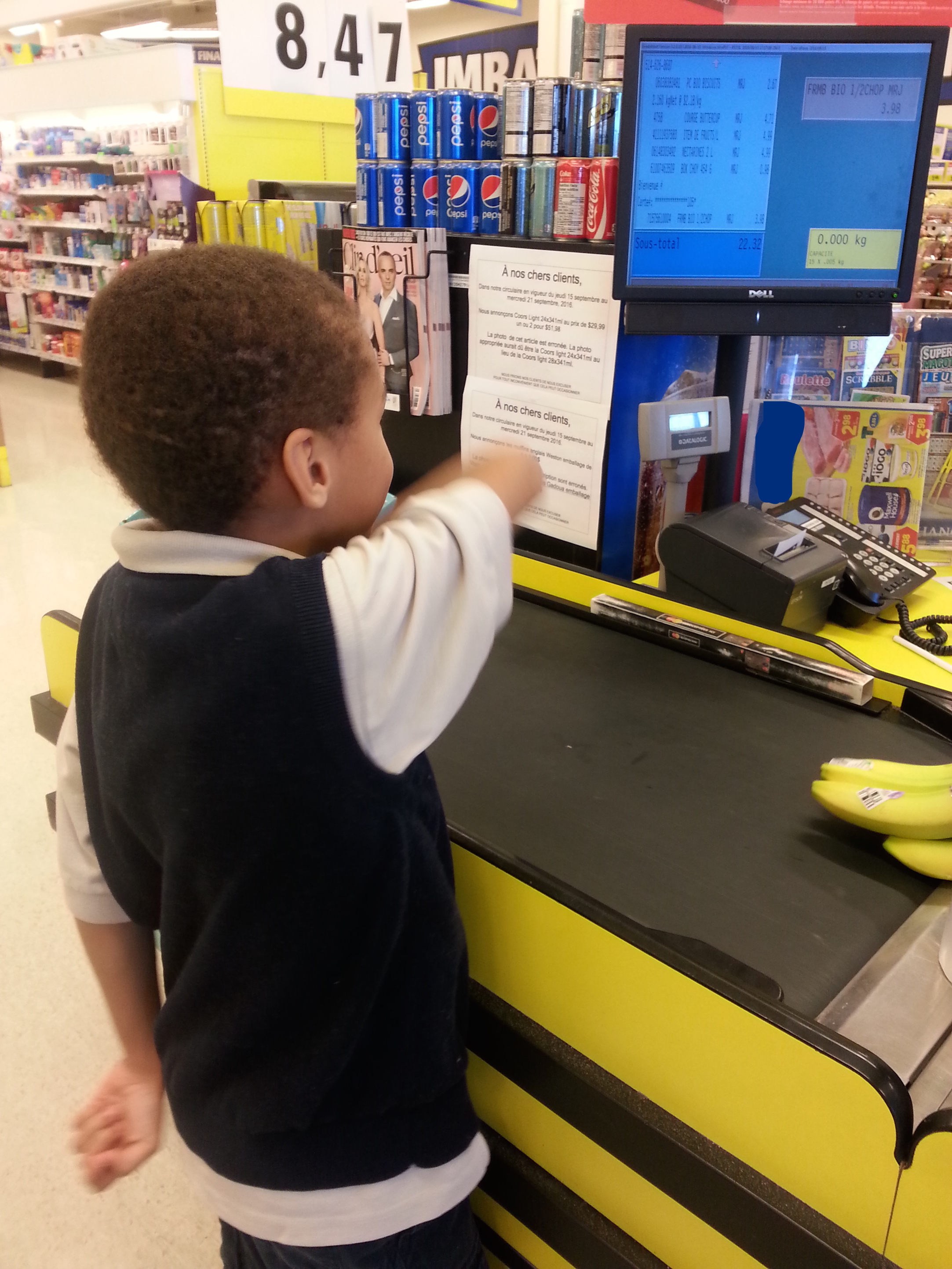 Although the woman's facial expression remained set and dark after my explanation, she did at least stop her yelling thus allowing us to complete making our purchases.
As soon as I had shepherded my sons outside the door, I switched into parenting for the benefit of those around me. I made sure all the people passing by heard me tell my son to ask to be excused rather than walking into people. I continued in my microphone voice to tell him not to touch strangers since some of them don't like being touched. (I had to make sure they all knew he was well brought-up!)
I pulled out of the parking lot feeling anger, regret and worry. I regretted having put on a performance for the benefit of complete strangers, many of whom would probably continue to judge my family anyway. I was angry at the woman. How dare she question my child's upbringing! Has she any idea how much deliberation, research, soul-searching, sleepless nights and even money go into raising a child with special needs?
I even found myself wondering if the woman would have been as angry and judgmental if, a blond, blue-eyed boy had stepped on her foot and then touched her. What role did the fact that a tall black kid had done it instead? What did the future hold for us when Ethan became a tall black, teenage boy with autism in our neighborhood?
It's been a few months since the supermarket incident, but it definitely left an impression on Ethan and me. Ethan remembers the incident as being funny. He always laughs when he recalls the incident in bouts peppered with "the lady's foot," "French gibberish" and "Madame," the first word I said to the woman. More importantly, it taught him in a rather dramatic way, the consequences of not asking to be excused when one walks past people and accidentally steps on their feet. It achieved in a few minutes what years of my theoretical lessons had failed.
As for me, I laugh at the absurdity of trying to parent for the benefit of complete strangers. What was I thinking? At least I know I will get a chance to redeem myself in the future because the judgmental looks, whispers and reproaches happen far too frequently.