Mom Posts on Facebook That Autistic Daughter Was Kept From Entering Forbidden Caverns
---
After her autistic daughter was asked to leave the Forbidden Caverns tour in Tennessee, Melissa Beebe took to Facebook to tell others about the "blatant discrimination" her family faced. According to Beebe, the tour guide asked her if he could ask her a question. Anticipating the question, Beebe told him her daughter Stella was autistic and was just excited. The tour guide then told her that they could leave and get a refund.
"I started crying because I've never experienced blatant discrimination or been kicked out of anywhere," Beebe wrote. "I had to walk past everyone on the way out while I was confused and crying." Editor's note: The Mighty is not linking to Beebe's post as it shows her daughter's face, and she is not old enough to consent to widespread use of her image. A screenshot of the post is below.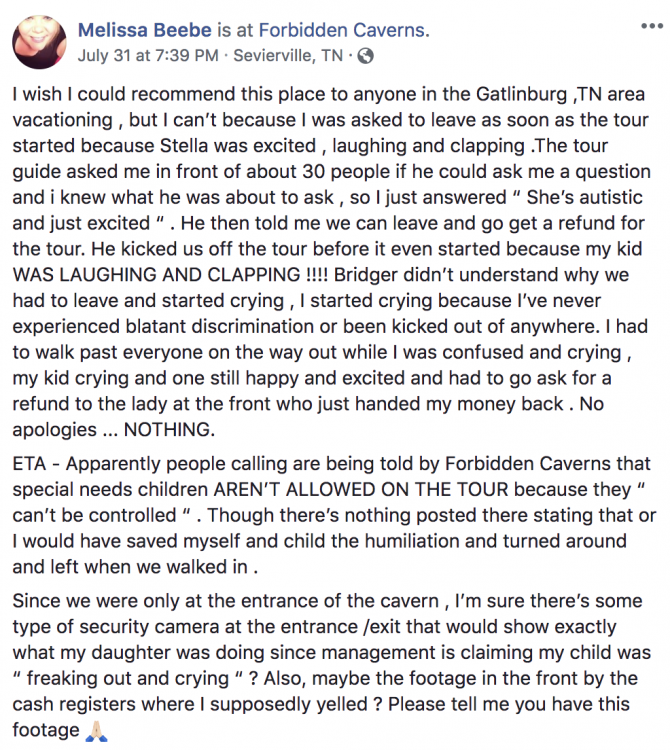 According to local news station WVLT, Forbidden Caverns told the reporter the child was "screaming in terror" instead of "laughing and clapping." Beebe responded saying she'd like to see surveillance footage of her daughter doing this.
Beebe's post has garnered over 20,000 reactions and over 2,000 comments since it was shared on Tuesday. Forbidden Caverns also released a statement on its Facebook page, noting it is its policy to "make every effort" to accommodate guests with disabilities.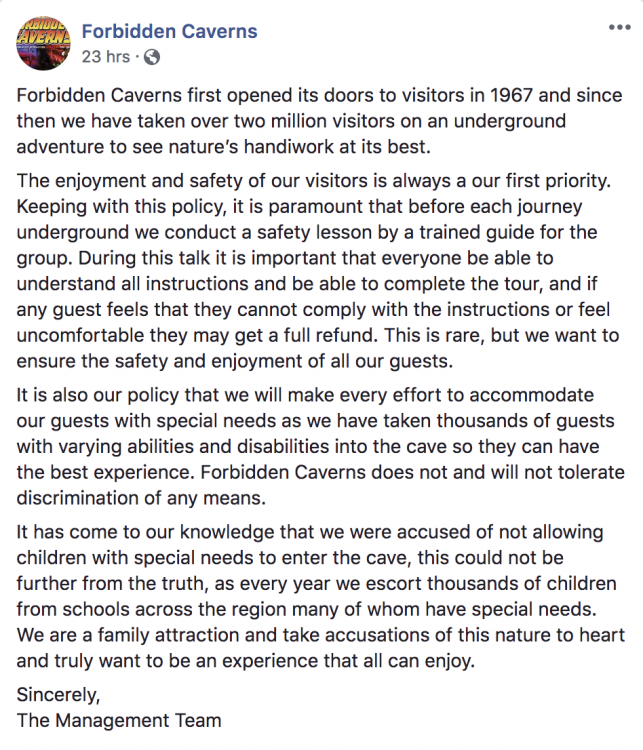 Discrimination or lack of accessibility for children on the autism spectrum and others with disabilities is a common problem. In order for businesses to be more accessible, Krystal M., a parent in The Mighty's community, said employees should help accommodate her family instead of "coping attitude or making excuses."
"A smile and helping hand goes a long way, after all our kids are little warriors fighting there own battles," she said. "Accessibility shouldn't be another battle we have to fight."
While children with disabilities face accessibility issues and discrimination, this doesn't end when they grow up. Alia G., a member of The Mighty's disability community, said employees should be trained to maintain accessibility instead of just making sure businesses comply with the bare minimum.
"The most frequent mistakes I see are placing obstructions in front of what would have been accessible features such as placing furniture like changing tables in front of a handicap bathroom stall or blocking ramps and pathways with merchandise or displays," Alia said.