My Son Isn't Autistic on Weekends
---
He isn't autistic on weekends.
I realized this some time ago. After the evaluations slowed, along with the mania of online research, endless message boards and reading neurology and abnormal psychology books late into the night until it was late into the morning — he is only autistic Monday through Friday.
On weekdays when we arrive too early or too late for physical therapy, occupational therapy, behavioral therapy and language therapy, he's autistic.
On weekdays when we stand in long lines at grocery stores where my 5-year-old is wearing footie pajamas, squealing and flapping his arms while other 5-year-olds are wearing backpacks, khakis and tiny velcro tennis shoes, he's autistic.
On weekdays when we plan, schedule and cancel playdates based on meltdowns, doctors visits, whether the parks are fenced, how many children will come and whether they will be kind to him even if they don't understand what he's saying, he's autistic.
On weekdays when I sit in the lobby of his therapy appointment because I'm waiting on hold to argue another insurance rejection or evaluation and I want a "redo" because this is his life we are talking about, he's autistic.
On weekdays when I write for his blog, research new terms and stay up too late planning curriculum that people won't see as curriculum because I spend so much time trying to figure out how to present it so he won't reject it, he's autistic.
On weekdays when I tape signs to the front door warning visitors to call first, put stop signs on windows because he might pick up the visual cue or when I remember to pack his monkey halter because I don't know if there is a bolting risk where we are going, he's autistic.
But then the week is over, and the mania trickles to a slow drip as I catch my breath.
On weekends when the doors stay closed and the pajamas stay on and there aren't any expectations except tickling, hugging, singing, pillow fights or whatever looks good in the fridge, he's not autistic.
On weekends, it's Tinkerbell or Daniel Tiger on the iPad again and again and again. And maybe this time we will watch it together under the covers.
Because he's just a little boy.
And because he's my little boy.
And maybe these moments would be different if he wasn't autistic, but I don't really know, do I?
So I sing along when he sings.
And I flap when he flaps.
And I smile when he giggles.
And look in his eyes and see his beauty and marvel that he's mine.
My boy.
Who isn't "autistic" on weekends.
He just isn't.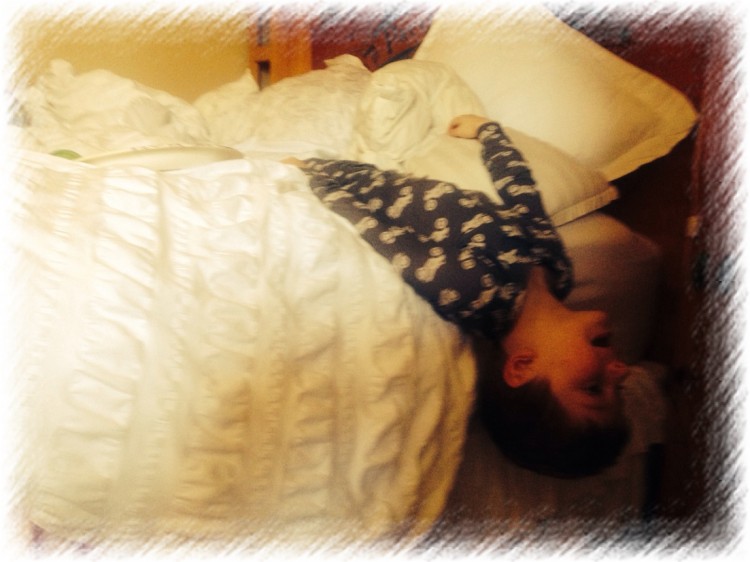 This post originally appeared on Letters from a Spectrum Mom.
Want to end the stigma around disability? Like us on Facebook.
And sign up for what we hope will be your favorite thing to read at night.
Originally published: March 16, 2015