My Son's Autism Helped Make Him an Award-Winning Singer
---
In my view, what some may see as my son, Michael's, disability is, in fact, a different ability.
Temple Grandin, an author who has autism, speaks about how the ability to think in pictures enabled her to become a world leader in the field of animal science. My son, who is also an individual with autism, can remember music as a "recording" that is accurate in every detail.
This ability comes with some challenges. More than one music teacher has reported that Michael sometimes mumbles and appears not to remember his part when first learning a piece of music. Some are baffled. Others are annoyed. Some get it, get past it and have helped to change Mike's life for the better.
In spite of these challenges, Michael's talent enabled him to be the only vocalist in his school district to be invited to sing with the New York All-State Mixed Chorus in 2011. Two years ago, because of his musical achievements, Michael was one of 10 individuals worldwide to receive the McCarton Foundation's Genius of Autism award. He sang on Broadway as part of the awards ceremony. Last year, he was #2 on Autism Speaks' "10 Talented Individuals With Autism Who Inspired in 2014" list.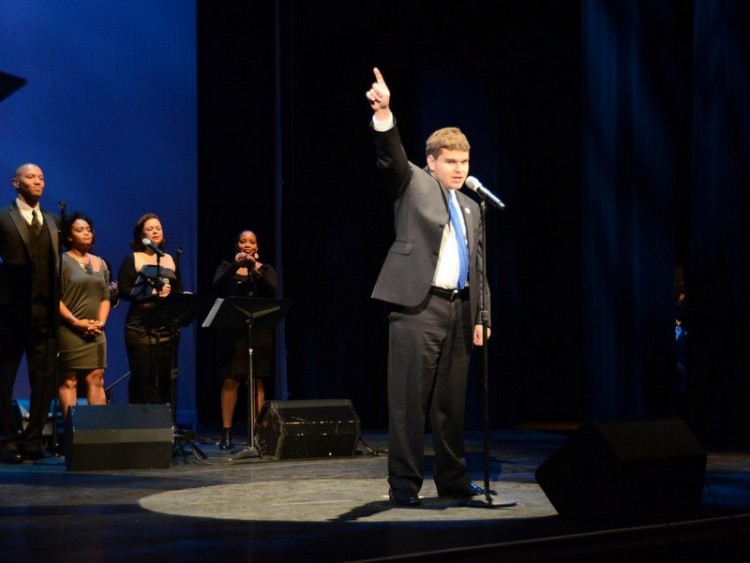 When Michael first hears a musical piece, it takes awhile before he feels comfortable singing. If the music is very complicated, it might be a few days before he even tries to sing his part. When he starts singing, it may first come out as a mumble. While all of this this is happening, Mike is absorbing every detail of the music. When this process is done, he's able to "play" the piece in his mind just like it was a recording.
Once the "recording" is complete, he will always start the song on the right note (he has perfect pitch) and will always sing at the correct tempo. Next, he'll gradually focus on his individual part and differentiate it from the rest of the piece. Slowly but surely, his voice goes from a mumble to a weak voice and finally to a powerful, resonant voice.
Early on, my wife and I realized that Michael communicated best through music. As a toddler, he would greet people with the da-da-da-dum notes that begin Beethoven's Fifth Symphony. In his early teens, Michael became very withdrawn, and I began working on songs with him to keep the lines of communication open. Then something unexpected happened. More and more, his own emotions began coming out through his singing. Sometimes he would tear up as he was singing, but he didn't want to talk about it.
Eventually, Michael began singing publicly. People often come up to him after a performance to tell him how much he has inspired them and touched their hearts. At first, this made him uncomfortable, and after talking to a few people, he would ask to go home. But now, he just smiles from ear to ear and waits to talk to everyone who comes up to him. As an extra bonus, an autism parent comes up to Mike every once in awhile to tell him he has given them hope for their own child.
As for those who don't "get" Michael, I've found that it's necessary to raise awareness and be optimistic while remaining stubborn. And when all else fails, I'm always ready to become a warrior for my son.
When Michael was in his first year of high school, it was suggested that the mainstream chorale program was not an appropriate setting for him. A new music program was being set up for special needs students. My wife and I were asked if we would agree to place Michael in the special needs music program instead of the mainstream program. We refused.
A year later, a teacher who had believed that Michael shouldn't be in the mainstream chorale program approached my wife and me and said, "Mr. and Mrs. Korins, I'll be the first to admit it. You were right and I was wrong." While we still had our disagreements, this same teacher went on to go out of his way to make sure that my son didn't experience sensory overload during a school trip to Disney World.
Our son participated in chorale, concert choir and the special needs music program while he was at high school. One year, he was in all three programs at the same time. He thoroughly enjoyed them all.
As an autism parent, my journey with Michael has taught me that if you focus on your child's strengths, their self-esteem will soar. Once this happens, they'll be better prepared to take on whatever challenges they may face. And you never know, they just might accomplish something that you never dreamed was possible.
Along the way, I've done everything I could think of to inspire my son to focus on his musical talents. But most of all, I want Michael to know that he has inspired me more than I could ever inspire him.
Please watch the video below of Michael singing Sam Smith's "Stay With Me."
RELATED: Man With Autism Performs Beautiful Tribute to Paul McCartney
The Mighty is asking the following: What's one commonly held opinion within the community surrounding your disability and/or disease (or a loved one's) that doesn't resonate with you? If you'd like to participate, please send a blog post to community@themighty.com. Please include a photo for the piece, a photo of yourself and 1-2 sentence bio. Check out our "Share Your Story" page for more about our submission guidelines.
Want to end the stigma around disability? Like us on Facebook.
And sign up for what we hope will be your favorite thing to read at night.
Originally published: June 18, 2015