How My Sister With Autism Found Fair and Equal Employment
---
My sister Mia, who is now 24 years old and has autism, was at a crossroads before being employed at Popcorn for the People. Most people who are autistic or have other disabilities struggle intensely to find some form of employment. In fact, up to 85 percent of adults with disabilities in America are unemployed.
From age 9 through 21, Mia attended the Midland School in Branchburg, New Jersey, a school for people with disabilities. The curriculum emphasized job skill training and how to work in a professional environment. After graduation, she didn't have a clear path available to get a steady job and utilize those skills she was taught. Despite years of training, Mia was unable to get a job.
Coincidentally, around the time my sister graduated, a gourmet popcorn store which trained and hired autistic workers opened in our local mall. Just like any other job application process, Mia was interviewed and given the chance to demonstrate why she should be hired — and she was!
Mia has worked at Popcorn for the People for three years and is part of a work environment where she is accepted and treated with dignity. My family couldn't be more grateful for her to be given this opportunity.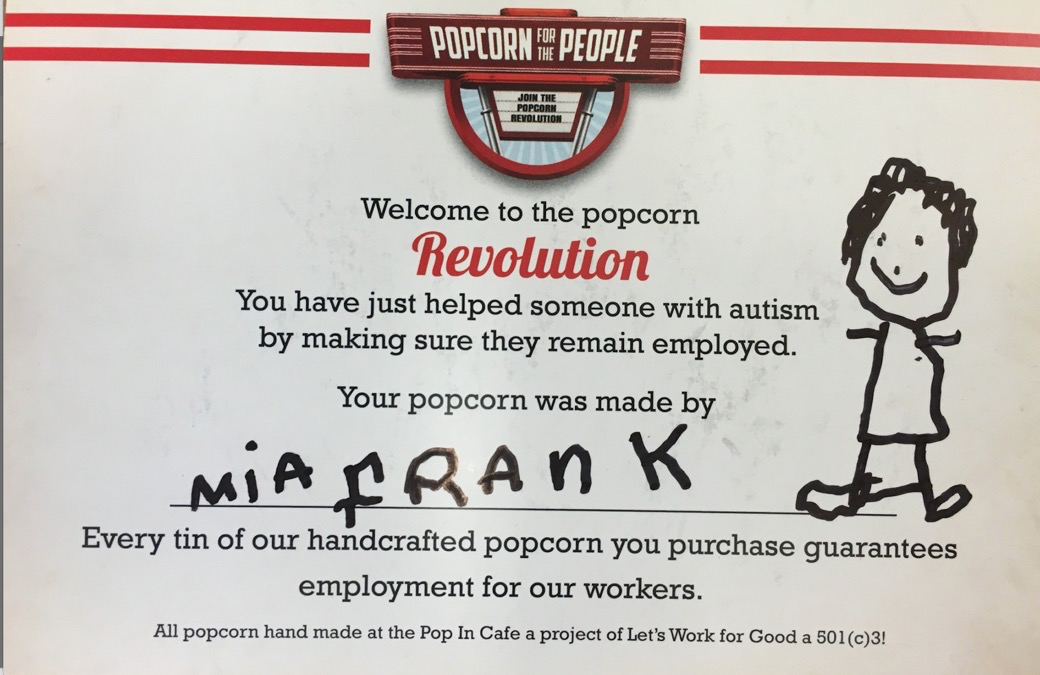 Popcorn for the People is a social enterprise of the non-profit Let's Work for Good that has been hiring and employing adults with disabilities since 2015. The employees are trained and hired to cook, package and sell gourmet popcorn. The workers hand cook a variety of popcorn flavors including Cookies N' Cream, Dark Chocolate Espresso, Buffalo, Salt and Vinegar and Chicago Baked Cheddar.
Popcorn for the People is the brainchild of Dr Barbie Zimmerman-Bier, created to provide accessible employment for their autistic son, Sam, and other adults with disabilities looking for employment. In three years, the organization has continued to rapidly build itself from the ground up. What started off as a small popcorn store that gave Mia an opportunity to work has turned into a thriving business attending events in New Jersey and New York and selling popcorn nationally through an online store. Furthermore, Popcorn for the People regularly sells at venues such as Rutgers sporting events, the Broadway show "Harry Potter and the Cursed Child," Stop and Shop and Red Bull Arena for the major league soccer team, the New York Red Bulls. Being able to expand has not only helped the company thrive, but has also spread awareness.
Workers like Mia are involved in all aspects of the organization and are placed in jobs that best fit their abilities. Some of the workers make, flavor and bag the popcorn to be sent out to the various events. They work with a professional chef, Agnes Cushing-Ruby, who donates 40 hours of her time a week to the organization. She teaches the workers how to make the popcorn and helps them through the entire process.
The rest of the workers are involved in selling the popcorn at events. They sell and market the product alongside non-disabled employees. This part of the job involves the adults with disabilities in socializing with customers, executing the sale by getting the customer to buy popcorn, restocking the popcorn and counting money.
Due to my sister's employment with the organization, my dad and I have also become involved with Popcorn for the People. My dad is the chief event coordinator for the company and helps run and organize the different events. To my dad, helping out with the company is part of his way of saying thank you for my sister having the opportunity to be employed.
For me, being a part of Popcorn for the People offers such a positive and fresh perspective. I find working alongside these adults and seeing what they are able to accomplish despite their disabilities inspiring. For the adults with disabilities, being part of a welcoming community such as Popcorn for the People is a life-changing opportunity.
Currently, Popcorn for the People employs 23 adults with disabilities — 23 adults whose lives have been positively impacted. Just like Mia.