10 Things We Wouldn't Know About My Son on the Autism Spectrum Without RPM
---
Editor's Note
This story has been published with permission from the author's son.
We went to 5:00 p.m. Mass last night. As we were singing the Gloria, a thought popped into my head. I looked down at my son, Ryan, and I thought about how amazing it was he was sitting next to me in church and that this is our normal every week. It sort of spiraled from there. I then thought about all of the ways our lives are better as a result of rapid prompting method (RPM).
Recently, an ad-hoc committee of the American Speech Language Hearing Association (ASHA), drafted the following position statement: "It is the position of the American Speech-Language-Hearing Association (ASHA) that use of the Rapid Prompting Method (RPM) is not recommended. Furthermore, information obtained through the use of RPM should not be considered as the voice of the person with a disability."
It got me thinking about how our lives would be different if we did not allow Ryan a voice in the past four years. So without further ado, here are 10 things we would have never known without RPM.
1.  That he loves spending time with his sister.
I had to put this as number one. For so many years, we thought Ryan was indifferent to Grace because he rarely showed her any outward affection. We came to learn that he absolutely adores his sister and wants to spend as much time with her as possible. They do Mad Libs together (with toilet humor coming from Ryan). He attends all of her shows, games and ceremonies to support her. They share a love of Harry Potter and Percy Jackson. I often joke that if she suggested he jump off a bridge, Ryan would do it no question because the request came from Grace.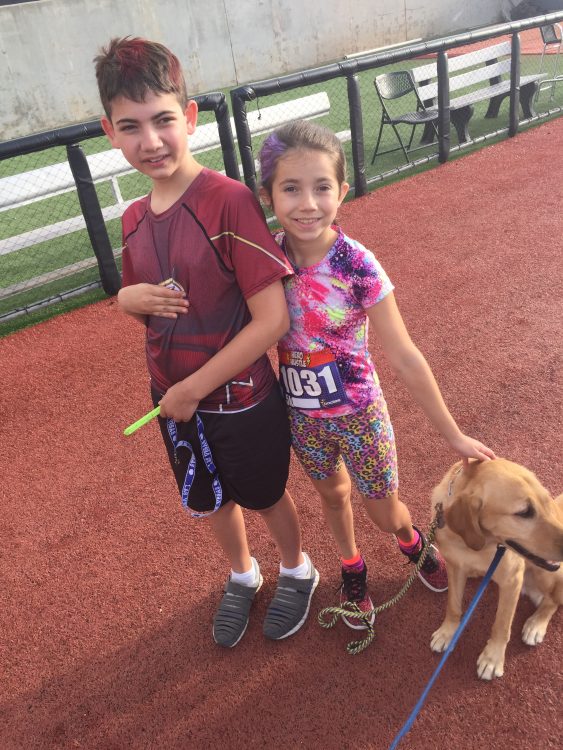 2.  That he wanted pets.

During Ryan's first open communication with another student, Ryan expressed that he wanted "many pets."  I never grew up with pets. Living in a home with seven kids, my mom said we didn't have room for any. I never considered myself a pet person, but since we waited for 8 years to really hear what Ryan wanted in life, we had to make this happen. We started small, with a Betta fish. After we moved to Texas, I got him on the waiting list with Canine Companions for Independence. Ryan loves Freckles. He has recently been showing outward affection to her by laying down on her and patting her back (a bit hard at times because he is excited) and running around the house with her. She is one of his 5K running partners too and has said that, "Freckles helps me stay with you mom." She is a member of our family and we can't imagine our family without her.
3.  That he wanted to be an athlete.

Ryan is a runner. Most autistic children are not too involved with sports. Ryan had expressed a desire to play sports, but with his motor challenges, it seemed like he had limited options. One day, I suggested that he might try running. And (gasp) I offered to run with him. I am not sure what I was thinking when it came out of my mouth. I couldn't take it back and he bit. I was in for it. The past four months of training and running in five 5Ks (we do a 4 mile on July 4) has been nothing short of amazing. I have watched him persevere and push himself so hard to finish. Every time we go out for a race, I am proud of him. He is an athlete.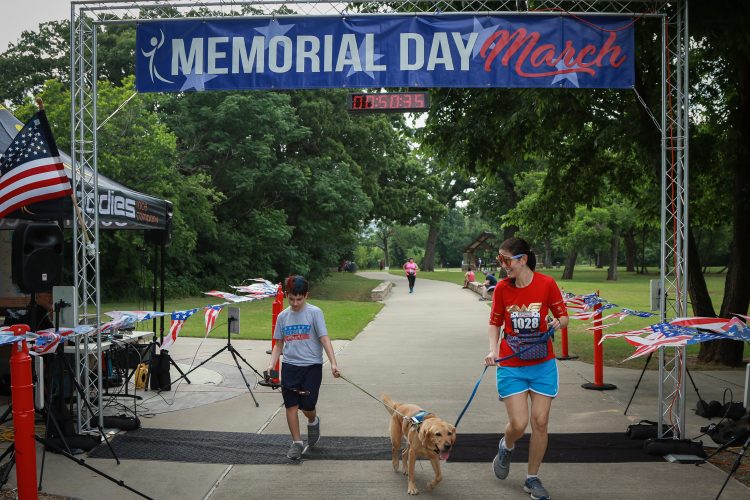 4.  That he wanted to ride a bike.
Early on, during a lesson with Lenae Crandall, Ryan expressed an interest in learning to ride a bike. I stored this in the back of my mind, but I thought that this was an unreachable goal. You see, Ryan could not even pedal forward on any bike — stationary or training wheels. He could not get his brain to tell his legs to pedal forward. Randy and I would hunch over and push his feet to try and get him to do the motion. Fast forward to August 2016. I was able to get Ryan into the I Can Shine Bike Camp in Richardson, Texas. This camp was unbelievable and we took the skills that he learned there and practiced every day until he could ride by himself. Stopping is still a challenge, but just two years ago, I would have never dreamed that Ryan could ride a bike independently.
5.  That he wanted friends.

Ryan has three best friends and several close friends. Before RPM, he was "trapped" in his own world. Now, he spends time with his friends in person and via Skype or FaceTime. Just this past weekend, his local friend Diego came over to swim in our pool. On July 4, Ryan will get to meet his friend Josh that he met during an online class of RPM students. Josh's family is traveling across the country and is making a special stop so the boys can meet in person. Our family has made two trips to Canada to see two of his best friends. Ryan misses his friends and is often sad when he does not get to see them.
6.  That he loves reading.

I cannot underscore this enough. If Ryan had his way, all of his free time would be spent reading books with me. We have read hundreds of novels. That is not an exaggeration. If our family had never pursued RPM, I am not sure that I would be reading at all to Ryan. That is almost embarrassing for me to admit. Actually it is. I did not think he was interested in books. I should have known better because he loved (loved) books as a toddler. Sadly, that is about the time when the reading stopped as therapies became our life. When we began RPM, I had not read to Ryan in a very long time. Now, I cannot imagine going a day without reading with him. On a side note, I have a love for Middle Grade Fantasy novels too (book nerds rule!)
7.  That he could and should get a Fair and Appropriate Education.

Before RPM, Ryan was matching colors and coloring in cartoon toothbrushes and toothpaste in school. Now, he is learning poetry, history, middle school math and so much more. I challenge anyone to tell me of other nonverbal autistics receiving this type of education who are not learning with RPM. RPM is not a communication method. It is an educational method and communication is a by-product. The foundation for RPM is academics and we strive to do RPM academic lessons daily.
8.  That he wanted to talk to people, lots of people.
Without RPM, Ryan would not be the autistic advocate he is today. Even though he is nervous to speak in public, he does it. He has spoken in front of parents of autistic children and students at a university. Even though he is nervous to interview people, he does it. He has interviewed his Mayor, State Senator, Firemen, Policemen, and employees at his favorite store, Home Depot. Ryan was even featured on television. He put himself out there, under the scrutiny of thousands. That would be nerve-wracking for anyone. Ryan does these things because he wants to and they are important to him.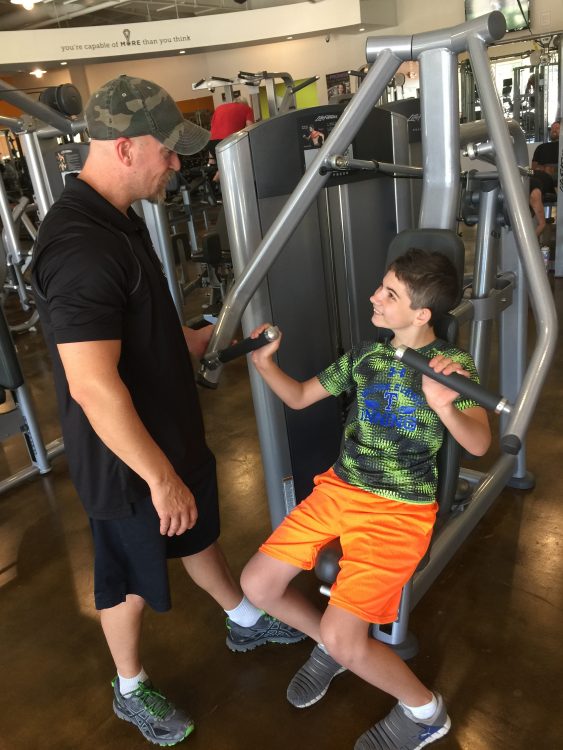 9.  That he wanted to attend church and make his First Holy Communion.
Ryan has spoken about his relationship with God. His loneliness is hard to imagine, but God has always been there for him. Ryan now attends Mass every Sunday and he made his First Reconciliation and First Communion last year. This is a dream come true for our family. This would not have been possible without RPM.
10.  That he wants to be treated like everyone else.

Ryan is a regular 11-year-old kid. As you read above, none of what was written is outside of the realm of what any kid would want. Before RPM, the experts told us things like "he doesn't understand" or "speak in short phrases." I guarantee you that there is nothing wrong with Ryan's hearing or understanding. Ryan wants to be treated like everyone else and that is what he wants for all autistics. He will continue to advocate for his peers to ensure that they have the same opportunities as he does. I could go on and on with this list. You get the idea though.
As I always do, I asked Ryan if he wanted to contribute to this post. He spelled:
Mom, I am too moved. I think it is good to leave it as is because it shows my accomplishments. Really love it.
Everyday, I am so thankful for Soma and the other RPM providers, especially the ones who have helped us and continue to help us on our journey: Erika, Lenae, Jackie and Adriana. These providers would not be helping so many families if they listened to ASHA's position statement.
I am thankful for the parents that I reached out to along the way when things got rough.
I am also thankful for Ryan's hard work and perseverance that has gotten him to the place he is today. And lastly, this was hard for me and sometimes it is still hard, but I'm thankful for all the work that I put in. Boy has it been worth it.
So now you can see why I have such a difficult time swallowing this statement from ASHA.
RPM is so much more than a letter board. RPM is a better life.

When this idea popped into my head in church, I spoke to Ryan about it and we agreed to go for it. We hope that you find it helpful. I want to leave you with one last thing. The statement from ASHA includes the following:
"…the potential harms that arise as a result of using RPM include harms associated with lost opportunity to access other evidence-based interventions and harms to the individual associated with their loss of communication rights…"
My position statement is that Ryan would have been harmed if we had not pursued RPM.
That is the truth.
Originally published: July 21, 2018