When People Say 'You've Said That Already'
---
I have a tendency to repeat myself. Actually, I have a tendency to repeat myself a lot, but I've already said that — see, I'm doing it again, so let me move on. I've been told this several times, sometimes by the same people, which is kind of ironic if you think about it, but nevertheless, it is true — and it benefits you more than you realize.
I don't know that I always intend to repeat myself, but I do. In the fall of 2014, I found out why. I am autistic, and apparently repeating my words is something that can be common for verbal people on the autism spectrum.
There is a term for it when it is seen in autistic children who are developing speech. It's called echolalia.
According to the CDC, "each person with ASD [autism spectrum disorder] has different communication skills." The CDC also lists some examples of communication issues related to ASD, including:
Delayed speech and language skills
Repeats words or phrases over and over (echolalia)
Reverses pronouns (e.g., says "you" instead of "I")
Gives unrelated answers to questions
Talks in a flat, robot-like or sing-song voice
Does not understand jokes, sarcasm or teasing
I'm nearly 38 years old, so I didn't discover I was autistic until I was an adult, but autistic children do grow up to be autistic adults. Most of the list of communication issues related to ASD is still very much a present part of my adult autistic experience. There are a few things I have been able to master, but it should in no way suggest that I am no longer autistic; rather, it communicates the amount of personal work I have invested in improving my communication skills. Even with all the work I do to invest in being a better communicator, there is one thing that continues to be an issue for me, and that is I still tend to repeat myself, especially when I am extremely excited about the subject matter.
Perhaps that's why for some people it can be a bit annoying that a 37-year-old man seems to repeat himself more than necessary. Honestly, I understand why, and most people who notice it don't even know that I am autistic. But what does make it interesting is that I communicate for a living. I am a pastor, and every week hundreds of people listen to me talk live, and sometimes thousands listen via podcast. I can only imagine the number of times I repeat myself in the course of a 35- to 45-minute message covering the one thing I am passionate about. I've never actually counted, but I'm almost certain that I repeat myself dozens of times each week.
What I want to suggest, however, is that my autism is a much more valuable asset to listeners than perhaps even they understand. My autistic voice actually serves as a powerful tool to educate people about the power of becoming better listeners.
Research suggests that listening is our most used communication skill, coming in at nearly 45 percent of our total communication. Most people spend 70 to 80 percent of their day communicating in some form, whether written, verbal or nonverbal, and listening covers nearly half of all communication. The problem is that, according to research, most people are poor listeners. Listening is the communication skill we might use the most, but it is a skill we might have little training in.
I couldn't agree more. I have spent decades and plenty of dollars learning how to become a better communicator. It has been said that many autistic people tend to think in terms of pictures, and being highly visual shapes their view of the world and subsequently their communication skills. I am sort of in the minority in the sense that I am much more of a verbal thinker. My world is ordered by words. In my autistic world, words create reality, and the way I process the world is analogous to the science fiction trilogy "The Matrix." Words are codes that create programs that create reality. I spend hours studying the dictionary and the thesaurus so I can learn how to use words more efficiently, because I want to be an effective communicator, and because it is how I see.
Unfortunately, my communication is not the problem. My repeating things over and over may very well be annoying to some, but the reality is that it is actually more effective, given that most people literally have not learned how to listen.
As someone who communicates for a living, I understand the value of communication training. I have invested a lot of time and money into becoming an effective communicator, but the attribute that makes me the most effective is my autism. Studies show that after hearing someone talk, the average listener retains only 50 percent of what was said. So if I repeat a critical point in talk, presentation or sermon just three or four times, that increases your ability to retain the information, because let's face it: we are all pretty poor listeners, and we need all the help we can get if we really want to "get it."
What's most important about my role as a pastor and leader in our community, and what is equally if not more important as my role as an autism advocate, is to help those who want to listen to "get it."
Do I repeat myself? Yes. Do I do it often. Absolutely. Am I always aware of it? Not always, but just remember that when it happens, it is most likely because I am autistic, and I will tend to repeat myself no matter how much I try to work on my communication skills. What you need to also remember is that you might not be all that great of a listener anyway, so maybe my constantly repeating myself is actually to your benefit. Maybe my repetitive word patterns are much more a blessing to your listening ears than you think. Maybe what feels annoying to you is actually awesome for you, because 10 minutes after we talk, you won't remember a thing I said if I didn't repeat myself several times. Maybe the reason you remember anything significant at all about what I've shared is because I can't help the fact that I repeat myself.
I believe we live in a world where everyone wants to be heard, but not that many people actually want to listen. Even for those who are serious about listening to the narratives of others, chances are they are going to struggle to understand, because let's be honest, no one has taught us how to really listen. While that is not necessarily their fault, neither is my need to repeat myself.
So in a world where we just don't listen to each other the way that we should, what if my autism is actually a gift to your ears as well as mine, so that we can both learn to hear each other more clearly more consistently, and most importantly more compassionately? If you ask me, that's something the world could use a little more of.
So I think I'll just continue repeating myself until we all "get it."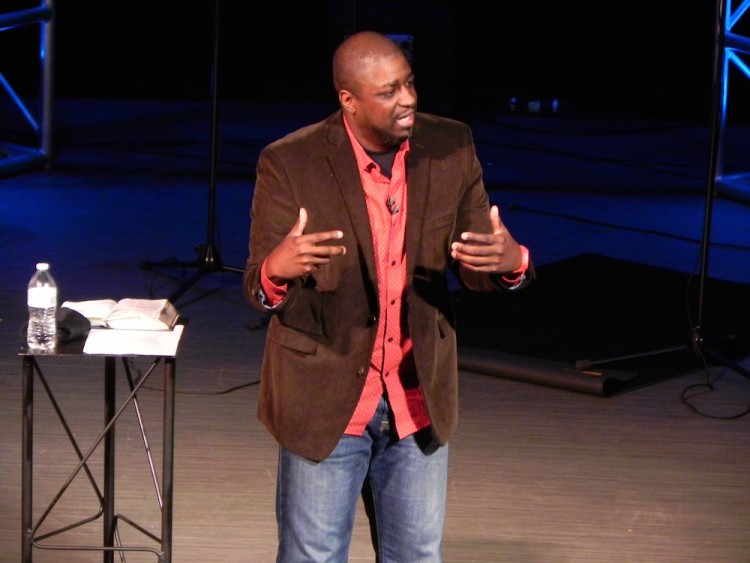 The Mighty is asking the following: What's one thing people might not know about your experience with disability and/or disease, and what would you say to teach them? If you'd like to participate, please send a blog post to community@themighty.com. Please include a photo for the piece, a photo of yourself and 1-2 sentence bio. Check out our Share Your Story page for more about our submission guidelines.