My Son on the Autism Spectrum Helped Me Appreciate Neurodiversity Around Me
---
My husband and I started seeing the world differently as our three children were diagnosed with autism. Our ideas of "right" and "wrong" disintegrated before our eyes.
The kid in the store screaming on the floor may not be a brat having a tantrum, but a child struggling with a meltdown. The dandelions in our yard are now beautiful flowers my son picks every spring for his mama, not weeds to be eliminated.  We notice things about people in our community or even our families and we think, it all makes sense now! There are a lot of people out there on the spectrum (not that we are doctors, by any means). But we notice the little nuances of neurodiversity much more clearly now than before this journey.
I noticed those differences when I pulled up to McDonald's one morning.
I had a special order: bagel with folded egg. No cheese or butter or meat. Just bagel and egg (for food allergy reasons). Two sausage burritos and a small coffee in a medium cup. What a pain, I know. The young gentleman over the speaker was so nice, trying to make sure he got the order right before I proceeded to the check-out.
When I pulled up, he leaned out of the window taking his headphone off slightly to speak to me. He wanted to make sure I had the special order and reassured me his "friend" was working the other window and he would make my order was "perfect." He was quite concerned about the coffee, which I thought was so endearing and wonderful in a world of people who tend to not care about the details.
I noticed that while he waited for my payment to post, he took another order. His fingers methodically flicked between each
punch of the screen. It seemed like an autistic stim to me, and his flat, straightforward speech and attention to detail seemed autistic in nature, too. It was just a hunch, but he seemed like one of us. I smiled and made sure to thank him a few times.
As I pulled up, I thought that some people in a hurry wouldn't appreciate the time he takes to process his thoughts and speak to the customers. They may not appreciate his attention to detail, and think he should just be quiet and do his job fast. Perhaps they wouldn't notice his stim, and if they did, they may think it odd. They might not notice he moved his headphone to talk, and leaned out the window to have focus while he did it. They might not appreciate all his effort to do his job so well. But I did, autistic or not.
I pulled up to the next widow and received my order. The bag looked funny, like a hotcakes bag, so I peeked inside thinking I received someone else's food. When I saw what was in the bag, I chuckled and pretty much confirmed my analysis of the situation.
I couldn't wait to pick up my husband and show him my breakfast. I thought of my own kids, and their possible interpretation of breakfast to be the same as this young man's.
This is how my bagel and egg sandwich came: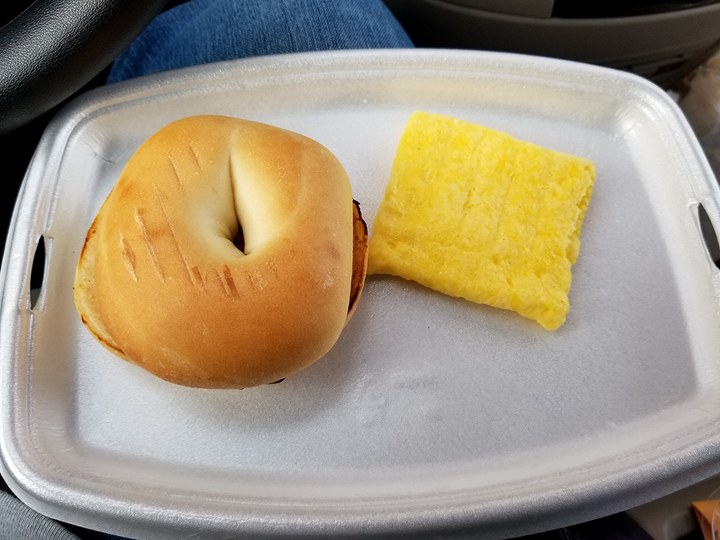 In the autism world, much of the interpretation is literal. I ordered a bagel and a folded egg. I received a bagel… and a folded egg.
When my husband got into the car, he chuckled knowingly and said, "You got exactly what you ordered!" Indeed.
A neurotypical person may have interpreted my order as a bagel sandwich with just egg and nothing else, put together as a sandwich. That's how I have always received the sandwich: actually put together. But this young man, maybe on the spectrum, gave me exactly what I ordered, literally. The items separated.
Some people may not "see" this situation for what it may be — they might be agitated at perhaps think the worker making the sandwich incompetent. But this young man was focused on the details in a world that moves to generalizations. He wanted me to have the best possible experience and get exactly what I ordered. Which, technically, I did. How can you fault that? What a beautiful thing, really.
The next time you are out, and the situation is different than you expected, take time to "see" it. It may be closer to reality than you think. There may be an innate beauty in the experience you never "saw" before.