Why My Daughter on the Autism Spectrum Attends a 'Special School'
---
When Eliza was diagnosed with autism at age 3, she was in a mainstream school nursery with a one-on-one teaching assistant by her side every session. Six months before, she was pretty much written off by the first pediatrician we saw as we were told, "Don't expect much from her," and, "She'll never speak, read or write." We only saw that pediatrician once, we found a different one who was actually supportive and informative rather than assume Eliza would be nothing. One that would allow Eliza to grow and develop over time and help her access whatever therapy or educational environment she needed.
During her year in mainstream, Eliza needed a one-on-one because she relied on Makaton signing and picture visuals to communicate. When she started reception year, she attended a special school to suit her needs. She's turning 10 this year and still attends a special school. It astounds me how many people hear the words "special education" in conversation and either answer you with, "Oh, I'm so sorry" or a look of pity.
I remember as a child at primary school over 30 years ago, a boy left our school to attend a specialized school. When we asked adults why he'd moved, a variety of reasons were given including, "He's not clever enough to stay here," "he won't be able to do the work like the rest of the class," and shockingly, "r*tarded children like him have to go to a school that better suits them." Lack of understanding, awareness and explanation were at fault back then and sadly, to a certain degree, special schools are still assumed to be the place where you go if you are a "misfit," "misbehaved" or "not good enough for mainstream or unable to cope."
The school Eliza attends is a special primary and she loves it there. The staff are incredible and highly knowledgeable in many conditions, especially autism. The school itself runs as close to a mainstream as possible, but takes in to account each individual child's needs. They have smaller classes of around 12 pupils at the most and some extra teaching assistants. Eliza has set lessons with all the usual subjects including Math, English, History and Science. She is academically able (with the right support and understanding in place).
Do you experience sensory overload? Answer the question below.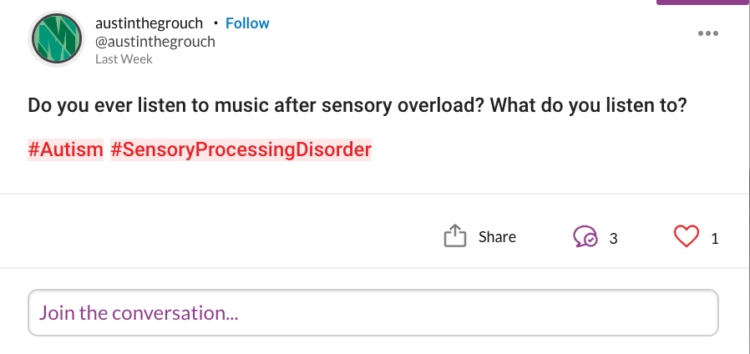 I once asked another parent, whose child attends mainstream, what their understanding of special schools was, and they replied that, "Kids with various disabilities go and play all day and have fun." Well, yes, Eliza has fun and she does have allocated play time between lessons, but she does work in her lessons. It makes me wonder how many others really don't understand what some special schools can offer (I say some, as we've obviously not been to all of them).
For Eliza, the school she attends suits her needs perfectly and she thrives there. Large, full classes like in mainstream settings would be a big issue for her due to sensory overload and there would be so many extra distractions as well as much less staff to support her. At her current school she has access to speech therapy and staff who are trained to assist her. She has access to quieter environments, emotional support, and sometimes picture visuals when she's so anxious she can't speak. Academically, she is right on track.
Just because my daughter attends a special school, it doesn't mean she's not clever or she's unable to learn. Far from it. And it doesn't mean she's not suitable for mainstream. It means mainstream is not suitable for her right now. But she's happy and thriving and following the curriculum with the support and help she needs. Eliza is in the school that brings out her potential with encouragement, patience and understanding while giving her the support, access to resources and the help she needs. It just happens to be a special school.
Originally published: February 11, 2019